Vertical gardens are a space-saving way to have a home garden and grow a vast range of plants, like fresh herbs, veggies, flowering perennials or annuals, succulents and even indoor plants. They are a great option for those who don't have a big enough outdoor space to create garden beds for a vegetable garden, herb garden, flower garden or raised beds. Whether growing outdoor plants or houseplants, vertical gardens allow you to grow things even if you only have a small space.
Vertical gardening is a DIY, container gardening system that utilizes hanging planters, window planter boxes, stackable planters or vertical wall planters. They are either freestanding, use vertical plant stands, or are wall-mounted, creating a living wall of plants.
When searching for vertical garden planters, all the choices available can be confusing. We've tried to remove some of the mystery when selecting the best vertical planter for your needs by covering some important considerations. We also reviewed some of the best vertical garden planters, as well as their features.
What to Consider When Purchasing Vertical Garden Planters
‌Vertical Garden‌ ‌Types‌: Your first step when getting garden ideas for a vertical garden is deciding what type you're creating:
‌Wall-mounted gardens‌ are just what they sound like. The garden and plant pots are attached to a flat surface, taking up less space.
‌Freestanding gardens‌ utilize connected pots that stand on their own or are attached to a stable and freestanding structure that you're able to move, with some coming with rollers.
‌Hanging gardens‌ use hanging planters and are perfect for creating a balcony garden of plants.
‌Tiered gardens‌ use a freestanding structure with different shelves or levels for the placement of the plant pots.
‌Window boxes‌ are generally easy to install and are a good choice for those living in apartments or condos without any outdoor space.
‌Selecting the Best Planter‌: When selecting the best planters for your vertical garden, consider whether you're using them attached to a wall or a freestanding stand. Some vertical garden planters have several planters attached so you can grow various plants at the same time in one unit. If you're using the planters in a wall garden, you'll want to use those that are lighter, such as ones made out of plastic, wire or wood. However, if you're using the planters in a freestanding plant stand, you can use those that are a bit heavier, such as pots made out of terra cotta or ceramic.
‌Drainage‌: To prevent your plants from remaining too wet and developing conditions like root rot and possible death, make sure your vertical planters have drainage holes in the bottom. The last thing you want is to get your vertical garden completed, only to have all the plants die because the soil remained too wet.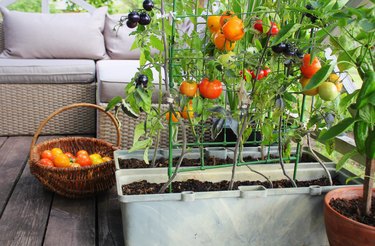 1. Greenstalk 5-Tier Vertical Garden Planter With Watering System
This vertical garden planter has five separate sections containing six planting pockets each for a total of 30. Each section holds around 1 cubic foot of soil, and the pockets are deep enough to grow root vegetables. You don't have to worry about the wind blowing your planter over because it weighs around 150 pounds once filled. The durable planters are made from food-safe polypropylene plastic and are BPS-, PVC- and BPA-free.
Each tier planter has 12 drainage holes, and the entire garden is self-watering with the patented internal watering system. You simply add water to the top fill mark, and it waters each tier equally. These vertical garden planters allow you to grow a wide range of plants and veggies, including herbs, flowers, carrots, potatoes, corn, strawberries, greens or your other favorite vegetables.
2. Symple Stuff Mobile Single-Frame Plastic Vertical Garden
This mobile single-frame vertical garden has rollers, so you can easily move it to any preferred location with ease. The black, rust-resistant metal frame stands 45.27 inches tall and holds a large box planter on each of the bottom two shelves, and the upper three shelves hold three smaller planters each. Each planter is BPA-free and made from food-safe polypropylene plastic, and has drain holes. The planter pots are large enough to grow your favorite flowers, herbs, veggies or indoor plants, and since the unit is mobile, you can easily move it out of the way or where light conditions are best. The company offers a two-year warranty.
3. Richoose Hanging Pouch Planter With 7 Pockets
If you want to create a wall garden, this hanging pouch planter is a good choice. The pouch planter has seven large grow bags and is made from high-quality felt cloth, which is UV resistant and lightweight. It's suitable for use with indoor and outdoor plants, and the back and bottom are waterproof so you don't have to worry about water running down the wall.
Although the grow bags are waterproof, the material still breathes, and once the bags receive adequate water, they'll ooze out any excess. The planter is easy to install and is 44.5 inches long and 11.8 inches wide. You can grow your favorite flowers, herbs or veggies, and the pouch planter works well used anywhere indoors or outdoors on a balcony, patio, terrace or attached to a fence.
4. Symple Stuff Fouts Plastic Vertical Garden
These vertical garden plant pots are a suitable choice for beginners or those who don't want to take up much space. You get everything you need to mount the three sections of planters on a wall or fence. It's also fully equipped for an irrigation kit. The black planters are lightweight and weather-resistant. They're made from recycled food-safe polypropylene plastic and are BPA-free. They also have drain holes.
You receive four small plant pots, two medium plant pots and two large plant pots. There's also a drip tray mounted below all the pots to catch excess water. This small grouping of vertical planters can dress up any wall filled with colorful flowers, aromatic herbs or your favorite veggies.
5. LaLa Green Vertical Hanging Wall Planter
This metal three-tier wall planter is economical but sturdy and goes perfectly with boho or minimalistic home decor. The wall planter will also add charm to a balcony or porch. The three rectangle planters are 16 inches wide, 2.4 inches tall and 4.4 inches deep. The three planters hang together with a jute rope which is easily hung from a wall. These planters are great for growing your potted succulents or cacti, as there are no drain holes in their bottoms. The planter accommodates 12-inch, 3-inch or 4-inch pots. You can plant directly in the planters but you'll have to drill a drain hole in their bottoms. You have the color choices of white, black or silver.
6. FOYUEE Freestanding Vertical Planter
This space-saving freestanding vertical planter comes with five large rectangular planter boxes that are big enough to grow your favorite flowers, vegetables or herbs. The planter boxes are 19.6 inches long, 8.4 inches wide and 6.2 inches wide and made from new food-safe polypropylene plastic. They're also weather-resistant.
Each planter has a grid tray and drainage holes. The sturdy black steel stand is powder coated for rust prevention. It takes about five minutes to assemble the entire planter. The multi-level display of the planter boxes means the vertical planter will look good wherever it's situated.
7. Apollo Exports International Resin Vertical Garden
If you're looking for a smaller vertical garden setup that you can use indoors and outside, these vertical garden planters are a good choice. The UV- and weather-resistant, durable vertical garden planters come in the colors gray, terra cotta and green and are made of double-walled polyresin. There are three rows of planters that securely lock together when stacked, with a total of nine. They fit on a rolling saucer, making moving the garden easier, and you can remove the saucer if you want stationary planters.
Each planter has drainage holes to keep your plants healthy and is self-watering. When stacked together, the overall dimensions of the vertical garden are 20 inches tall, 15.75 inches wide and 15.75 inches deep. It's the perfect solution where space is at a premium and perfect for growing all your favorite flowers, herbs or veggies.
8. Safstar 3-Tier Wooden Vertical Garden Bed
For a space-saving vertical garden bed with a natural and rustic look, you won't be disappointed in this three-tier wooden raised vertical garden bed. It's made from natural fir wood, which is durable and weather-resistant, with a polished and smooth surface that is burr-free. No worries about your plants being shaded, as the three planter boxes are arranged in a staircase pattern.
Each wooden planter box has drain holes and comes with a black plastic liner that protects the wet soil from damaging the wood. The solid wooden frame has an A-frame design and is sturdy and stable, so there's no worry about it tipping over. With the large planter boxes, you're able to plant and grow all your favorite plants. This vertical garden will be a showy addition to your balcony, porch or other outdoor space.