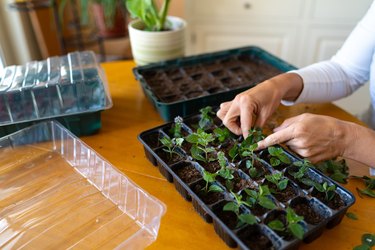 Starting your seeds indoors has a variety of advantages. You can control the environment for more successful germination, grow plants not typically available at your local nursery, and save money, as seed packets are cheaper than purchasing germinated seedlings or plants. Best of all, no matter the outdoor conditions, you'll get a head-start on the spring season and your seedlings are ready for planting outdoors once warmer weather arrives.
Seed starting kits are the perfect solution to getting a jump start on the growing season and are ideal for beginners or those with years of growing experience. They allow you to sprout your seeds in the safety of an indoor home garden and most kits contain everything you need to get started. Whether you desire to grow microgreens, flowers, veggies, or get an early start by planting herb seeds, a seed starter kit makes germinating your seeds easy. No matter your experience, you're sure to feel like a professional grower watching your seedlings grow into thriving and healthy plants.
Below we cover what you should consider when purchasing a seed starting kit so you get the right equipment for your needs. We've also reviewed some of the best seed starter kits on the market and their features to make selecting the best one for your needs easier.
What to Consider When Purchasing and Using a Seed Starter Kit
‌Seed Germination Pots:‌ Depending on the kit, there are various types of starter pots available where you plant your seeds. Choices include everything from plastic cell trays containing multiple cells, reusable pots you can clean and reuse, and biodegradable peat pots that allow you to plant the entire pot in the soil without disturbing the roots. When making a selection, consider how much space you have for indoor gardening, what you're growing and how many plants you intend on starting. Beginners should probably start with a small kit of around 12 cells until they get a feel for germinating seeds indoors.
‌Humidity Dome:‌ Most seed starter kits come with humidity domes which create humidity for your developing seedlings—an important factor in the germination process. The dome is a clear plastic lid that fits over the cells or pots, allowing light to enter while creating humidity inside. Some kits have vented domes so you can regulate the amount of humidity and airflow by opening and closing them.
‌Heating Mat and Grow Light:‌ Some seed starter kits come with a heating mat that helps speed up the germination process and some others come with a grow light. Your planted seeds will usually germinate without problems if they're placed in a warm location with plenty of light. However, if adequate light and warmth aren't available where you plan on starting your seeds indoors, or you want to speed up the process, using a heating pad and or grow light will solve the problem.
‌Growing Medium:‌ Some grow kits come with a growing mix while others don't. Kits that contain a growing medium usually contain peat pellets, seed starting mix or pods. If your kit doesn't contain a growing medium, you'll have to choose your own. Suitable options include a commercial seed-starting mix, peat pots, coconut coir and sphagnum peat moss. Select a lightweight medium that drains well and doesn't stay soggy when watered, which can cause your seeds and seedlings to rot.
‌Ease of Use and Price:‌ You shouldn't need a degree in horticulture to be able to successfully use your seed starter kit. The kit's instructions should be clear and easy to understand and it should be easy to use, especially if you're new to indoor seed germination. Additionally, the grow kit should be affordable, and starting your seeds should save money compared to buying plants already started. However, don't be put off by kits that are a little more expensive but are durable and allow you to reuse season after season. It won't be long before you get a return on your seed starting investment.
The Best Overall Seed Starter Kit
Whether you're a beginner or have years of experience, this seed starter kit from YLYYCC contains everything you need to get started propagating your plants year-round. With the kit's grow light and heat mat, there are no worries if your indoor lighting isn't sufficient or the seeds need a bit of heat to germinate. Additionally, the kit contains six starter and base trays containing 12 cells each and a clear plastic dome with adjustable vents to can control the humidity. The seed starting trays fit perfectly on the 10-inch by 20.5-inch heat mat. With its double-head and adjustable necks, you can easily adjust the grow light's angle over the trays. The controller allows you to change the light's intensity and timer easily. Although you have to provide the growing medium and seeds, this kit also makes a great gift for the plant lover in your life.
The Best Seed Starter Kit for Beginners
If you're looking for a basic seed starter kit that isn't fancy but contains everything you need, then this seed starter kit from Window Garden ticks those boxes. The mini greenhouse kit comes with three reusable 10-by-4-inch plastic trays with domes for starting seeds, 30 fiber soil pods and instructions. It's the perfect setup for smaller spaces like windowsills. You just need to supply the seeds, sunlight and water, and before you know it, your seeds will grow into strong seedlings with minimal effort and supplies. Best of all, you can continue using it season after season, saving yourself a few bucks.
The Best Self-Watering Seed Starter Kit
The Burpee self-watering kit continues to hydrate the soil for up to 10 days, which improves germination and prevents overwatering. There's everything you need in the kit to propagate your seeds, including two planting trays with 36 cells each and two plant stands holding the trays, a self-watering mat and a reservoir watering tray that holds the excess water. You also have a clear dome cover for each tray that generates humidity. Additionally, you get 72 coconut fiber growing pellets. Once moistened, the pellets hold the seeds you're sprouting. The self-watering kit cuts down on the need for constant watering, keeping the planting medium moist, which promotes healthier root systems and hardier plants. You'll only have to purchase the seeds.
The Best Seed Starter Kit With a Grow Light
If you lack adequate indoor light to properly germinate your seeds, this seed starter kit from CANNABMALL has you covered. The kit contains five reusable seed starting trays containing 60 cells for planting, and each tray has a humidity dome with four adjustable vents. You also receive 10 plant labels and two small tools that you can use for planting or digging. It has a smart control system from which you can easily control the five separate grow lights with 10 dimmable levels and a light timer. The grow lights offer plants full-spectrum lighting for the best growth. You also receive everything you need to know to operate the system. However, you will need to supply the growing medium of your choice and seeds.
The Best Seed Starter Kit With a Heat Mat
This seed-starting kit from Jump Start comes with a plastic 72-cell seedling insert that fits into the waterproof base. At 11 by 22 inches, the seedling tray won't take up much space. The vented dome allows you to control the amount of humidity inside for the healthiest germination. The durable 17-watt heat mat is waterproof and offers uniform heating. However, you'll need to provide the seeds and growing medium. Anything from coco plugs and soilless mixtures to potting mixes will work well in the cells. The kit comes with instructions and is reusable. It's a good basic starter kit for beginners and experienced gardeners who want to get a headstart on the spring growing season but need indoor assistance with a basic heat mat.
The Best Seed Starter Kit for a Windowsill
This basic seed starting kit from Jiffy is a great choice if you're trying to save a few bucks but still want to get a jump start on the spring growing season. The kit contains two plastic seed starter trays you can use repeatedly. Each tray features 12 cells where you can plant seeds with a plastic dome fitting snugly on top. You also get 12, 36-millimeter Jiffy peat pellets where you can plant your favorite seeds. Other than seeds (sold separately), this basic kit gives you everything you need to germinate your seeds in a small greenhouse environment. It's the perfect size to sit on a sunny windowsill or another smaller space.