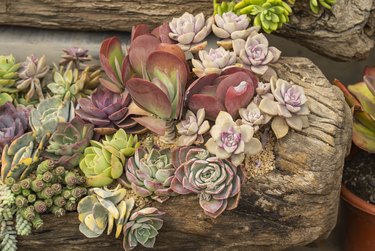 Succulent addiction is real and it can engulf anyone in its grip before you know it. Once you have one, you're soon searching for another. Etsy is a fabulous online marketplace for rare succulents and out-of-the-ordinary types. Once you see the numerous and uncommon succulents available on the site, it will probably be hard to walk away with just one.
Whether you're a beginner succulent gardener or have been collecting them for years, Etsy won't disappoint. Succulents are a great starter plant for the novice and their easy care will even make black thumb gardeners feel like gardening rock stars.
Below we've summarized some of the uncommon and rarer succulents you can find on Etsy. We also cover some tips and information on succulents and their care to make owning one easier.
Succulent Characteristics and Basic Care:
Succulent is a term that refers to a wide range of plants with thick fleshy stems and leaves that store water for survival in arid environments. Succulents encompass a large group of families with up to 60 having at least one succulent species. Within those families are thousands of genera and species so the number of plants considered succulents are enormous. Some of the more popular genera that contain succulents include Crassula, Sansevieria, Sempervivum, Agave and Kalanchoe.
Newbies to gardening, or those not wanting fussy plants, will revel in growing succulents because they thrive on neglect. You don't need a master gardener certificate to have success growing them because they don't require much to continue looking fabulous. Giving them too much care can actually lead to their demise.
Outlined below are tips for keeping your succulents happy and healthy:
‌Soil‌: Succulents prefer a loose, well-drained soil mix. It's best to use a lightweight mix such as those for cacti. They will rot in heavy soils that retain too much water.
‌Light‌: For the best growth, situate your succulents in a location that receives bright light. You can supplement insufficient natural lighting by using bright artificial lights.
‌Containers‌: Grow your succulents in small pots with bottom drainage. When selecting a container, don't use one that is a lot bigger than the plant, as the soil can remain too wet. Succulent roots are shallow so they can grow well in containers that aren't too deep.
‌Water‌: Succulents are very forgiving if you forget to water them. Water the plants when the soil becomes dry, most likely every seven to 10 days. However, during dormancy when growth slows, you only need to water if you start to see the leaves beginning to wilt.
‌Fertilizer‌: Succulents aren't big feeders and only require one or two yearly feedings. Feed once in spring and again in late summer. Use a water-soluble blend for houseplants mixed at half-strength.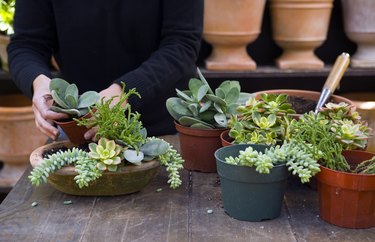 1. KongerGarden Albuca Concordiana Bulb
‌Albuca concordiana‌ is an uncommon succulent perennial native to South Africa and noted for its corkscrew-coiled leaves. This sale is for one bulb, although the seller also has packages of three bulbs for sale. These succulents are dormant through summer and the bulb springs to life in winter, producing its unusual foliage. At the end of dormancy, the plant produces a tall inflorescence filled with fragrant yellow flowers. The seller gives planting and care instructions if you receive your bulb while it's dormant. This curly leaf Albuca is sure to be an eye-catching addition to your home and succulent collection.
2. RareSucculents Aeonium Aurea ex El Hierro Pink Mountain Rose
For a succulent that is rare even among collectors, you won't be disappointed with a Pink Mountain Rose succulent (‌Aeonium aurea‌ El Hierro 'Pink Mountain Rose'). These rare beauties hail from the Canary Islands and look like light pink rosebuds. In winter, the succulents turn green and return to pink in summer. However, keeping it in a hot and humid location creates a pinker shade. These are the definition of low-maintenance plants and will make a conversation piece in any succulent collection. This sale is for one small Pink Mountain Rose without a pot, but the seller also offers packages for large roses, those with a pup, and quantities of three, five or 10 roses. The seller offers good information for caring for your Pink Mountain Rose and everything you need to know about this showy succulent.
3. KongerGarden Monilaria Moniliforme Bunny Succulent
One look at ‌Monilaria moniliforme‌ (commonly called Bunny Succulent or Bunny Ears) and it's easy to see where it got its common name. During fall and winter, while this unusual succulent isn't dormant, several leaves form at the top of short swollen branches resembling bunny ears. During spring, when it goes into dormancy, small white daisy-like blooms with yellow centers form. This deal is for one BunnTy Ear plant with two heads. However, the seller offers several other quantity options, if you want more than one plant. You'll receive a bare-root dormant plant that will spring to life again in the fall. The seller also offers all the information you need about the plant and how to keep the succulent healthy.
4. Mirageofeden Crassula Tiger Jade
Tiger Jade (‌Crassula exilis subsp. Picturata‌) is a showy and rare succulent with unique leaf markings and native to South Africa. The gorgeous leaves form a rosette and are dark green with black spotting and purple undersides. The leaves have hairy margins and can turn reddish when stressed. This deal is for a 2-inch pot of tiger jade. However, the seller offers 4-inch pots of the showy succulent if you prefer to start with a larger plant. The seller offers tips on its care to keep your Tiger Jade growing and spreading. This unusual succulent makes a great addition to any succulent collection and would be a great gift for the plant-lover in your life.
5. MyGardenChannelCOM Red Graveolens Peperomia
For an uncommon succulent that's pure eye candy, you won't be disappointed with this ‌Peperomia graveolens‌ plant. It goes by the common names Ruby and Ruby Glow, and one look at the small red and green leaves and it's easy to see why. As this native of southern Ecuador grows larger, even the stems take on a red hue. It's sure to be a showy addition to anyone's succulent collection. This sale is for a small plant in a 2.5-inch pot, but the seller also offers a variety of other options. Like most succulents, this one doesn't require high maintenance to keep it looking great and producing good growth. If you're hoping to add some bright and robust color to your collection of plants, Ruby Glow will get the job done.
6. YCSucculent Pink Moonstone
Pink Moonstone (‌Pachyphytum oviferum‌), native to the cliffs in Central Mexico, is a succulent you won't find every day at your local garden center. There's something adorable about the cotton candy pink leaves that are chubby and round and look like they have a light sprinkling of powder. This sale is for one fully rooted Pink Moonstone plant that is ready for planting when it's received. Like all small succulents, plant in a 2.5-inch to 4-inch pot with drainage and fill it with lightweight, well-draining soil. Growing the Pink Moonstone plant in bright conditions produces the pinkest leaves. In dimmer light, they take on a green hue.
7. DoseofSucculents Cotyledon Pendens
If you're looking for an unusual succulent with fabulous blooms, then you won't be anything but pleased to obtain a ‌Cotyledon pendens‌ to add to your collection. It goes by the common name of Cliffhanger due to its long branches trailing off the cliffs in its native home of South Africa. It's a multi-branched succulent with a trailing habit, making it a dramatic addition to hanging baskets once it starts taking on size and blooms. The teardrop-shaped leaves are fleshy and grayish-green with a powdery coating. Depending on the amount of light, the showy bell-shaped flowers range in shades of reds and oranges. This sale is for one 6-inch hanging basket filled with multiple fully-rooted branches of the succulent that have already started to trail. Given the proper care and patience, your ‌Cotyledon pendens‌ will be a showstopper once it starts blooming with its striking flowers.
8. RareSucculents Graptopetalum Variegated Mirinae
Native to Mexico and Arizona, ‌Graptopetalum mendozae‌ (more commonly known as Mirinae) is a rare succulent that forms small 1-inch rosettes filled with fleshy pastel pink and yellow teardrop-shaped leaves. It produces short and fleshy multi-branched racemes that hold tiny, cream-colored flowers. With its long, branching habit and fast growth, Mirinae will grow well and look amazing in hanging baskets. This sale is for a small cluster cutting of the plant that is around 1.5 inches long and shipped without a planter. However, the seller also offers the option of purchasing a larger cluster cutting. Mirinae is a low-maintenance plant that requires basic succulent care to grow well and continue looking great. This unusual succulent with its attractive pale colors is sure to be a welcome and eye-catching addition to anyone's collection.