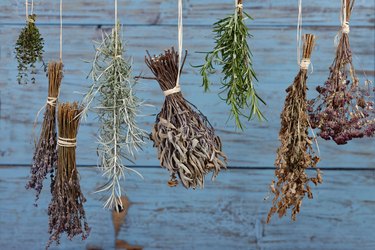 Herbs are a surefire way to add flavor and zest to even the most basic recipes. However, purchasing fresh and dry herbs can be expensive, depending on the type. You can save yourself some cash and a trip to the grocery store by growing your own fresh herbs and using an herb drying rack to preserve your bounty. Then, you'll always have your DIY stash of tasty flavor enhancers on hand whenever you need them.
Regardless of your gardening experience, growing an herb garden is relatively easy and doesn't require a lot of space. No worries if you don't have room for an outdoor garden. Herbs grow well in containers and even on a sunny windowsill. Once you're ready to harvest, just snip off the desired amount with shears or pruners and place them in the herb dryer. Before you know it, your herbs will be dried and ready for storage.
All herb drying racks function by the harvested herbs receiving adequate airflow so they don't rot. However, it's always a good idea to read customer reviews to see if the plant drying rack functions as promised. We've listed some considerations when researching and purchasing a herb drying rack. We've also noted some of the best ones and their features.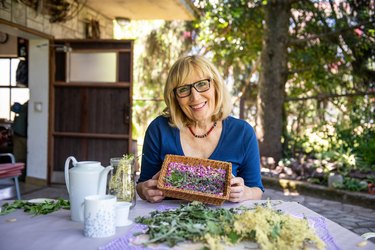 What to Consider When Purchasing a Herb Drying Rack
‌Amount of Harvested Herbs‌: When searching for the best herb drying rack, consider how big of a harvest you plan on having. If harvesting from several plants, you can use a small drying rack. On the other hand, if you have a significant amount of herbs, a larger dryer rack is suitable.
‌Herb Dryer Rack‌ ‌Style‌: There are several basic herb drying rack style choices. If you don't have a large number of herbs you'd like to dry, a herb drying hanger with clips works well. They have a basic design with clips or hooks where you can hang bunches of herbs. The hanger can be made out of wood that attaches to a wall or made from metal that hangs from a ceiling or other structure. Some are decorative and will fit in with your kitchen decor.
Other choices include hanging net dryers, usually made from white or black mesh with a zipper opening that prevents pests and promotes good airflow. Many styles are foldable and collapsible for easy storage when not in use.
You also have choices in stackable layer herb drying racks. You can sit them on a counter, table or floor and, depending on the particular style, these can require extra space.
‌Using an‌ ‌Herb Drying Rack‌: When using any style of herb dryer, be sure to space your herbs so they aren't clumped together or touching. They require good airflow for proper drying. Place the herb dryer in a location out of direct sunlight. Consider placing a fan nearby if there isn't adequate airflow in the area, and check on your herb's drying process every few days.
Once the stems no longer bend easily, the herbs are dry. Store the dried herbs in an airtight container and keep them in a dark location out of sunlight. Your herbs should remain fresh and retain their flavor for one to three years.
You also can utilize the herb drying rack for drying harvested seeds and flowers, including herb flowers. The drying rack also works well as a clothes drying rack for smaller items such as socks or intimate apparel.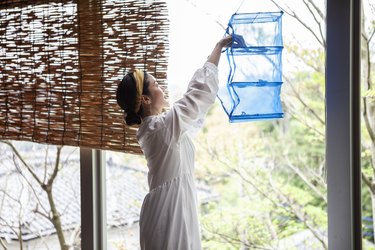 The Best Overall Herb Drying Rack
This compact 9-inch diameter herb drying rack has three levels and is 12 inches long with a 12-inch hanging strap, making it the perfect size to fit in small areas like your kitchen or closet. It's large enough to dry a good volume of herbs, and if used outside, the zipper opening will keep pests at bay.
The zipper opening allows easy access to all levels, and the black nylon netting allows good airflow. The stainless steel wire rings keep the drying rack stable and steady. The collapsible micro hydroponic herb drying rack works well for herb drying and holding lightweight veggies or flowers. Its smaller size makes it suitable for use in grow tents, the garage, or anywhere outdoors or inside the home. The company offers a 100% money-back guarantee if you aren't completely satisfied.
The Best Budget Herb Drying Rack
Whether you want to save a few bucks on a drying rack or you're new to drying herbs, this two-layer herb drying rack won't bust the bank but will get the job done. It has two 18-inch diameter drying levels, so it's the perfect size for a smaller harvest. It's made from black polyester mesh, and each level has a zipper opening for easy access and to keep any pests out if used outdoors. At 16 inches tall, it's small enough to fit into any compact space and comes with a hanging hook and loop strap. When not in use, the hanging herb drying rack collapses and fits into a case for easy storage.
The Best Large Holding Capacity Herb Drying Rack
With its seven layers of drying space, this hanging herb drying rack is the perfect size for those desiring to dry larger harvests of herbs. Additionally, it makes the perfect dehydrator for drying mushrooms, flowers, veggies or seeds and can also be used as a clothes drying rack. Each layer has a zipper opening for easy access, and the black nylon breathable mesh allows for good airflow.
Each layer is also supported by steel rings, adding to the drying rack's stability. You also receive a pair of hand pruners you can use to gather your herb harvest. The drying rack is 71.2 inches long and hangs with an included S-hook. You can use the herb drying rack indoors or outside, as the zippers prevent unwanted pests from entering.
The Best Wooden Herb Drying Rack
If you want an herb drying rack that will complement your home decor, this wooden rack is a good choice. It's made from solid walnut wood and has a polyurethane finish. The wooden rack attaches to a wall with the word 'herbs' written on it, adding to its attractiveness. It's 5.5 inches tall and 28 inches wide, with six attached hooks where you can dry your herb bunches. The shop also sells large wooden herb drying board racks that can handle a larger amount of herbs. This beautiful handmade drying rack is sure to complement your home or kitchen decor with a bit of style while still doing the job of drying your herbs.
The Best Herb Drying Rack With Hooks
This handmade macrame herb drying rack fits perfectly with boho decor while drying your herbs. The herb dryer has eight rustic metal hooks attached to a circular metal frame that is then attached to the macrame that's accented with three wooden beads. It's a good alternative to mesh or stackable herb drying racks. You can gather your bunches of herbs together with twine and then attach them to the metal hooks. The entire rack is 24 inches long, and the circular ring frame is 12 inches in diameter. It's compact enough to hang in even the smallest space. It comes boxed with a calico tote bag, making a good gift for the gardener in your life.
The Best Stackable Herb Drying Rack
These stackable wood herb drying racks from Stamens will fit nicely on your kitchen countertop or table. The racks are 9.84 inches long, 16.14 inches wide and 1.57 inches tall, allowing enough space to dry your herbs. The drying racks are made from natural-looking, high-quality wood and are durable enough to last for years.
Each rack has a white mesh bottom allowing for good airflow and quick drying time. The racks have space to attach and stack additional frames, allowing you to dry a large number of herbs. The racks are even good for drying your homemade pasta. Since the drying racks are exposed and don't have a mesh covering, it's best to use them indoors.
The Best Large Stackable Herb Drying Rack
If you're looking for a stackable herb drying rack that allows you to dry a large quantity of different herbs, this one won't let you down. It has up to eight layers, and you can remove as many as you need if you want to create a smaller drying rack. Each layer is 24 inches by 24 inches, allowing 6 inches between each. With all eight layers stacked together, the entire unit is 48 inches tall.
The bottoms of the layers are covered in white mesh, allowing for good airflow through the bottom and between each layer. You can also use the drying rack for clothes. Because it's open and not covered in mesh, it's best to use this drying rack indoors and away from any outdoor pests. You can store the entire herb drying rack or layers you aren't using in the included case.