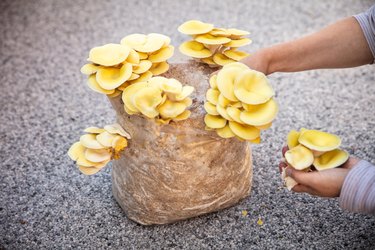 Besides just tasting good, edible mushrooms have a wealth of health benefits—they're low in calories and are a rich source of protein, fiber and antioxidants. Growing mushrooms at home is easier than you might think, and it doesn't require a lot of space. Even beginners will have success growing their own mushrooms with a DIY grow kit. Best of all, there's a wide variety of mushroom types that you can grow right on your kitchen countertop all year round.
Your typical grocery store only offers two or three types of mushrooms, but with a grow kit, you're able to grow gourmet mushrooms like blue oysters, lion's mane mushrooms, and even more common white button mushrooms, to name a few. Regardless of the mushroom varieties you desire to grow and your experience level, a mushroom growing kit makes the process easy. Before you know it, you'll be harvesting and indulging in your own fresh mushrooms.
Below, we take the mystery out of mushroom growing and DIY grow kits and cover some important considerations. We also review some of the best mushroom-growing kits and their features.
What to Consider When Purchasing a Mushroom Growing Kit
‌How Growing Kits Work:‌ The majority of mushroom growing kits are made up of compacted sawmill waste embedded with mycelium. The fruiting parts of the mycelium are mushrooms. Sawdust and mycelium work well together because as the mycelium digests the sawdust, it produces threads that seek out air and moisture. However, the threads cannot locate any due to the enclosed box. When the mycelium is sprayed with water and has a breathing hole, it gathers in that location, forming solid flesh resulting in mushrooms.
‌Easiest-to-Grow Mushrooms:‌ If you're a beginner mushroom grower, you'll probably want to start with a kit containing the easiest-to-grow mushrooms. Oyster mushrooms are good choices for newbies because they are very forgiving of less-than-ideal conditions. You also have various choices in oyster mushroom types including blue oysters, pink oysters, pearl oysters and golden oyster mushrooms.
Button mushrooms are also easy to grow and include portobello and cremini, which are all the same species. Portobellos are fully mature mushrooms and cremini are harvested while immature.
With their meaty taste and unusual looks, Lion's Mane mushrooms are another easy beginner mushroom. In fact, this type of mushroom is often utilized as a substitute for meat. It has many health benefits and can be taken as a supplement.
After button mushrooms, shiitake mushrooms are the second most commonly grown mushroom. They're easy and fun to grow and have a delicious taste along with health benefits and medicinal properties.
‌Read Reviews:‌ Although it goes to reason, you should read all of the instructions when it comes to setting up and caring for your mushrooms. The mushrooms should grow in the box they came in, and you shouldn't let the product sit around for months unused. Be sure to read the reviews before purchasing any growing kits—select one that customers note as the easiest to use and yield the best growing and harvesting success.
The Best Blue Oyster Mushroom Growing Kit
This blue oyster grow kit is a good choice for a beginner mushroom grower and fits well on a countertop. Each kit is handmade from locally sourced non-GMO organic ingredients and produces up to 1.5 pounds of mushrooms. You can expect your first harvest of tasty mushrooms in about two to three weeks. This mushroom growing kit couldn't be easier to use as you open the box, cut an "X" in the enclosed plastic bag, and spritz it with water two to three times daily. You receive step-by-step instructions on how to use the kit along with a spray bottle. North Spore notes you'll have the best mushroom-growing results by using the kit immediately, but you can store it in a cool, dry and dark space for up to three months.
The Best Pink Oyster Mushroom Growing Kit
If you're searching for a mushroom growing kit that works well to introduce the kids to growing or for beginners, this kit from Forest Origins is a good selection. The all-natural kit made in the USA is a breeze to use and maintain. You simply cut open the block and start misting it with water several times daily and you should start seeing the pink oyster mushroom begin to sprout in as little as 10 days. The kit contains all the instructions you need, and it's small enough to sit on a kitchen counter or other indoor countertop. This DIY mushroom-growing kit is good for all ages and makes a unique gift. If you aren't completely pleased with how the kit performed, Forest Origins will give you a full refund.
Whether you desire the smaller button mushrooms or allow them to grow into larger portobello sizes, this kit from Willow Mountain Mushrooms gets the job done. Each custom-made kit contains a growing container, a growing medium with mushroom spawn, and a casing layer that you'll need to mix and apply. Each kit produces up to 4 pounds of mushrooms over four to six weeks. The fresh, custom-made kits are shipped out every Monday and come with all the instructions and supplies needed for successful button mushroom growing. Each kit measures 12 inches square, so it's still small enough for use on a countertop. If you have a problem with the kit and troubleshooting doesn't fix it, the company will send you a replacement.
The Best Lion's Mane Mushroom Growing Kit
If you desire to grow the meaty Lion's Mane mushrooms, this grow kit from BluffCityFungi has everything you need to get started. The kit contains a 10-pound substrate block that is fully colonized, plus step-by-step instructions to make the growing process even easier. After about four weeks, you should be harvesting your first round of Lion's Mane mushrooms while a second flush starts growing. For an additional fee, you can get a reusable humidity tent that assures the mushrooms receive the moisture they need to thrive. The humidity tent upgrade includes a plastic tent, bamboo skewers and a spray bottle. This fast-growing mushroom kit is a good choice for the beginning fungi grower and also makes a great gift.
The Best Shiitake Mushroom Growing Kit
These shiitake mushroom grow kits contain one of the best-tasting strains of Lentinula edodes. You'll receive a block that's ready to fruit, but it can also be stored for up to a week in the refrigerator. Each fruiting block weighs around 4 pounds and is made of plant-based supplements and wood. The fruiting blocks provide up to two flushes of shiitake mushrooms, producing about 1 pound of mushrooms. Both the mushrooms and fruiting blocks are certified 100% organic. To use, simply place the block in a location with indirect sunlight or artificial lighting and mist it with water daily. The company does suggest using a humidity chamber over the log for the best results. You'll also receive all the instructions needed to grow a delicious crop of shiitakes.
The Best Multiple Variety Mushroom Growing Kits
If you're looking for a mushroom growing kit that allows you to grow two types of mushrooms, then this two-variety pack from Back to the Roots won't disappoint. You get two kits for growing pearl oysters and pink oyster mushrooms. These organic and non-GMO kits contain everything you need to grow both mushroom varieties year-round. Each kit contains soil that is plant-based and infused with mushroom spawn, a spray bottle mister, detailed instructions, a discovery booklet and recipes. These kits are great for teaching kids and come with a curriculum you can download. Using the growing kits is easy as you just open the box, continue to mist with water, and in about 10 days, you'll be having mushrooms. Each box produces two crops with three to four servings each. The mushroom kits are guaranteed to grow or the company will send you a replacement.
The Best Budget Mushroom Growing Kit
If you're looking to try your hand at mushroom growing but don't want to spend a fortune on a kit, this organic oyster mushroom growing kit from Back to the Roots should fit your desires. This economical kit contains everything you need to grow two to three crops of oyster mushrooms that provide three to four servings per crop. The boxed kit contains plant-based soil infused with oyster mushroom spawn. You'll also get a spray mister and step-by-step instructions. Open the box and mist it with water, and in around 10 days, you'll be harvesting your first crop of mushrooms. These mushroom growing kits are ideal for novices and are a thoughtful gift for a gardening lover or to donate to a classroom.