Whether you harvest and save seeds from plants in your garden or have a bunch of seed packets you've purchased, keeping them organized in one secure place makes them easy to find when you want to plant. Most importantly, keeping your harvested seeds in protective containers adds to their viability as they aren't directly affected by outside elements like dampness, heat and humidity.
The selections are vast and varied when it comes to the different types of containers suitable for storing seeds. Choices include everything from fancy boxes with decorations and engravings to the basic paper seed packets that you can label with what's inside. What is best comes down to personal preference. The main goal of storing seeds is to keep them contained in a container that protects them from extreme conditions and keeps them dry. Some properly stored seeds can remain viable for years.
Below, we discuss points to consider when purchasing seed storage containers and outline some of our top picks.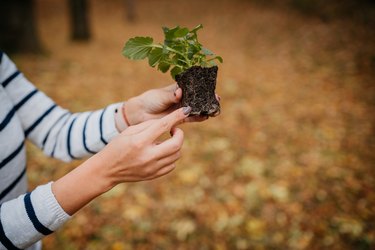 What to Consider When Purchasing Seed Storage Containers
‌Quantity of Seeds‌: Consider the number of seed packages you are storing as you want to purchase a storage box of adequate size. If you only have several seed packs, you can get away with a simple plastic container. However, if you have multiple packages and expect that number to grow, you'll want to select a storage box that has enough room and allows you to expand.
‌Loose or Packaged Seeds‌: If you have seeds you purchased already packaged, you just need a container to store them and keep them organized. However, if you harvest seeds, you'll need something to put the loose seeds into to keep them safe. Depending on your preference, you can store the loose seeds in basic paper packages resembling store-bought seed packs or place them inside small plastic containers. The main goal is to keep the seeds packaged and protected.
‌Type of Container‌: Containers for seed storage come in various styles, from simple paper packages contained in a notebook or a basic container holding the seeds to those having a more decorative appeal. Some containers are more like a library system with dividers so you can break your packages into specific sections. Depending on how much money you want to spend, storage containers for seeds can range from a few dollars in cost to over $50 for fancier types.
The Best Overall Seed Storage Container
The GEBRENT seed storage box is perfect for beginner gardeners or those who don't have a lot of seed packets they want to store. The durable box is made of powder-coated galvanized steel and has the word "seeds" written on the front, so you'll always know what's stored inside. As an added bonus, the seed box comes with 20 paper envelopes that you can note what seeds are inside, their harvested date and any special notes. In addition, you receive 10 plastic plant clips to keep those plants standing tall. The large compartment inside keeps all your seeds dry and protected for future planting. For a basic seed storing container that keeps them protected and organized, this seed storage box can't be beaten.
The Best Budget Seed Storage Container
If you're looking for something that will safely store your seeds, keep them organized but isn't fancy and won't put a hurting on your wallet, then you can't go wrong with this seed storage container. The plastic holding container snaps tightly shut to keep everything inside protected and dry. There are 50 small plastic containers with removable tops that fit inside the box. Although there's nothing fancy about the outer container or the containers it holds, it gets the job done while allowing you to save some cash.
The Best Customized Seed Storage Container
Whether you're looking for a personalized gift for the gardener in your life or you just want it for yourself, this custom-made, personalized plant happiness box from Etsy is attractive as it's useful. This handcrafted wooden box comes in either brown or natural wood colors, and you can leave it plain or engraved with your personalized statement or design. Its dimensions are 9.5 by 5.5 by 3.5 inches, making it large enough to hold a wealth of seed packets. It has a secure clasp holding the box close so the contents won't spill out if it's dropped. This stylish seed storage box makes a great heartfelt gift and will last for years.
The Best Seed Storage Organizer
Whether you're a gardening novice or have been at it for years, this complete seed packet organizer has everything you need to rise to garden greatness. It will keep all your seeds safely stored and organized. The complete kit includes an 11-inch by 11 1/2-inch 3-ring binder, 16 dividers, 32 labels and 30 plastic sleeves, as well as 20 plastic pocket sleeves that hold four seed packets each. The kit also comes with a moon calendar, a page with useful gardening information and extra templates you can download. There's also a space where you can note all your important gardening information. The notebook's outside cover is laminated, so you don't have to worry about it getting ruined if it gets wet. This seed packet organizer keeps all your seeds and information in one safe place and makes a great gift.
The Best Large Seed Storage Container
If you're looking for a large seed storage box that will hold a lot of different seeds, then this plastic organizer box fulfills that need. It has 128 separate plastic containers that will hold a variety of different seed types. You even receive 300 sticky labels you can use to identify what's in each container. There are two separate organizer boxes total with each holding 64 seed containers. This makes it easy to store specific categories of seeds in each box. For example, you could have a separate compartment for vegetables, herbs, annual flowers and perennials flowers and keep everything organized.
The Best Seed Storage Envelopes
These colorful self-sealing coin envelopes from Homtable will work great in storing and classifying all your seeds. You receive 100 of the small, 2.25- by 3.5-inch envelopes that are the perfect size for holding all types of seeds and best of all, they're economical. They come in a variety of colors, making it easy to organize your different categories of seeds by color. For example, you can place all your veggie seeds in blue envelopes and flower seeds in yellow and note on the outside what it is and any special instructions. Once sealed, the envelopes will protect your stored seeds from light and dampness so they're ready to germinate once planted.
The Best Custom-Made Seed Container
If you're looking to store your seeds in a container with a bit of decorative appeal, then this eye-catching custom-made seed box is a good choice. Seed box "Rebecca" is unique in that no two boxes are exactly the same and it's big enough to hold a number of seeds at 15 1/2 inches long, 5 1/2 inches wide and 6 inches tall. The box's outside is decorated in floral decoupage with an antique-like brass clasp and will look good sitting on any shelf in the house. The glass top is stenciled with the word "seeds." There are six interior pockets where you can organize your seeds, with each pocket holding up to 10 seed packets. This custom-made beauty is functional and will add a floral charm wherever used.
The Best Mini Seed Storage Containers
If you already have a container that holds all your seeds but need something to store all your new seeds separately, then these small plastic containers from DecorRack won't disappoint. Each clear plastic container holds up to 1 ounce of seeds and with 30 in the package, you have enough to store a quantity of all types of seeds. Each container has a durable plastic lid that snaps in place, keeping your seeds dry and securely contained. These are functional and good value; if 30 isn't enough, you can also purchase in quantities of 12, 16, 40 and 60 per pack.