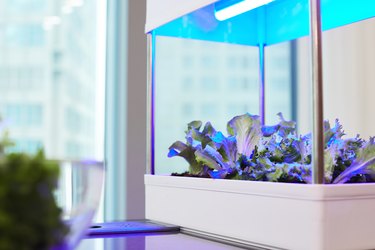 Don't let lack of gardening space prevent you from growing fresh fruits and veggies because with a hydroponic growing system you can have an indoor garden right on your countertop. With hydroponic gardening, you grow your plants in water instead of soil and don't require a large space to do so. Besides taking up a small amount of space, with a hydroponic garden, you don't have to worry about soil-borne diseases affecting your plants.
Modern hydroponic system garden kits usually come with all the supplies needed to successfully grow your own edibles, whether that's fresh herbs, chives, tomatoes or leafy greens. You can also grow your favorite flowers. Starter kits come with all the instructions and their ease of use assures even beginners will have success. Regardless of outdoor conditions, hydroponic systems allow you to have an indoor home garden year-round.
Below, we cover some important points of consideration when selecting the right hydroponic growing system for your needs. We've also noted some of the best hydroponic systems available on the market.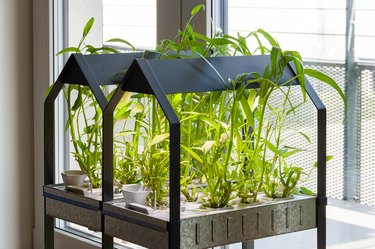 What to Consider When Purchasing an Indoor Hydroponic System
‌Indoor Garden‌ ‌Size‌: Indoor hydroponic systems come in a variety of sizes depending on how many plants you want to grow. Most indoor growing systems, even the larger ones only take up several square feet of space, with smaller systems generally lightweight and compact. However, if you're a beginner grower, you might want to stick with a smaller system until you learn how everything works. Consider the amount of space you have to devote to housing your hydroponic garden.
‌Plant Types‌: Some hydroponic systems are designed to grow specific types of plants like leafy greens, so make sure to do your research when selecting the appropriate system for your needs. When selecting plants, it's best to choose smaller growing types like dwarfs or those with a bushy habit. Fruits and veggies aren't the only things you can grow in the system as flowers perform well, too.
‌Lighting‌: Many hydroponic growing systems have LED grow lights included in the package. If you have an area inside the home that gets direct sunlight during the day, you might be fine without them. However, if you have energy-efficient windows, they can block out the full spectrum of light, making the area shadier and negatively affecting plant growth. Whereas, LED grow lights imitate normal sunlight allowing for normal photosynthesis. Some system types have dimmers and timers so you can control the amount of light your plants receive.
‌Cost and Maintenance‌: When first using a hydroponic garden system it's probably best to start with something small until you become familiar with how everything works. These gardening systems can vary greatly in price, with some running into a thousand dollars or more. You can always upgrade to more elaborate systems once you understand the basics of hydroponic gardening. Most systems require minimal maintenance but once your plants are done growing, you should clean the system before starting new plants. Otherwise, you can wipe the system down with a damp rag while in use to maintain its looks. Consider using filtered water if mineral deposits form due to your tap water being high in minerals like iron and calcium.
The Best Overall Indoor Growing System
An early leader in indoor hydroponics, AeroGarden Harvest Elite allows you to grow your indoor veggies and herbs year-round right on your countertop, regardless of the weather outdoors. The sleek, brushed stainless steel unit is compact enough to sit on your kitchen counter or table and doesn't sacrifice the capacity of water. It comes with six pre-seeded seed pods featuring mint, dill, Thai basil, Genovese basil, thyme and curly parsley, so you're ready to start growing as soon as you receive your garden kit.
The system has a 20-watt full-spectrum LED grow light, and the control panel is easy to use with a setting for vacation mode. The hydroponic system accommodates plants growing up to a foot tall, and since plants grow in water and there's no soil, you don't have a mess to deal with. You also get Miracle-Gro nutrient solution plant food that feeds your plants for a full season. There's also a water level tracker that alerts when the water tank needs more.
The Best Budget Indoor Growing System
If you're a beginner when it comes to growing herbs and veggies in an indoor hydroponic system and you don't want to spend a fortune, then this starter kit from Ailiss Pro is a good choice. The unit is made from Acrylonitrile Butadiene Styrene (ABS) and is small enough to sit on a table or countertop. The 36-watt LED grow lights offer up to 16 hours of full light, and you can set it for vegetable mode or fruit and flower mode.
You can grow up to 12 plants in your indoor smart garden without worrying about pests or disease because your plant roots are growing in water. The system's height is adjustable up to 14.57 inches to accommodate taller growing plants. With the large water tank, you'll use less water than gardening in the soil, as it holds enough water for up to a month of growth. The kit includes two bottles of plant food, 12 grow domes, 12 planting baskets and 24 sponges with easy-to-use directions.
The Best Large Capacity Indoor Growing System
For those wanting to grow more plants, the Gardyn hydroponic growing system allows you to grow 30 plants at one time. The starter kit has everything you need to get growing, including non-GMO plant seeds, an LED grow light, a water tank, plant food and a light timer. This system is the 2020 Sustainable Awards winner and is the only hydroponic system using AI technology to help you produce more and healthier plants. You only need an Internet connection and power to run this vertical gardening system.
At 2 feet wide and 5 feet tall, it fits perfectly in any indoor space, allowing you to grow year-round. You receive 25 varieties of seeds you can grow in your vertical garden, including veggies like tomatoes, peppers and various types of lettuce. You'll also receive herb seeds such as basil, chives, and cilantro and flower seeds like lavender and petunia. This system has everything you need to start growing a wealth of different plants indoors.
The Best Tower Indoor Hydroponic Growing System
This vertical hydroponic gardening system allows you to grow 12 plants at a time both indoors and outside. The system makes hydroponic gardening a breeze, using 95% less water than you would with standard gardening. The unit is self-watering and self-fertilizing and there's not much maintenance other than weekly checks on the water and adding a little weekly plant food, which is included with the system.
The system automatically distributes an even amount of water to all the plants. However, if you're using the unit strictly indoors without direct sunlight, you'll want to purchase the Glow Rings lights to give your plants the light they require. The package includes everything you need to get started, including a power cord, tower, water pump, timer, pH testing kit, stir sticks and enough plant food for more than 130 plants and scoops.
The Best Small Indoor Hydroponic System
Whether you're looking for the perfect gardening gift or would like to try your hand at hydroponics but want to start off small, this starter kit from ScienGarden could be just what you're looking for. At just under 12 inches wide, it's the perfect size to sit on a tabletop or countertops without getting in the way. It has three pods, allowing you to grow your choice of plants. You can also adjust the light's height to 13.4 inches to accommodate your plant's height as it grows.
The water pump circulates the water quietly and the water tank is detachable, making it easy to clean, and there's a window so you can easily check the amount of water in the unit. The system has 15-watt LED grow lights, and you can easily turn the lights on or off and start a new cycle with the push of one button. Along with the growing system, you also receive three baskets and sponges, three grow domes, an adapter, plant food and instructions on the system's use.