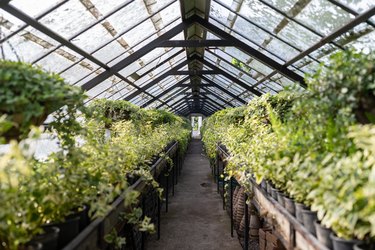 Sometimes referred to as a mini-greenhouse, portable greenhouses prolong a season and allow you to get an early start on another. They're also perfect for growing cold-sensitive plants like orchids or tropical hibiscus and getting a head start on your veggie seeds for a spring garden. Like stationary greenhouses, a portable greenhouse protects your plants from unfavorable weather conditions like frost, wind and rain. Best of all, you can move it without much effort from one location to another.
Whether your only gardening space is a patio or balcony or you have a larger landscape, there's the perfectly-sized and shaped portable greenhouse to suit your needs. Choices include everything from those that could fit on a tabletop and pop-up types to larger ones big enough for you to walk inside that hold a wealth of plants. Besides their portability, they are usually a breeze to put together.
To assure you get the perfect one for your specific needs, below are some points you should consider when purchasing a portable greenhouse. We've also given our take on some of the best-quality portable greenhouses and why they can make your life a bit greener.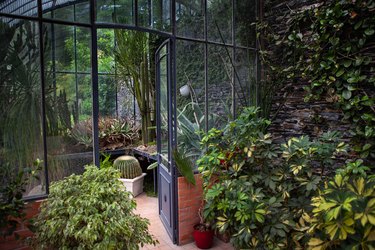 What to Consider When Purchasing a Portable Greenhouse
‌Size of Area and Greenhouse‌: To select the perfect sized portable greenhouse, measure the area where you plan on using it. You don't want to open up your new greenhouse only to find it's too big to fit in the chosen location or a larger one would have fit. Take into account the vertical and horizontal dimensions of the area.
‌Material and Construction‌: For long-lasting use, select a greenhouse having a durable and sturdy structure that won't collapse with the slightest movement or amount of use. Rust-resistant metal structures withstand more than one or two growing seasons and can last for years. Make sure the pieces join together sturdily and don't wobble around because they are flimsy. Additionally, durable cover materials that withstand various outdoor conditions while protecting your plants are imperative.
‌Ventilation‌: Ventilation in the portable greenhouse allows you to control the amounts of heat, air and humidity created in its inside. During summer, when temperatures are hot, you should be able to open the ventilation area which allows more cooling airflow inside. In winter, closing everything up creates more heat inside the greenhouse keeping your plants warmer.
‌Plants and Shelves‌: To select a large enough greenhouse, consider the size of your plants and how many you have. In addition, if you're growing potted plants like veggies and flowers, or you'll have seed-starting trays, you'll probably want a greenhouse with shelves. Shelves make tending your plants easier as they're off the ground, and you can have more plants in your greenhouse because there's more space.
The Best Overall Portable Greenhouse
Whether starting seedlings, prolonging a season or protecting your plants from poor weather conditions, the Ohuhu portable greenhouse won't let you down whether you use it indoors or outside. The durable waterproof cover is made from PE material with UV protection and won't tear. It measures 27 inches by 18 inches by 62 inches and is big enough to hold various plants on its four detachable steel wire shelves. The rust-resistant steel tubes add durability and years of use to the portable greenhouse's structure. The cover has a zippered roll-up door allowing for easy access inside with screened ventilation allowing for adequate air circulation inside. Best of all, no tools are required to set it up, and all the parts are detachable, meaning moving the greenhouse is easy.
The Best Budget Portable Greenhouse
The LeJoy portable greenhouse is big in size but small in the amount of money you'll spend, making it budget-friendly. Its dimensions are 56 inches by 29 inches by 77 inches, has six shelves with three shelves on each side, so it's big enough to hold multiple seed-starting trays or plant pots. Use the greenhouse outdoors and indoors. It has a durable and clear waterproof grid PE cover that protects plants from poor weather like wind and frosts. It has a durable frame made from powder-coated steel with a strong bearing net on each layer. The bottom shelf is situated off the ground allowing for additional airflow underneath. It's large enough for you to walk inside the zippered roll-up door and has screened ventilation giving your plants the necessary air circulation for good growth.
The Best Portable Greenhouse for Large Yards
If you're looking for a large portable greenhouse that's sturdy and big enough to hold a wealth of different plants from small to large, then you can't go wrong with this walk-in model from King Bird. At 15 inches by 6.6 inches by 6.6 inches, it's big enough to hold everything from your seed-starting trays to sapling trees and shrubs, protecting them from poor conditions like rain, wind and frost. It has a tunnel design with a heavy-duty, rust-resistant galvanized steel frame with three top crossbars and 10 bottom poles to reinforce the entire structure. Also included are 20 extra stakes and four ropes to secure it to the ground. The greenhouse has a durable reinforced grid PE cover that is waterproof and UV protected. Two doors on each end zip open and have a PE cover that rolls up and opens to a screen door, allowing more air circulation and easy entry. You also have eight screened, roll-up windows and two vents on the doors adding to the ventilation and where you can control airflow and the temperature inside.
The Best Portable Greenhouse for Small Yards
If you don't have a lot of yard space but would like to get a head start on the growing season or have a place to protect your tender plants, then the Laurel Canyon walk-in portable greenhouse could be what you need. It's big enough to hold a variety of plants at 57 inches by 56 1/2 inches by 76 inches, but still small enough to fit in tightly spaced yards. It has a durable powder-coated steel tubing frame, and nine grid shelves spaced 19 inches apart, each holding up to 33 pounds.
The high-quality PE cover is waterproof and UV protected with a zippered roll-up door and two windows on each side, allowing for ventilation and air circulation. It protects plants from unfavorable conditions like rain, wind, sun or frost. The greenhouse is large enough for you to walk inside and care for your plants, and best of all, you don't require any tools to set it up.
The Best Portable Greenhouse for Balconies
If you're gardening on your balcony, EAGLE PEAK's portable greenhouse works great because it's not too large at 27 inches by 19 inches by 51 inches, and the addition of casters makes it easy to transport from one location to another. The casters are removable, with two having brakes making the greenhouse sturdier and keeping it in place. It has an alloy steel frame and four large shelves that hold multiple plants. The high-quality PE cover has a roll-up and zippered front door that allows for easy access and ventilation and is waterproof and UV protected. Whether faced with rain, wind, sun or frosts, the durable cover keeps your plants protected. The greenhouse is the perfect solution for gardening when you live in an apartment or condominium and don't have yard space.
The Best Portable Greenhouse With Shelves
If you need extra shelves to hold all your gardening tools, plants and trays, then Ohuhu's 12-shelf portable greenhouse can fulfill your needs. The large greenhouse's dimensions are 56.3 inches by 55.5 inches by 76.8 inches and has 12 wired shelves with six on each side, giving you plenty of space for your flowers, veggies or seed-starting trays. It has a sturdy rust-resistant metal frame, and plastic connectors and assembly won't take a lifetime.
The greenhouse has a PE cover with grid distribution making it durable and tear-proof, and it's waterproof with UV protection. Your plants are protected from unfavorable weather like rain, frost, wind or sun. There's room to walk inside through the zippered roll-up door that makes caring for your plant easy, and the two velcro side windows allow for good ventilation and airflow control. With all the available shelf space, you'll have room for all your tools and plants.
The Best Mini Portable Greenhouse
If you're searching for a sturdy miniature greenhouse that can fit on a table, then AHOME's mini pop-up portable greenhouse answers that call.The greenhouse is small enough to sit on an indoor or outdoor table or even on a shelf and protect several plants. There's no assembly required, as all you have to do is take it out of the package and it instantly pops open and is ready for use. The transparent PVC is waterproof and stands up to sun, wind, rain, pests and frost, giving your plants a warm and protected area to reside. You can increase air circulation by opening the screened zippered vent. The pop-up greenhouse has an open bottom so you can place it directly over a plant. Don't let the mini greenhouse's size fool you because although it's small, it offers big protection to your plants.