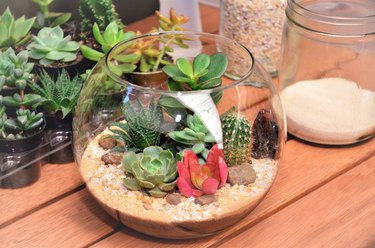 An easy way to brighten your home or office and bring some life and greenery to the area is to add a plant terrarium as a small indoor garden. With such wide varieties in sizes and styles, you're bound to find one that's the perfect size to fit on a tabletop. Using a terrarium starter kit makes the process easy, and before you know it, you'll be enjoying your creation of a thriving mini ecosystem.
Whether you're into tropical plants or those preferring an arid environment like succulents, air plants or cacti, there's the perfect terrarium kit to fulfill your desires. Plant terrariums come in two styles: open and closed. Open terrariums are great for housing arid plants, and closed terrariums are great for moisture-loving tropicals. You can even get the kids interested and involved in growing, as there are mini terrarium kits made specifically for children. If you have a plant lover in your life, a DIY terrarium kit also makes a great gift.
Below, we cover some tips and considerations about terrarium kits for both types. We've also listed some of the best terrarium kits and noted their important features.
What to Consider About Terrariums and Purchasing a DIY Kit
‌Difference in Terrarium Types‌: Closed terrariums are just as they sound. No portion of the terrarium is open to the outside environment, and the plants are enclosed inside the transparent vessel housing them. They are perfect for growing tropical plants that prefer hot and humid conditions for good growth. Because they are sealed, conditions inside the terrarium remain on the moist side. Sometimes, you see these types of terrariums listed as tropical terrariums.
On the other hand, open terrariums are perfect for plants that prefer drier and more arid conditions, such as succulents and cacti. Usually, one side of the terrarium is open to the outside environment. You will usually see these types of terrariums listed as succulent terrarium kits or air plant terrarium kits.
‌Terrarium Plant Types‌: The type of terrarium you choose decides what types of plants you can grow in them. Since succulents, cacti and air plants do not like moist or wet climates, it goes to reason they wouldn't perform well planted inside a closed terrarium. However, given enough moisture, tropical plants will not only grow well in a closed terrarium but also will grow in an open one. Whatever you select, try to stick with something that has small leaves. You don't want to plant something like an immature monstera start in your terrarium only to have it grow into a real live monster.
‌Terrarium Plant Sizes‌: It's best to start with small plants so they don't quickly overrun the terrarium. Many garden centers have a good selection of small succulents, air plants and cacti that are the perfect size to fill an open tabletop terrarium. If searching for small tropicals for a closed terrarium, many of those small plants you see in those 2-inch and 4-inch containers are really baby plants of ones that can grow large but at a quarter of the price. They'll make perfect additions to the terrarium. You also don't want to fill the terrarium with so many plants that there's no room for them to spread out. Many complete terrarium kits also come with plants, along with all the needed supplies.
The Best Overall Terrarium Kit
This glass geometric terrarium kit has everything you need to create an eye-catching mini garden that fits perfectly on a tabletop or desk. The 8-inch open terrarium starter kit comes with live handpicked succulents, reindeer moss, healing crystals, potting soil and fertilizer and crushed natural pebbles. In addition, the kit also contains terrarium tools, a decorative mini figurine and a spray bottle. This is the perfect terrarium for those wanting to create a fairy garden. Once planted, this terrarium is sure to catch the eye whether used as a tabletop centerpiece, placed on a windowsill or used on a desk. It will also make a great gift idea.
The Best Mini Closed Terrarium Kit
If you're looking for a smaller-sized closed terrarium kit that fits perfectly on your desk, counter, tabletop or even a windowsill, this kit will satisfy that need. You receive everything you need to create your own mini-ecosystem, along with step-by-step instructions. This kit gives you the option of either purchasing the terrarium kit and adding plants of your choice or including several selections of plants. The included plants are fittonia, ferns and dwarf baby seeds.
The kit includes a handmade glass jar that is almost 8 inches tall with a cork lid, multi-purpose compost, activated charcoal, dried sphagnum moss, decorative and clay pebbles, white stones, kiln-dried sand and driftwood, along with a brush and wooden skewer. This closed terrarium kit makes a perfect gift and will add a refreshing appeal anywhere it's located.
The Best Tabletop Hanging Open Terrarium With Stand
Not only do you receive a complete kit with this showy teardrop-shaped glass terrarium, but you also receive live plants. The open terrarium kit contains a glass terrarium that's 7.25 inches tall that hangs from a 9-inch metal stand, along with handpicked succulents and pink or green reindeer moss. You also receive a complete instruction book, along with organic succulent soil, decorative white rocks, healing crystals of your choice, a small figurine, terrarium tools and a spray bottle. This eye-catching terrarium is bound to add a colorful appeal to any desktop or tabletop and also makes a decorative centerpiece or windowsill decor.
The Best Large Tabletop Terrarium Kit
If you're looking for a larger terrarium kit that will still sit comfortably on a table, then this 1-gallon kit from BTV Terrarium Kits will suit your desires. Once filled, it will look stunning on any table, desk or counter and will definitely grab all the attention with its large size and greenery.
The kit contains a gallon glass jar with a lid, leca clay, substrate barrier, soil mixture for terrariums, sheet moss and two live plants. You'll also receive step-by-step instructions. The seller also offers a 64-ounce terrarium kit with all the same supplies, but you'll receive a smaller glass container. This closed terrarium makes a great ecosystem for those smaller tropical houseplants that will brighten your indoor space year-round.
The Best DIY Terrarium for Kids
If you're trying to get the kids more involved with nature and science, they won't be disappointed with this Grow N' Glow DIY terrarium kit. The kit contains everything they need to create an interesting terrarium, and to further pique their interest, the terrarium glows at night with glow-in-the-dark sand, forest figures and stickers of the constellation.
You receive a plastic jar and lid, potting mix, small river stones, two colors of glow-in-the-dark sand, glowing forest figurines, stickers, organic chia and wheatgrass seeds, a plant mister and complete instructions on assembling and caring for your terrarium. The kids can start to see their terrarium spring to life in as little as three or four days.
The Best Budget DIY Terrarium Kit
If you're a newbie gardener or would just like a small terrarium to add to your tabletop—but don't want to bust the bank—this succulent terrarium kit is a good choice. The kit has everything you need to create a small terrarium ecosystem that won't take up much space.
You receive a round 4-inch glass container with an opening, a bag of succulent soil and river rocks, preserved reindeer moss in neutral colors and one Hen and Chicks succulent, along with complete instructions on assembling the terrarium and its care. Although the small open terrarium sits comfortably on a desk or tabletop, you also receive twine, in the event you'd prefer to hang the terrarium. This small but showy terrarium makes a good gift for novice gardeners or those new to terrariums.
The Best Mini Open Terrarium Kit
This mini open terrarium kit from NW Wholesalers includes a 4-inch round glass orb terrarium with an opening, along with white sand. You also receive three tillandsia air plants that couldn't be easier to maintain, making this kit a great choice for the novice or forgetful gardener. The handblown glass orb terrarium has a three-legged base making it a gorgeous addition to any desk, table, countertop, windowsill or other flat surfaces. It's small enough to sit anywhere without taking up much space, but eye-catching enough to be a piece of living art. Although small in size, this glass open terrarium kit is big on looks and makes a good gift idea.