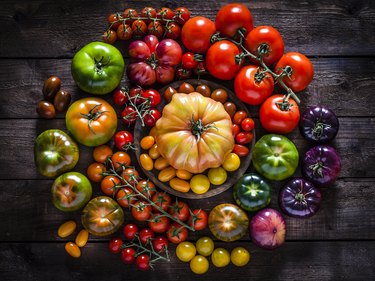 Most growers would agree that a garden just isn't the same without the addition of tomato plants (‌Solanum lycopersicum‌). There's no comparison to the taste of a homegrown tomato, so it's easy to see why they're the most popular veggie with home gardeners. You don't have to be an expert gardener to have success growing tomatoes, and adding some necessities to your growing arsenal of garden tools will have you enjoying the best bounty yet.
Whether you grow your tomatoes in a garden with other plants, in a tomato garden all on their own, or in containers, we cover some considerations and tips to assist in growing the healthiest plants. We've also listed some must-have supplies and their features that every tomato grower needs for a big harvest of juicy deliciousness.
‌Tomato Types:‌ There are two basic types of tomatoes determined by their growth habits: determinate and indeterminate. Determinate tomatoes are smaller bush-like plants that produce all their blooms and fruits at one time. Indeterminate tomatoes can grow into tall plants that continue blooming and fruiting over the warm season. Determinate are the best tomatoes for potted growth and some types of cherry tomatoes grow well in hanging baskets. Indeterminate tomatoes grow so large they require some type of support like a tomato cage or trellis.
‌Tomato Varieties:‌ There's an almost endless selection of tomato varieties and each has its special attributes. Depending on the cultivar, tomatoes come in a wide variety of shapes, sizes, colors and tastes. Choices include everything from small, marble-sized fruits to large slicers like beefsteak. Red isn't the only tomato color as they can also be orange, pink, green, yellow, and purple to almost black. The seed package or plant tag will give you information on days to harvest, plant and fruit size, as well as important growing information.
Heirloom tomatoes are varieties passed down through generations for at least 50 years or were introduced to the commercial market before 1940. They often don't have the pretty shapes or disease resistance of modern varieties, but many people swear they have the best taste.
‌Planting and Growing Tips:‌ Whether you grow transplants or tomato seeds, wait until frosts have left your region before planting, as tomatoes are a warm-season crop. They'll grow, flower and fruit best when grown in a site receiving sun for at least half the day and in well-drained, fertile soil.
When planting transplants, snip off the bottom one or two sets of leaves and put about 2/3 of the plant underground, as this leads to a stronger structure. If growing your tomatoes in containers, use a 3- to 5-gallon pot and make sure it has bottom drain holes. Apply water at the base of plants to prevent disease problems or water early in the day so the foliage dries before nightfall. Use a fertilizer specific to tomatoes and feed according to the package directions. Check the tomato plants regularly for signs of pests or disease.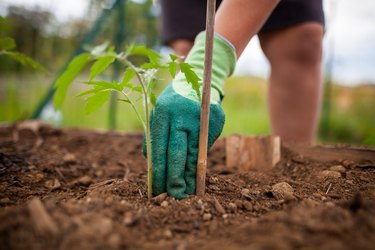 1. Ryscam Indoor Seed-Starter Kit
Seed-starting couldn't be easier with this grow kit that has everything you need to get your tomato seeds off to the best start. You receive two BPA-free plastic and silicone trays with 12 planting cells each (although there are 48- and 72-cell versions for sale, too), a humidity dome with an adjustable opening, and two seeding tools. The silicone seeding trays are flexible and allow you to easily remove your tomato seedlings, roots and all, without damage. You can reuse the seed-starter trays season after season and they're dishwasher-safe.
2. Gardeners Basics 16 Variety Pack Heirloom Tomato Seeds
If you're undecided about what tomatoes you want to grow, or would just like to grow a variety of heirloom tomatoes, this variety pack offers 16 different types, including determinate and indeterminate types. The non-GMO seeds include Tiny Tim, Rio Grande, Cherokee Purple, Roma VF, Black Cherry, San Marzano, Pineapple, Green Zebra, Yellow Pear, Ace 55, Black Krim, Golden Jubilee, Tomatillo Grande Rio Verde, Large Cherry, Brandywine Pink and Tomatillo Verde. You get a little bit of everything when it comes to tomatoes, including orange, red, yellow, purple to almost black, and green splotches. The seed packets give you all the information needed to grow an abundant crop of tastiness.
3. Fiskars 12-in. Ariana Planter With Self-Watering Grid
Whether you lack yard space or just want to grow your tomatoes in pots, this 3-gallon container is a good choice for your plants. It's made from weather-resistant resin, has bottom drain holes, and is self-watering, so it will keep your tomatoes hydrated longer. Its clay color has the look of terracotta but will keep the soil moist longer and there are no worries about it breaking. The container is a good size to contain your determinate tomato plants and allow them to reach their growth and fruiting potential.
4. Miracle-Gro Moisture Control Potting Mix, 8-qt., 2-Count
All tomato plants require well-drained, fertile soil for the best growth, flowering and fruiting, and this one from Miracle-Gro suits their needs. The potting mix contains Miracle-Gro plant food and will continue to feed your tomato plants for up to six months, meaning bigger and more productive plants. In addition, the soil mix keeps your plants hydrated longer with its combination of coir, sphagnum peat moss, and a wetting agent that protects your veggies from overwatering and underwatering. The mix absorbs 33% more water than standard soil mixes. With this deal, you receive two 8-quart bags of soil mix that work well used in indoor or outdoor containers.
5. Miracle-Gro Tomato Fertilizer, 1.5 lbs.
Feeding your tomato plants and keeping them producing a large bounty of tasty fruits couldn't be easier when using this fertilizer from Miracle-Gro. This water-soluble blend works well for tomatoes and your other veggie plants, and when used as directed, there are no worries about burning your plants. The fertilizer is easy to use as you can add the specified amount to a garden feeder or watering can and apply it directly to your tomato plants every week to two weeks. The fertilizer starts working immediately and the 1.5-pound box is enough to keep your tomatoes healthy and producing all season long.
6. K-Brands Tomato Support Cage
When it comes to growing tomatoes and necessary garden supplies, especially when growing indeterminate types, you'll need a tomato cage for supporting the long, sprawling vines. This premium cage has a steel core that is covered in plastic, contributing to its strength and durability. Although it's great for supporting your tomato plants, it also works well for other veggies and plants that require something to support their branches. When the adjustable cage is fully assembled it stands 68 inches tall, but you can adjust it to smaller proportions and create four 16-inch cages or two 34-inch cages. Assembly of the cage is effortless and no tools are required, giving your tomato plants long-lasting support.
7. Natria Neem Oil Organic Pest and Disease Control
No matter how much care and attention you give your tomato plants, disease and pest problems can still occur. Quick action is always best when treating potential problems and this organic neem oil will assist in keeping plant destruction at bay. It works as both a fungicide and a pesticide. The neem oil comes in a ready-to-use 24-ounce bottle (although you can also purchase a 128-ounce version) and is safe to use up to the day of harvesting your tomatoes. It treats problems with aphids, whiteflies, spider mites, fruit flies, caterpillars, midges and beetles, plus more. Disease problems it treats include powdery mildew, scab, blackspot, botrytis, downy mildew and rust, just to name a few. You can apply it every week to two weeks but always follow the label instructions on its use.
8. MIXC DIY Drip Irrigation Kit
To prevent potential disease problems with your tomato plants, it's best to water them at their base. This DIY irrigation kit gives you everything you need to make that possible. The kit contains a 12-port manifold, so there are enough outlets to keep your tomato garden hydrated. You also have the option of the irrigation system releasing a fine mist, as well as dripping water near the plant's base. From connectors, manifolds and emitters, you have everything you need for easy DIY installation and customization, and the system connects directly to a faucet. The irrigation kit makes watering your tomatoes a breeze while helping keep them disease-free.
9. Aililan Tomato Planter With Wheels and Trellis
This moveable tomato planter is a good choice for those lacking outdoor garden space or wanting to grow their tomatoes on a porch or balcony. The raised bed planter has four wheels with two brakes, so you can move it with ease and then lock it in place. When the trellis is attached to the planter box, the entire unit is 66 inches tall. The planter is self-watering as it has a reservoir that holds water, keeping your tomato plants hydrated for longer. Other than tomatoes, the planter is suitable to use with all your veggies and plants requiring support. The kit contains everything you need for quick installation and takes around 10 minutes to get the planter installed and ready to receive your tomato plants.