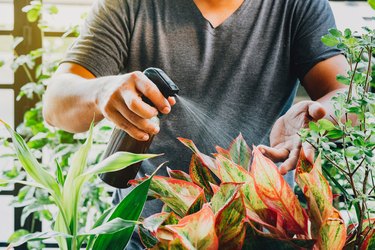 Houseplants are not created equal when it comes to their preferred humidity levels. Depending on the type of plant, some require more humidity to replicate their native environment, while others are native to dryer, low-humidity climates. Humidity lovers include tropical plants, ferns, orchids and peace lilies, and a good plant care routine should consist of regular misting to increase much-needed humidity. However, misting plants isn't necessary or preferred with plants like African violets, succulents and cacti, as they prefer drier conditions.
Increasing humidity levels in your indoor garden won't require a science degree because it's so technical, as it's as easy as getting a plant mister. It's one of the most inexpensive additions to your garden tool arsenal that keeps your houseplant's foliage green and robust with little effort. Spritzing your indoor plants several times each week is all it takes to keep them happy and healthy.
Below, we've noted some considerations when selecting the best plant misters for your particular needs. Although water misters come in various styles, we've reviewed some of the better ones on the market and the retailer selling them to assist in making your decision on which one is best a bit easier.
What to Consider When Purchasing a Plant Mister
‌Mister's Material‌: Plant misters come in a range of materials and what you select depends on where the mister is displayed. Choices include everything from glass misters, brass plant misters, and those made from stainless steel to basic plastic spray bottles. If you plan on displaying the mister by your plants, a glass spray bottle or one made from brass or stainless steel blends in better with your home decor. However, if you plan on storing the plant sprayer out of sight when not in use, a plastic spray bottle works well. Regardless of the material, they perform the same job of misting your plants with water.
‌Ease of Use‌: Plant misters work by releasing a mist of water each time you squeeze the trigger or by releasing a continuous spray of water. Some have an adjustable nozzle allowing you to change the spray pattern of water. If your collection of indoor plants requiring increased humidity levels is large, using a plant mister with a continuous spray is easier on your hands. You'll also get the job done more quickly. However, if you only have a few houseplants that require misting, using a plant mister with a trigger is sufficient.
‌Water Capacity‌: Plant misters come in a range of different capacities. If you have a small collection of indoor plants, using a small, more decorative plant mister spray bottle holding around 10 ounces of water or less is sufficient. Plastic spray bottles typically hold around 16 ounces of water. For larger indoor gardens, you can find pump-style plant misters that hold a gallon of water or more.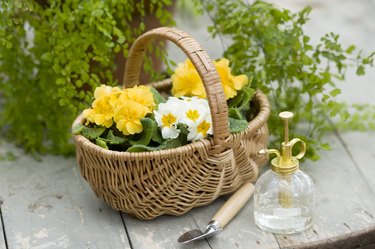 The Best Overall Plant Mister
This multipurpose handheld plant mister holds 1.5 liters of water so there's enough to spritz quite a few houseplants before it needs a refill. It's made from durable clear plastic so you can easily check the water level. You can easily adjust the spray pattern of the brass nozzle from a fine mist to a more powerful water spray. The handheld sprayer is a breeze to use, as all you do is fill the bottle with water, screw on the top and give it a few pumps to build up pressure. Then, you just squeeze the trigger and out comes a continuous spray of water. Once you start losing pressure, you just give it a few more pumps and you're ready to start misting again.
The Best Budget Plant Mister
Your plants don't require fancy misters to get the job done and these spray bottles from Bar5F will increase humidity levels without making your wallet cry. You get two durable spray bottles each holding 16 ounces of water, which is enough water to spritz quite a few plants. The bottles have an ergonomic design, reducing hand fatigue while you're using them with one hand trigger action. They have an adjustable nozzle allowing you to adjust the spray pattern of the water. The plastic spray bottles have a leak-proof design as well as a strainer to prevent clogs. BPA-free, the bottles are safe to use on edibles and durable enough to use over and over again.
The Best Electric Plant Mister
If you're looking for an easy-to-use plant mister, then you won't be disappointed with this automatic plant mister from SideKing. The durable plastic bottle is made from HDPE material and holds 1.5 liters of water. It has an adjustable nozzle allowing you to change it to the desired spray pattern. The handle has an ergonomic design and locks so you can utilize a continuous spray of water.
Once filled, the plant mister automatically primes itself and with a push of a button, it starts spraying. Fully charged, the sprayer continues working for three hours before you'll need to recharge with the USB cable that's included. This automatic mister is easy on the hands and makes quick work of misting your plants, and holds enough water to spritz a larger indoor garden with ease.
The Best Small Continuous Plant Mister
This plant mister from Beautify Beauties holds 7 ounces of water, but there are also choices holding 5 ounces, 17 ounces and 25 ounces. The plastic bottle releases an aerosol-like spray of water that lasts for several seconds. Its fine mist is perfect for delicate plants that can be damaged by a stronger spray force. It has 360-degree spraying, meaning you can use it at all angles. The ergonomically shaped handle reduces fatigue on your hands while using. It's a breeze to use, as all you do is fill the plastic bottle with water, replace the top and squeeze the handle to release a fine mist of water.
The Best Vintage Style Plant Mister
If you're looking for a retro-style plant mister, this one from REFFU might fit your desires. The mister is 6.42 inches tall, and the thick glass base is as attractive as it is useful with its stamped designs and non-skid bottom. The top pump assembly is bronze and made from durable plastic with a convenient holder for your finger. It's easy to operate the top pump and mister with one hand and finger.
Although you'll probably want a larger capacity mister for a larger quantity of indoor plants, this vintage-style mister is perfect for use in terrariums or to increase humidity for several plants. This attractive plant mister will look great sitting on a shelf next to your plants waiting for its next use.
The Best Glass Plant Mister
For a more environmentally-friendly plant mister, these amber glass spray bottles from Sally's Organics help reduce plastic chemicals inside your home. The bottles are chemical-free and made from food-grade glass and the amber color offers UV protection. You get two bottles with this deal that hold 16 ounces of fluids each. The adjustable plastic nozzle is BPA-free and the caps have a silicone cone that prevents any leaking.
Although the bottles hold a quantity of water, they are still slim enough to fit comfortably in your hand. They are easy to use, as after you fill them, you simply pull the trigger to release a mist of water. The amber color makes these glass spray bottles attractive enough to sit on a shelf with your greenery.
The Best Multifunction Plant Mister
If you'd like a plant mister that can also function as a watering can, then this multifunction plant mister from Henry Scott won't disappoint. It allows you to water your plants and spritz them with water at the same time. The plastic bottle holds 1 liter of water, and its slim design and comfortable side handle make giving your plants a drink or spritz a cinch.
It's easy to use, as all you do is remove the top sprayer, fill the bottle with water, replace the sprayer top and then pull the trigger to mist your plants or use the spout to water. You can also adjust the nozzle to control the spray pattern. This is a great addition to your garden arsenal of tools that get two important plant care chores done with the same device. It also makes a unique gardening gift for the plant lover in your life.