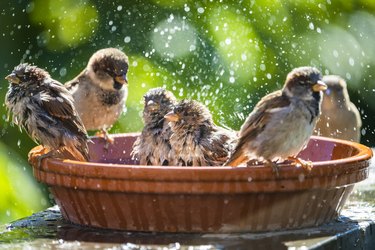 It's amazing how a simple bird bath can attract a variety of different feathered friends to your yard year-round. They make bird-watching possible from the comfort of your home and are great for attracting birds of all species. By installing an outdoor bird bath, you'll find wild birds like hummingbirds, bluebirds and songbirds visiting to get a drink of fresh water. Although bird feeders attract seed-eating birds, not all birds eat seeds, so installing a bird bath is a sure way to get more backyard bird visitors to your landscape.
Adding a water feature in your yard, by way of a birdbath, not only assists your local bird population but pumps up the look of your outdoor decor. A decorative bird bath added to your garden decor makes the location stand out, and you have a wealth of choices when it comes to types of bird baths. Choices include everything from concrete bird baths, hanging bird baths, solar-powered bird baths, ceramic bird baths, pedestal bird baths, and glass bird baths. There are also heated bird baths for those living in cold winter climates.
Regardless of your personal preference and design style, there's a bird bath to fit your desires. To assist in making an informed choice, we cover some important considerations when selecting the best bird bath for your needs. We also cover some of the best bird baths on the market and their key features that will fulfill your (and your feathered visitors') needs.
What to Consider When Purchasing a Bird Bath
‌Location‌: Selecting the location for the bird bath helps in choosing the best one for the area. You want to place it in an area where the birds feel safe from predators. Placing it near vegetation such as trees or bushes offers the birds shelter. If you use a ground bird bath, place some stones around it so the birds have a place to perch.
‌Type‌: Pre-selecting the location where the bird bath will be placed will help you narrow down the type of bird bath you should opt for. The most common types of bird baths are hanging bird baths that can be attached to things like tree branches and poles. They are good choices for smaller areas and are easy to maintain. Ground bird baths are easy to clean and move around and mimic puddles of water. Deck-mounted types are good for small spaces and give you a viewing area that is close up. Wall-mounted bird baths attach to a wall or flat surface. One-piece types are the most popular and come in a wide variety of styles. If you live in a cold climate, you might want to invest in those with a heater.
‌Height‌: The height of the bird bath can determine which type of birds will frequently visit. Shorter bird baths attract larger birds that don't feel as threatened on the ground as smaller birds do. Taller bird baths attract small birds because they have a better view of what's happening around them.
‌Movement of Water‌: The majority of bird baths are nothing more than an empty basin filled with water, while some fancier types include options to keep the water moving, including those that are solar-powered. They include features like a bubbler, drippers, misters and water fountains. Although moving water isn't necessary as long as you regularly change the bird bath's water, it does prevent algae buildup and discourages mosquitos from laying eggs. Water circulation also makes it easier to keep the bird bath clean.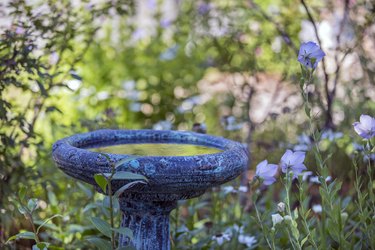 The Best Overall Bird Bath
This elegant-looking pedestal bird bath from Alpine Corporation will not only add to your outdoor decor but also attracts small and large birds. It's made from durable, weather-resistant polypropylene plastic, so it will last for years. Its green color blends perfectly into the natural environment. It has a pedestal design with a sturdy, scrollwork base where you can plant flowers to add to its good looks. The shallow basin allows smaller birds to drink and bathe with ease, and its edges are curved, resembling flower petals. Birds can even perch on the polypropylene bird attached to the base. It holds 5 liters of water and stands 31 inches tall and 20 inches wide. This bird bath is sure to delight you, as well as your winged friends.
The Best Solar Powered Bird Bath
If you're looking for a bird bath that plays double-duty as a nighttime light in the garden, consider this model from Best Choice Products. It is a pedestal style made of high-grade PVC and polyresin that is weather-resistant and durable. The bird bath has two tiers—the bottom one is the basin, which holds 0.8 gallons of water, and the top one is the solar-powered lamp that turns on automatically at night. For added stability, you can fill the hollow pedestal with sand to weigh it down. You can even plant flowers in the wide opening along the pedestal's base. The bird bath stands 42 inches tall and 20 inches wide. You also have color choices in bronze, green and stone (pictured here), so you can match your outdoor decor.
The Best Bird Bath and Fountain Combo
This pedestal bird bath from Alpine Corporation offers three tiers for birds to drink and bathe along with an electric fountain that flows over all three tiers. There's no worry about stagnant water with this bird bath. It's made from durable resin, is weather-resistant, and has a rustic antique green look that blends in with the natural environment (although it's also available in bronze). There's a scrollwork base where you can plant flowers to add more charm to the bird bath, and ground stakes to securely anchor it. The three bowls are shallow, making them perfect for smaller birds, and the bird bath stands 35 inches tall and 20 inches wide. This is a solid choice for those looking for a combination of a bird bath and a fountain.
The Best Hanging Bird Bath
This beautiful hanging glass bird bath will keep your feathered friends happy and add color to your outdoor space. The high-quality glass bowl sports vivid color with a peacock tail design, scalloped edges, and a shallow basin, making it ideal for smaller birds and easier to clean. The durable steel chain is rust-proof and will hang easily from a branch or shepherd hook. You can even use it as a bird feeder. The birdbath bowl is 12.6 inches wide and 3.15 inches at its deepest. This hanging bird bath also makes a good gift for the bird-lover or gardener in your life.
The Best Ceramic Bird Bath
This gorgeous ceramic bird bath from Vivaterra features a lock-on top, so there are no worries about it falling off. The exterior is off-white with a weathered finish, and the bowl has an aqua crackle-glazed interior. The wide pedestal base will keep the unit from falling over and has cutouts reminiscent of breeze blocks. This bird bath is hand-fired and handpainted with a frost- and UV-resistant finish. The wide basin has a diameter of 15.75 inches and a depth of 1.5 inches, making it suitable for small birds. Its wide rim also allows birds to perch easily. The bird bath stands 19 inches tall and will make an attractive focal point in your garden or patio.
The Best Deck-Mounted Bird Bath
This easy-to-use bird bath bowl allows you to do your birdwatching right on your deck. It comes with an adjustable clamp that fits on railings up to 2 inches thick, making it simple to install on a balcony or a deck. The clamp and mount are made from weather-resistant cast iron and are made to last for years. The large polypropylene bowl is durable and easily slips in and out of the mount, which makes cleaning the bird bath a breeze. You can also use the bird bath as a bird feeder. This space-saving birdbath would also be a great gift for the nature-lover in your life!
The Best Heated Bird Bath
Birds come to bird baths year-round, and this heated bird bath from Saillong will keep them warm during the coldest winter days. It is freestanding and thermostatically controlled with an effective deicer and only operates when needed. The electric heating element is fully enclosed, so it's safe for the birds, and has a 120-volt, 75-watt heating element preventing the water from freezing. You simply plug it into an outdoor extension cord and unplug the unit when outdoor temperatures warm. The bowl holds 1.6 quarts of water and has a 2.5-inch deep center that gets shallower towards the edge. The edge is lined with small holes for the birds to perch. You can easily install the clamp on a deck or balcony and slip the bowl into the attached holder.
This exquisitely handpainted glass bird bath from Better Homes & Gardens is filled with color with its hummingbird and flower design. It's bound to be a beautiful addition to your outdoor decor while keeping your local bird population happy. The glass bowl is 16 inches in diameter and sits on a foldable, black powder-coated finished iron stand that is 20 inches tall. You simply remove the glass bowl from the stand for easy cleaning. This bird bath will fit nicely on a patio, deck, balcony or shady area of the yard for your viewing enjoyment.