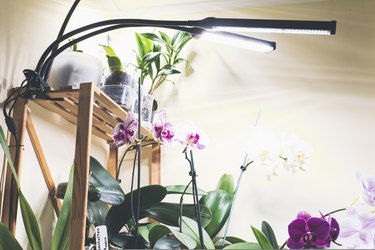 All plants require light to thrive and stay alive. When growing indoor plants, whether you're germinating seeds or have sun-loving houseplants and unless you have several south-facing windows in your home, you'll need supplemental lighting to keep your plants producing healthy growth. This is where indoor grow lights save the day.
Grow lights allow you to situate plants in areas of your home where natural light is lacking. Using grow lights indoors lets you start your garden transplants early, even when winter's blustery winds are still affecting the weather outdoors. Although some plants thrive in lower light conditions, most require more light, and using grow lights fulfills their needs.
We cover some points of consideration when purchasing the best grow lights for your specific demands so you get exactly what you need. We've also surveyed some of the best grow lights on the market and noted what makes them good choices.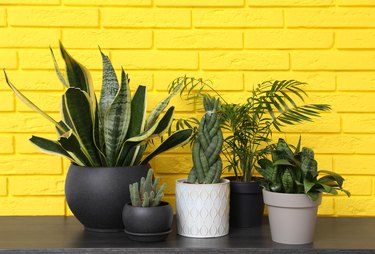 What to Consider When Purchasing Grow Lights for Indoor Plants
‌What You're Growing and Where‌: The first thing you need to do when purchasing indoor grow lights is to consider what type of plants you're growing and where they are located inside the home. If you are germinating seed trays or have a larger collection of houseplants requiring supplemental light, you might want to go with panel lights that cover a larger area and you can hang overhead. LED bulbs can be used inside any standard light fixture and are easy to use. Novice gardeners might consider complete grow light systems that have built-in lights that help hone your gardening skills.
‌Wattage‌: When figuring out the wattage required to keep your plants healthy, consider you'll need around 25 to 45 watts for every square foot of growing space. If you're growing low-light plants like lettuce, various herbs or other leafy greens, you'll need around 10 to 15 watts for healthy growth. On the other hand, seedlings and vegetable plants require more light and thrive at 30 to 35 watts.
‌Fluorescent Bulbs vs. LED‌: When selecting the perfect grow lights consider that fluorescent and incandescent grow lights aren't as efficient as LED grow lights, don't last as long and there are higher energy costs to run them. They produce cooler, one-dimensional light and are good for starting seedlings or growing plants with lush foliage. However, compact fluorescent lights (CFL) are full-spectrum and are the best option when going with fluorescents. LED grow lights are pricier than fluorescents but last longer and are more efficient. They also replicate the sun's full-color spectrum, producing red and blue light. Blue light supports a plant's vegetative growth and red light supports fruiting and flowering.
The Best Overall Grow Light for Indoor Plants
This 5-in-1 LED grow light from Aukphie has five light heads emitting enough light for a wealth of indoor plants. The floor lamp sits upon a stable tripod that is adjustable from 18 to 58 inches and can be adjusted small enough to sit on a table. The lights are attached to a flexible gooseneck that is adjustable to reach all your plants. It's made up of 450 pcs brightness and 96Ra high color rendering LED lights.
The grow light has six automatic timer functions that automatically switch off and back on during each 24-hour cycle. You can independently control the light intensity with the 10 levels of brightness making it suitable for growing plants with different light requirements. The controller has an easy-to-read digital screen and is easy to use. You receive everything you need in the package including the controller, five LED grow light heads, tripod, power adapter, support card and user manual. You also get an 18-month warranty on the grow lights if for some reason you aren't satisfied or run into a problem.
The Best Budget Grow Light for Indoor Plants
The two-pack of LED growing lamps from Bokeedo will keep your plants thriving with healthy growth while being easy on your wallet. The LED grow lights provide a full spectrum of light including white, red and blue, and promote good growth from the seedling stage to flowering and fruiting. The V-shaped reflectors increase brightness by 25% and shade the eyes from the bright light. The reflectors and aluminum housing cool the grow lamp leading to a longer and better service life.
The LED lights only consume 20 watts of power, which are equivalent to a 160-watt standard grow light bulb. You have four options for installing the lights including hanging them over your plants, sticking them to a surface with the adhesive pads, attaching them to the ceiling or zip tie to a bar.
The Best Large Capacity Grow Light for Indoor Plants
If you're looking to add light to a larger space of plants, this full-spectrum grow light from Sonlipo covers a 4-foot by 4-foot area with no problems. Using 882pcs of the newest LCD technology, the lights use 200 watts and can save up to 60 percent on your electric bill. It has three switches to control the red and blue light spectrum allowing for a stronger root and stem structure and preventing plants from growing taller and reaching for the light. The light's durable housing consists of six light bars and is made from aviation aluminum providing excellent heat dissipation.
The rope hanger is easily adjustable to the desired height and the unit is powered by electricity. Its dimensions are 18.9 by 18.9 by 2 inches and you can hang several lights together if you desire more coverage space. The lights are a breeze to use as you hang them, plug them in and they're ready for use. Best of all, you have a one-year warranty.
The Best Countertop Grow Lights for Indoor Plants
If you only need to use grow lights on a countertop or other tabletop area then these full-spectrum LED grow lights from Bseah might fulfill your needs. The entire light structure is 15.5 inches tall and contains two lights so it's small enough to fit perfectly on a countertop. There are 30 watts of power consisting of the white and yellow light spectrum and work for foliage, flower and fruiting growth.
You have an automatic timer function allowing you to set the lights for three, nine or 12 hours, as well as 10 dimmable modes perfect for the different growing stages of your plants. You also have three spectrum adjustments. It has a USB and AC power source. You have the option of clipping the light onto a surface or having the lamp stand freely on its own. The 360-degree flexible gooseneck allows you to place the light where you need it the most.
The Best Grow Light Bulbs
Fitting all standard E26 sockets, this 2 pack of LED grow light bulbs from Briignite will have you growing indoors for up to 50,000 hours each. You don't require special housings for the grow bulbs as they fit in your typical light fixtures. The bulbs offer full-spectrum light and save energy as they only use 11 watts and can save you up to 90 percent on your electric bill. These bulbs put out enough light that is equivalent to a 100-watt bulb. They simulate natural sunlight and are perfect for growing sun lovers like tomatoes and peppers, supporting all stages of growth. The natural light produced won't hurt your eyes. Place the bulb about 9 inches above high-light plants and about 15 inches above those preferring low-light.
The Best Small Adjustable Grow Light for Indoor Plants
If you desire a small grow light that will illuminate one or two small plants and has an adjustable height, then this grow light from CANAGROW is a good choice. Not only can you adjust the height, but you can also adjust the lighting angle by 180 degrees. The full-spectrum light has three automatic timing settings of three, nine or 12 hours and will automatically turn off when the time is reached.
There are three light mode settings, as well as 10 adjustments for brightness. The energy-efficient light has a halo design with up to 50,000 hours of use. It's ideal for all stages of your plant's growth. You have multiple ways to get power to the unit by using a USB port, power bank or AC power adapter. It's also easy to use as you only place the light inside the plant's soil, plug in the unit and adjust it to the desired settings.