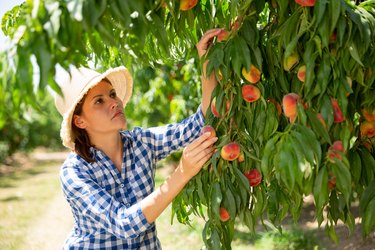 Besides dry conditions and thirsty plants, gardeners during the hot and sunny days face an additional concern—sunburn. Your summertime tool arsenal should include a sun hat that offers sun protection and prevents sun damage from harmful UV rays to your face, hair, ears and neck. Sunscreen helps protect your skin from damaging UV rays that cause skin cancer, but when performing outdoor activities such as gardening on hot days, your face sweats, and off comes the sunscreen. Wearing sun protection hats deflects the sun rays from your upper body and helps keep you cool.
Selecting the perfect hat is basically a personal choice and there's a wide variety of styles with some offering more UV protection than others. Selections include everything from wide-brim gardening hats, those with visors, baseball cap styles, those with a neck flap that protects the neck area, straw hats and those with a moisture-wicking sweatband, as well as water-resistant hats. Whatever you desire, there's the perfect gardening hat for your needs.
Since there are so many selections, we've covered some factors worth consideration so you purchase the best sun hat. To make choosing the right hat easier, we've also reviewed the best gardening hats and noted their key features. Whether dealing with windy days, hot days, or those where the sun's rays are intense, these protection hats will assist in keeping your skin free of sunburn and your head cooler.
What to Consider When Purchasing a Gardening Hat
‌Protection‌: There are many gardening hat styles with some only offering protection to your head and others that offer more protection to your neck, ears, face and even your upper shoulder area. When researching a gardening hat, be sure to check its UPF rating or ultraviolet protection factor, which measures the quantity of both UVB and UVA UV radiation that the hat's fabric allows to affect your skin. The Skin Cancer Foundation's Seal of Recommendation requires a UPF of at least 30.
‌Brim Size‌: The hat's brim size is also a determining factor in how much protection the hat offers. Those with larger brims offer more sun protection than those with shorter brims like baseball caps or a fedora-type. Average-size brims for sun protection are around 4 to 6 inches. However, if your skin is very sensitive to sunburn, you might opt for hats with around 7-inch brims that offer even more protection.
‌Material‌: Gardening hat materials are typically polyester, cotton or blended from both. The best material choice depends on how you're using it. If you spend hours in the garden sweating, you'll probably want to go with a sun hat that is made from a lightweight material, has good airflow, is breathable and has wicking abilities. You'll also probably want something that is machine-washable or easy to clean.
‌Color‌: Even the color of your gardening hat plays a role in how well it protects you. Wearing a light-colored hat will reflect the heat from your head and keep you cooler. On the other hand, dark-colored hats absorb the heat and will have you feel hotter and sweat more.
‌Ease of Care‌: The vast majority of gardening hats are machine- or hand-washable, or they're able to be spot cleaned. If your hat will get dirty from sweat, mud or wet conditions, it's worth investing in a gardening hat you can easily clean by washing.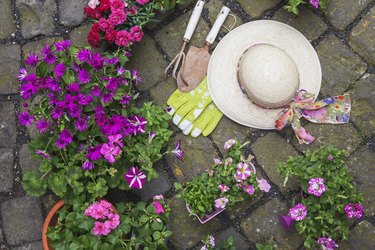 The Best Booney Gardening Hat
This hat from Columbia is a good choice when doing outdoor activities like gardening, and offers great functionality as it protects you from the sun, is lightweight, breathable and offers wicking capabilities. It's 100% nylon and the Omni-Shade material has UPF 50 shielding and blocks UVB and UVA rays, preventing sunburn.
Your head stays cooler with the mesh vent panel, and the hat also has an ultra sweat-wicking headband. Moisture moves from your skin into the hat's fabric where it quickly evaporates. The hat has a 3-inch brim and an adjustable chin strap; you can also adjust the hat's size. Clean the gardening hat by hand-washing. You have 25 different color choices, so there's something to fit everyone's style.
The Best Wide Brim Gardening Hat
This bucket hat from Hllman is a good choice for those wanting a gardening hat with a wider brim. The floppy brim is 5.7 inches on all sides and protects you from the sun's rays from all angles. It's made from 100% nylon and protects you from harmful UV rays with a UPF of 50-plus. The gardening hat is lightweight and its water resistance means you can wear it in the rain. There's also a moisture-wicking headband that will keep your forehead dry as the perspiration quickly evaporates.
Air can get to your head and keep you cool with the hat's mesh panels. Keep the hat on your head during windy conditions with the adjustable chin strap. You can adjust the size with the adjustable elastic drawstring located on its back. If the sun hat gets dirty, just spot clean with soapy water or hand-wash. You can easily take the hat anywhere by just rolling it up.
The Best Gardening Hat for Kids
It's never too early to get the kids involved in gardening and growing things, and this sun hat will protect them from getting sunburned. It offers great sun protection with a UPF rating of 50-plus and offers complete UV protection of their ears, eyes, neck and face. The unisex hat is made from high-quality polyester that dries quickly with breathable mesh on both sides.
It comes in three sizes based on your child's head girth. The summer hat has an extended brim on its back with an elastic sweatband. Its adjustable drawcord is removable and will keep the hat on your child's head in even the windiest conditions. The sun hat is foldable and packable, so your child can bring it with them to enjoy any outdoor activities in the sun.
The Best Straw Gardening Hat
This straw sun hat offers a bit of style while it protects your skin from harmful UV rays. The lightweight hat made from 80% paper straw and 20% polyester has a comfortable fit and fits most heads between 22 to 24 inches around. It has an adjustable drawstring closure so you can keep it on your head even on windy days. It offers 360 degrees of coverage from the sun with its wide brim, and this particular hat has a cheery sunflower design on the underside of the brim.
The company also offers the straw sun hat with other designs. It has a UPF rating of 50-plus, and you also receive three face shields that protect your face and neck from harmful rays. You'll be able to wear this durable gardening hat season after season while protecting your skin from sunburn.
The Best Gardening Hat for Ponytails
Ponytails are no problem with this bucket-style sun hat, and it also protects you from the sun's harmful rays. The lightweight and foldable hat is made from 90% cotton and 10% polyester and has a wide 3-inch brim. There's mesh on both sides of the hat, allowing air to circulate around your head, keeping you cooler while you do those gardening chores. The opening in the rear of the hat comfortably fits a low ponytail.
With a UPF rating of 50, this durable hat protects your skin from those harmful sun rays. It also has an adjustable chin strap that you can tighten to keep the hat on your head in windy conditions. With 58 different color choices, there's something to fit everyone's style preference. You can easily clean the sun hat with hand-washing.
The Best Gardening Hat With a Neck Flap
This lightweight sun hat from Genyean is stylish, while also protecting you from harmful UV rays. The hat has a wide brim, as well as a long neck flap to protect your ears, neck and face, and you have four different color options. It's made from 100% quick-drying and stain-resistant polyester and has a UPF rating of 50-plus. It also has a thin straw-lined edge around the outside of the brim.
You can easily clean any dirt from the hat by spot cleaning or hand-washing. During the hot days of summer, this sun hat will keep you cool and comfortable with the mesh side panel, and the spandex sweatband wicks away moisture. The hat also has an adjustable chin strap, as well as a zippered pouch to keep any small personal items safe.