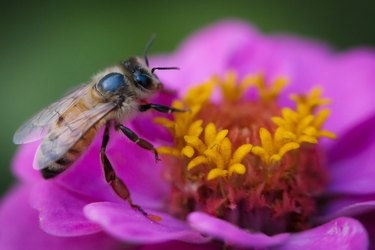 Filling your garden with wildflowers adds a bright and cheery appeal and gives your native pollinators a vital food source. You can easily create a pollinator habitat with easy-to-grow, low-maintenance wildflower species while bringing more color and life to the area. More importantly, you'll be helping your local ecosystem remain healthy, and your native pollinator population can flourish.
Regardless of where you live, there are pollinator wildflower seed mixes appropriate for your location. Whether you want to attract butterflies, hummingbirds, bumblebees, honey bees or native bees to the area, there are seed mixes formulated specifically for attracting these beneficial insects and other pollinators. Additionally, you can also find pollinator mixes containing native wildflowers, annual wildflower seeds, perennial wildflower seeds or a wildflower seed mix of both.
Below we cover some tips to remember when searching for the best pollinator seed mixes and the importance of beneficial pollinators. We've also taken some of the legwork out of locating specific pollinator seed mixes and noted their key features and ingredients.
The Importance of Pollinators and Tips to Remember
The next time you gaze upon a butterfly or bee dancing from flower to flower, give it thanks because it's working overtime to keep your local environment healthy and assisting in putting food on your plate. Of all the pollinators, honey bees, along with other bees, are the most important. Many common plants such as avocados, almonds, apples, various berries and onions rely heavily on bees pollinating their flowers so the plants can produce fruit. If pollination doesn't happen during the short pollination window, there's no production of fruit.
If we lose all the pollinators or there is a significant decrease in their population, your dinner plate would become boring with fewer choices. Many foods would become expensive due to a lack of quantity available. The pollinator loss would also cause a significant ripple effect through ecosystems. Many plants would die off, and seed production would diminish without human intervention.
By adding a pollinator seed mix to your spring gardening chores, you'll not only be beautifying your outdoor space, but you'll be helping feed your native pollinators and assisting in keeping your native environment healthy. With spring right around the corner and the growing season upon us, now is the perfect time to spread your wildflower pollinator seeds.
‌Selecting a‌ ‌Seed Mix‌: Note where the specific seeds are hardy when choosing the best pollinator seed mix. You can find mixes formulated for specific regions. Many annual wildflowers will grow throughout all USDA hardiness zones, as they only live for a year. However, perennial plants will continue growing for years, provided they are grown in their preferred zones. If you don't mind the plants only living for one year, the zones won't matter.
‌Planting and Care‌: Be sure to read and follow the planting guides on the package. It will offer information about the best light conditions for the wildflowers to thrive, any specific soil conditions, prepping the planting site and planting depth. It will advise you on follow-up care once the flowers are growing like their moisture requirements and any necessary fertilization.
The Best Wildflower Seed Mix for Bees
This premium mix of wildflower seeds has been crafted specifically to attract the hardworking honey bee. However, it will also attract other beneficial pollinators like butterflies, birds and other native bees, and is hardy growing in all USDA zones. The package contains over 65,000 annual and perennial non-GMO wildflower seeds that are enough to cover 250 to 500 square feet. The pure mix contains 50% annual and 50% perennial seeds with no fillers. Some of the wildflowers included in the seed mix are California poppy, crimson clover, bergamot, blazing star, New England aster, red corn poppy, perennial lupine and perennial gaillardia. These easy-to-grow and low-maintenance wildflowers will brighten your garden and keep the bees and other pollinators thriving.
The Best Wildflower Seed Mix for Monarch Butterflies
With monarch butterflies on the decline due to loss of habitat and food sources, this wildflower seed mix contains some of their favorite plants. The 1-ounce package contains 100% non-GMO seeds and no fillers. The seeds are open-pollinated and contain both annual and perennial wildflower seeds. The mix includes food for the larvae and a nectar source for adults. Some of the flowers included in the mix are purple coneflower, milkweed, aster, marigold, zinnia and sunflowers. Each package covers 100 to 150 square feet and comes with complete instructions on planting and continued care.
The Best Annual and Perennial Wildflower Seed Mix
For a wildflower seed mix that grows in all USDA zones and contains both annual and perennial wildflowers, this mix from NatureZ Edge is a good choice. The 2-ounce package contains over 85,000 non-GMO seeds that cover up to 500 square feet. The flowers attract hummingbirds, butterflies and bees, and the seed mix contains 35 wildflower species. Some of the flowers include black-eyed Susan, coreopsis, lupine, cosmos, daisies and foxglove, to name a few. The package contains 100% seeds without any filler and comes with all the tips you need to grow a vibrant garden of robust, long-lasting color.
The Best Perennial Wildflower Seed Mix
This seed mix of perennial wildflowers will not only attract beneficial pollinators to your garden but will continue filling your garden with magnificent color and height year after year. You receive over 50,000 non-GMO seeds for 15 different wildflowers that grow tall enough for cutting for a vase or a bouquet with their showy blooms. There are enough seeds to cover an area of 1,000 square feet, and they grow in all USDA zones. Some of the wildflowers include delphinium, zinnia, various chrysanthemums, rudbeckia, pink Saponaria, baby's breath and cosmos. The wildflowers will grow best if planted in a sunny location.
The Best Wildflower Seed Mix for Partial Shade
If you have a partially shady area you want bursting with wildflower blooms and pollinators, this seed mix is the right choice for you. It contains over 80,000 non-GMO native seeds without any fillers that are hardy growing in all regions. The package is enough to cover an area of 250 square feet. The flowers will fill your yard with all the native pollinators, such as bees and butterflies. A few of the flowers the mix contains include corn poppy, shasta daisy, baby blue eyes, several different columbines, spurred snapdragon and forget-me-not. Your shady garden area will be popping with color and texture once all these wildflowers spring into action.
The Best Wildflower Seed Mix for the Northeast
For those living in the Northeast, this wildflower pollinator seed mix from Eden Brothers is a suitable choice. The 1/4-pound package contains 60% annual seeds and 40% perennials, and the company notes you can also grow the mix in USDA zones 3 through 10. The mix covers 250 to 500 square feet, and you have choices in other package sizes. The mix contains 25 popular varieties, including lance leaf coreopsis, native species of cosmos, echinacea and blanket flower. Although the flowers prefer growing in full sun, they'll also perform well in a partially shady site. You get all the instructions needed to grow a thriving pollinator garden.
The Best Wildflower Seed Mix for Western Regions
If you live in the western regions of the United States, this seed mix of 25 different wildflowers hardy to the area is a good choice. The 1/4-pound package covers 250 to 500 square feet and contains 70% annual and 30% perennial seeds. You also have other size options. A few of the wildflower beauties you'll grow include lemon mint, tall and dwarf cornflower, blanket flower, wild blue columbine, Russel lupine, Rocky Mountain penstemon, cosmos and scarlet flax. These wildflowers are sure to fill your garden with a rainbow of vibrant colors, and although selected specifically for the region, they'll also grow in all planting zones.
The Best Wildflower Seed Mix for the Southeast
This pollinator seed mix from Outsidepride is formulated specifically with annuals and perennial wildflowers hardy growing in the southeast. The mix contains 100% seeds without any filler and comes in a 1/4 pound package that's enough to cover an area of 500 to 1,000 square feet. You can also purchase a 5-pound package. The seed mix offers gardeners a colorful blend of different heights, colors and textures. You'll receive all the instructions needed to plant a thriving wildflower garden for years to come. Some of the wildflower varieties included in the package are cosmos, coneflowers and coreopsis, scarlet sage, phlox, larkspur, wallflower, mallow and evening primrose.