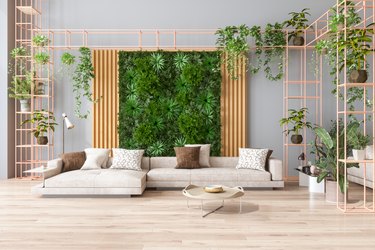 Whether you're looking to liven up your home decor or outdoor space with nature's greenery, adding wall planters with a living wall of plants and creating a vertical garden will meet this need. Wall-mounted planters bring the peaceful feeling of an outdoor garden indoors and are perfect for those who live in apartments or only have a small space for growing. Hanging wall planters turn into stunning wall art and are ideal for indoor or outdoor use, turning a bland wall into an attractive wallscape of green lushness.
Vertical planters come in a wide variety of styles, sizes and materials. You'll find everything from metal wall planters, ceramic wall planters, iron wall planters, and those made from wood, plastic and terracotta. Whether you're going for a more boho feel or a minimalist design, there's a wall planter that will compliment your wall decor. In fact, you'll probably be amazed at all the choices available.
Below, we cover important considerations when selecting the best wall planter for your plants. We've also noted some best-selling wall planters that will help create and display your living wall of greenery.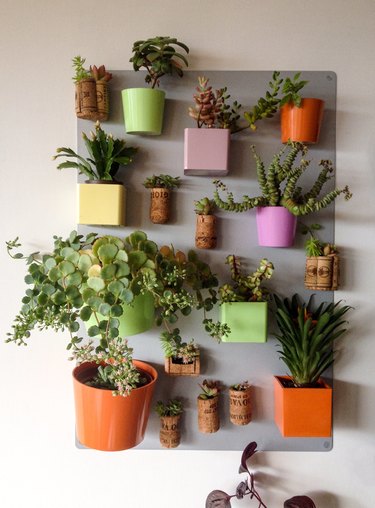 What to Consider When Purchasing and Using Wall Planters
‌Wall Planter‌ ‌Material‌: A wall planter should be aesthetically pleasing, practical and functional. With so many choices in materials, selecting which one is best can be overwhelming. There are advantages and disadvantages to each type:
‌Terracotta wall planters‌ are porous, meaning they dry out quickly. They are great for growing plants that prefer drier soils, such as succulents and cacti. However, you can grow any type of plant in them, though you'll have to water plants that require moist soil more frequently.
‌Wooden wall planters‌ offer a rustic and timeless look. They work well indoors or for outdoor use. However, wooden planters are prone to rotting—but you can increase their lifespan by lining the inside with plastic. To promote draining, poke holes in the bottom so your plants can drain and won't rot.
‌Metal wall planters‌ are durable and come in various shapes and sizes. However, untreated metal can rust, so be sure to select galvanized metal planters.
‌Ceramic wall planters‌ come in various sizes, shapes, and colors and can be very decorative. However, they can be heavy when filled, retain water longer and might not have drain holes.
‌Plastic wall planters‌ are lightweight and come in various sizes and colors. The plant pots are usually inexpensive, and you can easily drill drain holes in the bottom if needed.
‌Plant Characteristics‌: Consider the growth habits of the plants you intend on planting in your wall planter. Know whether your plant has a trailing habit or has more upright growth. This allows you to select the best planter for its growth habits. It's probably best to stick with plants that don't grow too large, as they won't quickly outgrow the planter and become too hard to maintain.
‌Location for‌ ‌Wall Garden‌: When selecting the best location for installing your wall garden planters, it's important to know your plant's light requirements. If the plant requires brighter light to thrive, you don't want to situate it in a darker portion of your living room. Check how the light affects the indoor or outdoor area where you wish to install your planters throughout the day. This gives you a good idea of how much light the area receives, which lets you know if it's suitable for your plants.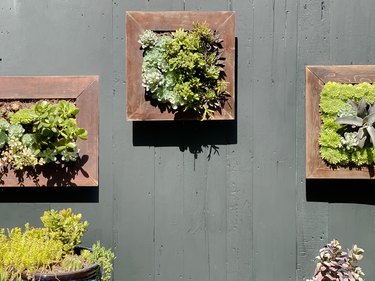 1. Make Good Virgo Self-Watering Wall Planters
This attractive set of six self-watering wall planters is lightweight and a breeze to install. They are all the same size and will comfortably fit a 4-inch flower pot if you don't feel like planting directly in the plant pot. Because they are self-watering, you won't have to worry about frequent water applications as the plant uses the excess water contained in the bottom, as needed. With their sleek design and white color, they'll easily fit into any indoor decor theme and also work well as an outdoor wall planter set. The planters are made of plastic-like resin, so they're made to last. These wall planters are also available in a set of three.
2. AERLO Metal Moon Wall Planter
If you're looking to enhance bohemian decor or like gazing up at the stars at night, this metal moon wall planter is sure to add appeal. It's made of galvanized metal, so there's no worry about it rusting, and it's suitable for indoor or outside use. Its hand-painted rustic gold finish means no two are exactly alike, so you get a unique planter. The planter is 12 inches tall and wide, and at 3 1/2 inches deep, it's big enough to hold a vast array of plants. It makes a great succulent planter or with other low-water plants. This metal planter is sure to grab attention wherever it's hung, and also makes a great gift.
3. Vandue Black Zinc Living Wall Pocket Planter
For a true conversation piece to add to your indoor space or outdoor area, this living wall pocket planter from Vandue won't disappoint. Your size choices include four pockets, 12 pockets and 18 pockets. The pocket planter is constructed of galvanized steel with a black zinc coating, so there's no worry about rusting. However, they are also available in aged zinc and rust patina. Each pocket plant holder is 3 1/2 inches long, deep and tall and is large enough to hold a vast array of succulents. It's easy to create your own DIY living wall art with this pocket planter, and nothing is easier to care for than succulents, which come in a vast array of colors and shapes.
4. Umbra Triflora Hanging Planter for Windows
If you don't want to take up space on your windowsill to grow an herb garden, this hanging planter for windows will be a great fit. The sleek three white polypropylene plant pots are bell-shaped and 3 inches each. The supporting metal rod attaches to a wall with metal adjustable ropes of differing lengths holding each pot. Each pot holds an already planted 3-inch pot, so you don't have to worry about replanting. This hanging planter makes an attractive addition to any window area and is perfect for growing and displaying herbs, succulents or other small plants. The hanging planter also comes in a five-planter option giving you even more space to grow. If you aren't completely satisfied after 30 days, the company will give you a refund.
5. Liberty Trade Co. Vertical Address Sign Wall Planter
If you're looking to add some extra curb appeal to your home, this vertical address sign with an included wall planter is sure to do the trick. Each one is handmade, so no one is exactly alike, and it's made from weather-treated wood, is waterproof and comes with your choice of pre-attached hanging hooks. The bottom portion of the wall hanger has the planter box where you can grow the plant of your choice. Besides color options, you also have the option of the number of address numbers you'd like installed. It's large enough for everyone to notice your address at 25 inches tall and 7 inches wide. The company will gladly customize one for you if you'd like something a bit different. This beautiful address sign and wall planter will dress up your house and makes a great gift.
6. Yucassly Female Face Wall Planter
If you want something a bit different and unique to pump up the flavor of a modern decor, this female face wall planter is sure to get all the attention. It's suitable for use indoors and outside and is made of glossy ceramic. There are three color selections to match any decor. Choices include white, gold or black. The face planter is 7.1 inches tall and 3.1 inches wide, and there's an opening for draining water behind the chin. Using plants with a trailing habit in the planter pot will give the effect of hair draping down its sides. This female face wall planter is sure to be a beautiful addition whether growing your indoor houseplants or used to add character to an outdoor wall on a patio.
7. Psmacra Macrame Wall Planter Shelf
This macrame plant hanger with a wooden shelf will add texture and interest to your boho decor. The handmade wall hanging shelf is made from a durable 4-millimeter macrame cotton cord, and the design and workmanship are stunning. At 20 inches long and 12 inches wide, the wooden shelf is large enough to comfortably hold a 6- to 8-inch plant pot and holds up to 30 pounds. The plant hanger comes with a hook to hang it, and you can easily clean it by hand-washing. This wall planter and shelf will add some bohemian bliss to any room, and the addition of any small plant of your choice will add to that peaceful feeling.