Things You'll Need
Long, flowing skirt

Puffy sleeved blouse

Colorful silk scarves and/or shawls

Corset-styled vest with laces at the front

Curling iron

Miniature bells

Ribbon

Long necklaces

Chunky bracelets

Hoop earrings

Makeup

Tambourine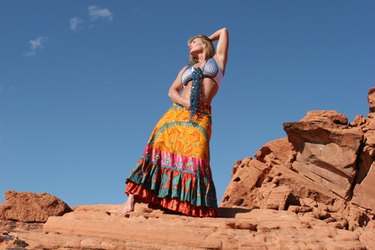 Gypsies have become synonymous with traveling nomads and fortune tellers; mystics who dance with bells on their ankles and live life on the outskirts of society. Whatever your take on gypsies, there are many ways to dress like a gypsy without spending too much money buying a pre-made costume. So start perusing some local thrift stores and your grandma's jewelry box for some interesting items to make a colorful and fun gypsy costume this Halloween.
Step 1
Put on your skirt and your blouse. The blouse can either sit normally on your shoulders or you can push the neck down so that your shoulders are exposed.
Step 2
Wrap a shawl around your hips so that it drapes around your skirt in certain sections. You do not want to cover the whole of the skirt; just parts of it, such as one side of your hips.
Step 3
Add your vest and string the laces together at the front to cinch in your waist and bolster your bosoms.
Step 4
Style your hair. Wear your hair down, and curl the ends of it with a curling iron if you have naturally straight hair. If your hair is naturally curly or wavy, simply take a shower and let the hair dry on its own.
Step 5
Take your colorful silk scarf and wrap it around your head, exposing only the back of your flowing hair and a small section of hair near your forehead. You can add some curly tendrils to the sides of your head to keep some fringe.
Step 6
Gather your miniature bells and ribbon. The bells should have opening hoops where you can insert the ribbon. After you've laced the ribbon through all of the bells, simply tie the ribbon around your vest, knotting it at the back. You can use this technique with several different colored ribbons to create a more colorful look.
Step 7
Put on all of the jewelry you've gathered. This includes your gold-colored hoop earrings, your chunky bracelets and your long necklaces.
Step 8
Make yourself up by adding a good amount of liquid eyeliner around your eyelids, extending the line on the upper lid past the outer corners of the eyes. You can also add a dark red lipstick to the mouth and some rosy blush to your cheeks.
Step 9
Grab your tambourine and hit the town in your colorful gypsy costume.