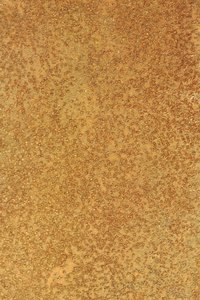 A leather rug is a very rich addition to a room. The feel of hair-on cowhide underfoot is warm and pleasant, and the material often connotes wealth. You can simply drape a hair-on cowhide or sheepskin over the floor, with some carpet tape to secure it. But, you can also design and make a one-of-a-kind rug of your own design and with a few basic materials. Hair-on cowhide is simpler to work with than sheepskin, as you can cut and stitch it like any heavy material.
Things You'll Need
Colored pencils or crayons
Tailor's chalk, wax pencil or carpenter's pencil
Rug backing
Hair-on cowhides
Heavy shears
Rug tape, thin
Leather glue
Heavy-duty needle
Transparent heavy-duty thread
Select or draw a design. By carefully cutting and piecing together contrasting hides, you can create as simple or intricate a design as you wish. A quick search of the online retail clearinghouse TheFind.com reveals more than 22,000 leather rugs of various designs.
Color your design to match the two or more hair-on cowhides that you will be using.
Cut a piece of rug backing to the desired size of your finished rug.
Transfer your design to the backing, using tailor's chalk (if you have opted for felt backing) or a wax or carpenter's pencil (if you have opted for woven backing).
Cut the pieces to suit your design, using heavy shears. Keep the direction of the hair consistent on your cut pieces so the hair on the finished rug will lie in one direction, as if it were a single hide.
Assemble the pieces onto the rug backing, using thin double-sided carpet tape.
Stitch around the edges of the rug, using a heavy-duty needle and transparent thread.
Anchor the leather pieces to the backing. Mark one of the long edges of the rug with tailor's chalk, every eight inches for an intricate design, every 12 inches for a simpler design. Stitch across the rug's width at these marks with a heavy-duty needle and transparent thread. It is not necessary to stitch every edge of every piece; these anchor stitches will hold the rug together well.