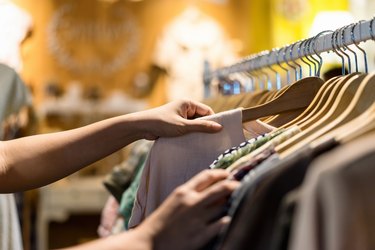 Things You'll Need
MEN (to appear as women):

Dress

Women's shoes

Bra

Bra stuffer (socks or breast forms)

Concealer

Lipstick

Wig

Bobby pins

Hair gel

Razor or hair removal kit

Tight panties

Pantyhose (optional)

WOMEN (to appear as men):

Spirit gum

Fake facial hair

Baggy men's clothing

Tight-fitting sports bra

Baseball cap
Cross-dressing is the act of wearing specific clothing, makeup and/or accessories typically worn by the opposite gender. This is often done with the intent of being perceived by others as a member of that gender. Cross-dressing is done for different reasons, ranging from costumes to gender identity and presentation decisions. The degree of cross-dressing can range from a man simply donning a dress or a woman wearing overalls — to a complete transformation makeover.
Do some people-watching and observe outfits on your subjects, or in advertisements to confirm that you will be cross dressing appropriately. This will help provide some context for what to wear. An easy rule of thumb for first-time cross-dressers is to wear something tight on top (to show off your bustline) and loose on the bottom (to hide your bulge).
Get Thee Hence to Yon Thrift Store
Purchase everything for your cross-dressing adventure. Try on all the clothing to ensure an adequate fit. Give yourself extra time to get ready if you have never cross-dressed before.
Shave everywhere. While actual women possess a full range of body types, from hairless to hairy, societal expectations of smooth skin make it easier to be perceived as a woman if you have no body hair. If your body hair is particularly thick, use an electric trimmer before doing a smooth shave, or spring for a waxing session.
Get into your underwear; panties and bra for the proper cross-dresser. Tight underwear helps hide your "bulge." Wear pantyhose to cover up any hair stubble or for extra help maintaining a smooth crotch area. Fill your bra with your stuffers.
Wear Your Cross Dressing Outfit
Put on your women's cross-dressing clothing.
Style your hair as close to your head as possible, using bobby pins and styling gel. Then, don your wig by gently pulling the front and back edges of it to widen the opening and slip the wig over your head. Tuck any stray hairs underneath the wig, and pin the wig to your head with additional bobby pins.
Brush concealer on under the inner corner of your eyes and gently downward across the rest of your face.
Apply lipstick, starting at the center of the lips and moving outward. Lightly rub your lips together to distribute the lipstick, and pat against a napkin or tissue to ensure you don't end up with too much.
Watch some guys closely on your next foray into the world. Observe their outfits, or watch TV advertisements to confirm that you will be dressing appropriately. This will help provide some context for what to where. An easy rule of thumb for first time cross-dressers is to wear baggy pants and button-down shirts, as these looser items will more successfully hide curves.
Purchase everything for your cross-dressing adventure.
Don't shave. Use whatever body hair you have to try and live up to the (false) expectations that all women are smooth and all men are hairy.
Bind your breasts using a tight sports bra.
Put on your baggy male clothing.
Use the spirit gum to apply the costume facial hair.
Stuff Your Hair Under a Hat
Put your hair up, under the baseball cap, to give the impression of having short hair for your cross-dressing outfit.
Tip
Practice makes perfect! You may not look great the first time you try to cross-dress, but almost everyone can do it with enough time. The voice is often the hardest part of successful cross-dressing. Practice raising or lowering your pitch as appropriate.
Warning
Ace bandages are an easy way to bind, but they are dangerous! Do not use them for long periods or the tight compression can cause injury. Consider the safety of where and when you are cross-dressing. Make sure you aren't going out alone if there are concerns of possible harassment or violence.