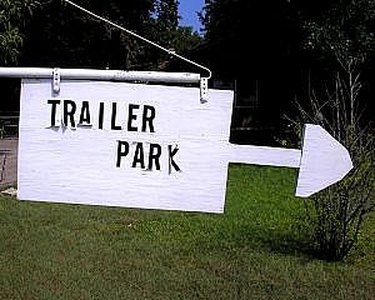 Halloween is just around the corner, and before you know it, the Halloween party invites will start rolling in. If you're attending a trailer trash bash or just looking for a country-inspired Halloween costume, movies and TV are a great jumping-off point when looking for a little bit of inspiration for white trash bash outfits.
Redneck Outfit: The Beverly Hillbillies
Are you looking for a great redneck Halloween costume for a so-called white trash party? "The Beverly Hillbillies" was an American sitcom that ran from 1962 to 1971. It followed a family from the Ozarks who struck oil, became millionaires and set out for California as the nouveau riche. Depending on the party guests, dressing as a member of the Clampett family might not be a recognizable costume; however, it's an excellent source of inspiration.
For example, consider Elly May Clampett for a redneck outfit. Her curly blond hair parted into single-ringlet pigtails has burrowed its way into the zeitgeist. Even if you don't know who Elly May Clampett is, pairing her hair style with a plaid shirt, jeans and cowboy boots creates a simple costume for a trailer trash theme party. Add a little bow to each pigtail to finish the look. If you are looking for a more masculine look for the party, you can look to the characters of Jed and Jethro for inspiration.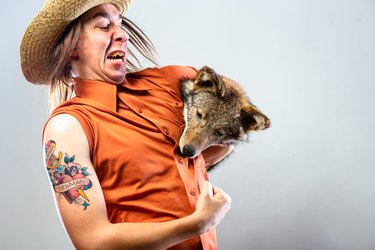 Whether you are looking for a group costume or you're dressing solo, the gang from "South Park" makes for an easy, inexpensive and recognizable costume to wear to any Halloween costume party. Since "South Park" has a massive cast of characters, everyone can find a costume no matter the size of your group.
The best part about a "South Park" costume is that many of the pieces may already exist in your wardrobe. If you want to dress up as Eric Cartman, all you'll need is a red sweatshirt, yellow mittens and a light blue hat with a yellow pompom.
Stan only needs a brown jacket or sweatshirt, red mittens and a blue and red hat with a red pompom. For Kyle, all you will need is an orange jacket, green mittens and a green trapper hat, while Kenny just needs an orange hoodie with drawstrings and brown mittens to complete his look.
Couple's Costume: Smokey and the Bandit
If you are looking for a couple's costume, "Smokey and the Bandit" is a great source of inspiration. This movie was released in 1977. Smokey and the Bandit stars Burt Reynolds and Sally Field. Bandit (Reynolds) is hired to transport a tractor-trailer of beer over state lines and is joined by Carrie (Field) as they race against time while being pursued by a relentless sheriff.
To dress as the Bandit, all one would need is a pair of jeans, a red shirt, a belt with a large buckle, boots, a cowboy hat and a fake mustache. Dressing as Carrie is also just as simple. With a brown, '70s-style feathered wig and a navy blue button-down, the look is complete. However, if you're looking for something more costumey, don a retro wedding dress complete with a veil.
Channel "Drop Dead Gorgeous"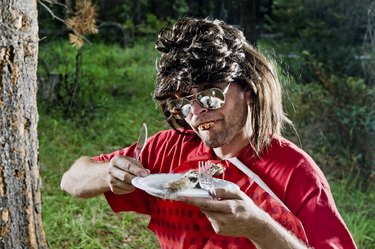 Do you prefer your Halloween costumes to have a little gore? Then look no further than Annette Atkins from the 1999 film "Drop Dead Gorgeous."
After Annette Atkins blows up her trailer, the beer can she was holding becomes fused with her hand. Using makeup readily available at your local Halloween store, you can recreate Annette's badly burned arm easily. Paint an empty beer can so that it appears to be charred and your costume is complete.