Things You'll Need
Image of Chinese dragon costume

Measuring tape

Pencil

Pipe cutters

Long, flexible plastic pipe, 5 to 6 feet long, 1-foot diameter

Scissors

Large roll of canvas

Fabric paints or fabric markers

Fabric glue

Several pieces of PVC pipe, 3 to 4 feet long

Chicken wire

Water

Flour or Elmer's glue

Newspaper

Duct tape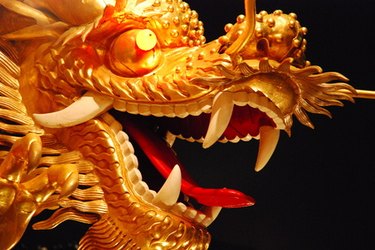 The dragon costume and famous dragon dance date back to the Han dynasty in ancient China. For centuries the Chinese dragon has symbolized goodness, fertility and vigilance. It also makes for a fantastic costume at any party.
Step 1
Obtain an image of a Chinese dragon costume for reference. A lot of different colored patterns and styles are out there.
Step 2
Decide how long you want your dragon to be. If you have several people standing inside the dragon, allow at least 3 feet between them, starting with the person who stands directly beneath the head. Decide on a length. Measure the flexible plastic pipe and mark with a pencil. Cut the pipe accordingly.
Step 3
Cut a long narrow section of canvas, just large enough to wrap around the plastic pipe and to cover its entire length. This canvas represents the dragon's long, snake-like body. Experiment with different design concepts for the body. Most Chinese dragons have large scales on top of the body, with a different scale design on the dragon's underside.
Step 4
Draw your designs onto the canvas in pencil and color them with fabric markers or fabric paints. The Chinese dragon is famous for its bright contrasting colors and complex designs. Choose colors that create a distinct, dynamic and vibrant look.
Step 5
Attach the fully dried and finished canvas to the plastic tube by slightly overlapping its edges and gluing them to each other with fabric glue. Cut holes through the tube and canvas along the bottom of the dragon's body at the intervals where people will be standing. Insert the PVC pipes into these holes.
Step 6
Build the dragon's head using papier mache and wire. Form the wire into whatever size and style of head you wish. Make the mouth extremely large. Make a papier mache mixture of one part water and either one part flour or one part Elmer's glue. Place strips of newspaper in the mixture and cover the wire frame with them. Completely cover the frame with newspaper and allow it to dry.
Step 7
Decorate and color the dried papier mache dragon head with fabric markers or fabric paint. Create large, open eyes and intricate, colorful designs on the face. Attach the dragon head to the dragon's body by forming the excess chicken wire around the pipe end. Run several layers of duct tape around the wire and the pipe to hold it in place. Cover the duct tape with the canvas from the dragon's body.
Tip
When walking with the dragon costume, have the people holding it on the inside move from side to side in opposite directions so the dragon appears to undulate and slither.