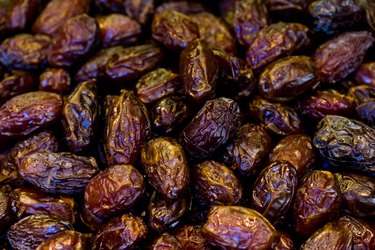 The famous California Raisins featured in commercials during the 80s and early 90s are quickly recognizable pop culture characters. To dress up in a California Raisin costume, stick to a purple and black theme, including a purple trash bag, and carry a toy instrument or microphone. Encourage other revelers, whether in a Raisin costume or not, to do a conga line at the party or down the street while trick-or-treating.
About the California Raisins
The California Raisins, an 80s marketing phenomena, are instantly recognizable. From their first appearance, the song "I Heard It Through the Grapevine" has been associated with the 1986 to 1991 marketing campaign that promoted the wrinkled dried fruit, the raisin.
The Claymation advertisements, developed by Will Vinton Productions, featured the legendary drummer and singer Buddy Miles as well as celebrities including Ray Charles, Jimi Hendrix and Michael Jackson. Despite their popularity and success in raising raisin sales by 20 percent, the singing raisins have a darker undercurrent. Based on caricatures of African-American musicians and vocalists, the original saxophone player and three singers featured Al Jolson-style white gloves and stereotypical facial features.
Did the California Raisins have a cartoon? Not only was there a Saturday morning cartoon show, the California Raisins also released four albums, starred in a Christmas special and earned an Emmy nomination. The entire raisin campaign was officially retired in 1994 when the California Raisin Advisory Board disbanded. While the Claymation Raisins are now history, they influenced current advertising trends and the personifying of food, from M&Ms to cookies to fast food.
Your California Raisin Costume
Start with a 40- to 45-gallon purple trash bag, available online. If you can't find a purple trash bag, you can use a black trash bag and paint it purple or merlot with a spray paint formulated for use on plastics. Spray outside in a well-ventilated area and allow the paint to dry for at least 24 hours before using it for your costume.
Cut a hole in the bottom of the bag for your head and armholes on each side. Put on black leggings or pants and a long-sleeved black T-shirt or turtleneck. Pull the purple bag over your head, then stuff crumpled newspapers around your torso to partially fill out the bag and give you a "plump raisin" appearance. Close the bottom of the bag with clear packing tape, but leave it loose enough around your legs so you can walk and move freely.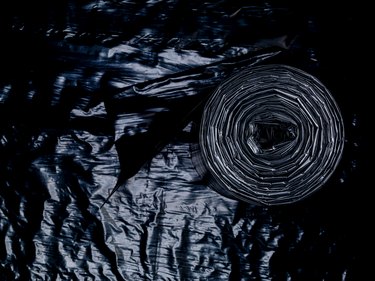 Accessories for the Costume
Add a wide black belt to your costume to cinch in the waist and help hold the newspapers in place. Tuck and fold the bag under the belt to make the wrinkles characteristic of raisins.
Put on a fluffy or beehive purple wig, old-school mirrored sunglasses and gloves. While the original California Raisins featured cartoonish puffy white gloves, you can go with a sleek cotton honor guard or satin opera gloves in white, purple or black to make it easier to drive and handle small items.
Add colorful sneakers or comfortable flat or high-heeled black shoes or boots. Carry a toy saxophone, guitar or microphone, preferably in a bright color so it stands out against your California Raisin Halloween costume.
Finish With Purple Makeup
While dressing up as a California Raisin is a fun way to enjoy Halloween or a costume party, avoid stereotypical and disrespectful "blackface" makeup. Instead, moisturize and put on your normal foundation color. Add purple eyeshadow, purple or black mascara, purple lipstick and perhaps a purplish blush for your cheeks. With the purple trash bag outfit and wig, plus makeup, your California Raisin costume will stand on its own without painting your face.