Things You'll Need
Tank top

Vest

Gaucho, yoga or sweat pants

Sequin tape

Beaded trim

Fabric glue

Sheer chiffon or tulle

Elastic

Fake jewels

Eyelash glue

Henna

Fez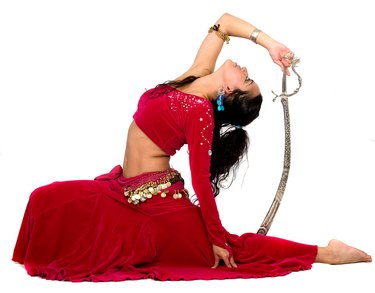 An "Arabian Nights" party promises an exotic evening of entertainment from the food to decor. Add to the festivities by dressing up in a costume that reflects the evening's theme. While many costume companies offer premade options in a variety of sizes and colors, these garments can be expensive, especially for a one-night affair. Trawling thrift stores, discount clothing chains and your own closet yields all the materials you need to make an "Arabian Nights" costume that's big on fun and low on cost.
Women
Step 1
Mark the mid-point on your tank top between your bra line and your navel.
Step 2
Cut off fabric in a straight line beneath that point.
Step 3
Fold up approximately one-half-inch of fabric and use fabric glue to create a no-sew hem for your shirt.
Step 4
Glue sequin tape around the neckline and beaded trim or fringe around the hem to embellish your belly-dancing top.
Step 5
Glue individual sequins randomly across the surface of gaucho, yoga or sweat pants to give shimmer to your "Arabian Nights"-inspired trousers.
Step 6
Cut two 2-foot squares of chiffon or tulle, then cut two lengths of elastic that comfortably circle your wrists.
Step 7
Glue the ends of the elastic together, then glue one corner of a chiffon square to each elastic for Scheherezade-inspired veils.
Step 8
Dot eyelash glue in the center of your forehead to hold a large fake jewel in place.
Step 9
Brush two lines of glue, one above each eyebrow, above the brows, then place smaller jewels along the line.
Step 10
Pull your hair into a high pony tail and curl the ends.
Men
Step 1
Embellish a vest with sequin tape, fake jewels and other sparkling touches for a sultan-worthy vest.
Step 2
Measure your waist, hips and inseam.
Step 3
Visit the women's section of a work-out clothing website to find the pants that will both fit you and give the ideal drape. You can also buy men's sweatpants that are several sizes up from your own size, although the additional fabric may be too bulky.
Step 4
Accessorize your look with a fez that recalls the traditional head-gear of the people of Morocco.
Step 5
Spray-tan the natural muscle lines on your arms and stomach, or paint them on where they don't exist.
Step 6
Belt your pants with an extravagant sash made from an old taffeta curtain or a length of fabric.
Step 7
Apply Henna tattoos as a finishing touch.
Tip
When choosing women's pants, select those with the widest legs possible. Tapered or slim-cut pants will not give the effect. The ideal fabric for these pants is a flowing cotton jersey blend.
A men's vest can be worn over a bare chest or it can be layered over a neutral-colored tank top for modesty. Waistcoats from tuxedos should be slit up the center and worn open.
Men's yoga pants and sweats are typically narrower in the leg and made of stiffer fabric than women's pants.