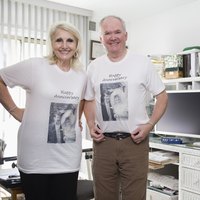 Reclaim an old T-shirt by turning it into artwork. Create canvas art out of old T-shirts from a favorite band or one with a cool design. With this method, you stretch the T-shirt onto canvas. By stretching it, you keep the design long after the T-shirt can no longer be worn. Choose a canvas that is slightly larger than the design and hang it up on your wall.
Things You'll Need
T-shirt
Measuring tape
Prepared canvas
Masking tape
Staple gun
Craft knife
Picture hooks
Measure the design on your T-shirt with measuring tape. You want a stretched canvas that is approximately 2 inches larger all around the design.
Choose a prepared canvas with the dimensions you measured. A prepared canvas can be purchased at art stores. It is stretched canvas on wooden stretcher bars that is ready to be painted. It is ideal for this project since you do not need to buy the canvas and bars separately.
Place the canvas inside your T-shirt. Move the T-shirt around until the design in centered over the canvas. Carefully fold the T-shirt over the canvas. Lift up each side and tape down with masking tape. This secures the T-shirt for the stapling.
Turn the entire T-shirt with canvas inside over. Staple the T-shirt onto the prepared canvas at the back, not the sides. If you staple on the sides of the canvas, you can see it when it is hung on your wall.
Staple one staple at the top back on the wooden stretcher bar first. Then staple one staple at the bottom back. Staple each side with one staple. This helps secure the T-shirt into place without creating bubbling. Go back to staple the corners. Then staple in between each staple you have already stapled until there are staples 1-inch apart from each other around the entire back.
Remove the masking tape. Cut off the excess T-shirt with a craft knife. Gently cut it without pulling the staples out of the T-shirt. Hang it on your wall with a picture hooks.