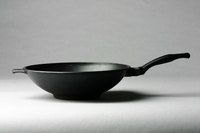 Nothing is easier to toss together for a family dinner than a stir-fry. Chicken is well priced and delicious when not overcooked. This recipe takes only a couple of minutes to prepare and ten minutes to cook, so it's great if you don't want to slave over a stove for hours.
Things You'll Need
2 tbsp vegetable oil
4 chicken breasts, sliced thinly
Handful of green beans, trimmed
2 sachets sweet chilli and garlic stir-fry sauce
Jasmine rice or noodles
Heat oil in a wok until hot. Alternatively, you can use a frying pan. Add the chicken pieces and stir fry for two to three minutes, ensuring the chicken does not stick.
Add the beans. Continue to stir fry until the chicken is cooked through and the beans are cooked while retaining a slightly crunchy texture.
Add the stir-fry sauce, tossing to coat the other ingredients. Once the sauce is heated, remove wok or pan from heat.
Serve with jasmine rice or noodles.