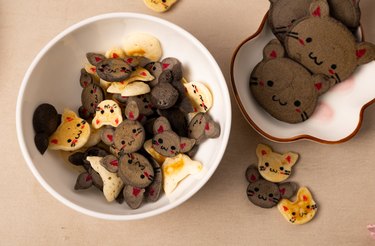 Do you have fond childhood memories of digging into fluffy pancakes? As a kid, there was nothing more fun than dressing up your favorite flapjacks with mix-ins like chocolate chips and M&Ms—or spreading peanut butter, Nutella and plenty of melted butter on top. You might even recall adding smiley faces to small silver dollar pancakes or pairing your creations with classic breakfast foods like eggs and bacon.
With this sense of nostalgia in mind, we're bringing you a mini pancake tutorial that's easy and accessible enough for kids and parents to make together. We started with pancake mix to make this recipe extra seamless, eliminating the need to measure and separate dry ingredients from wet ingredients. The best part? Our sweet little pancakes are shaped like cute cat faces, making them utterly ‌purr‌-fect for a cheerful breakfast spread.
Of course, this sense of simplicity doesn't mean your pancakes will be boring. Consider dressing up pancake mix to your liking by adding flavors, extracts, lemon juice and more as you perfect your yummy, adorable breakfast creations.
Read on for a step-by-step guide to whipping up your very own batch of bite-size cat pancakes!
Video: Mini Cat Pancakes for a Purr-fect Breakfast Bite
Quick Recipe Overview
‌SERVINGS‌:‌ ‌50–75 mini pancakes
‌‌‌‌PREP TIME‌: ‌30 minutes
‌‌COOK TIME: ‌‌5 minutes
‌‌‌‌‌‌DECORATING TIME: ‌‌‌‌‌30 minutes
‌‌‌TOTAL TIME:‌ ‌1 hour 5 minutes‌
Things You'll Need
Large mixing bowl

Medium mixing bowl

Whisk

Spatula

Nonstick skillet or griddle

Cooking spray

3/4 cup water or 3/4 cup milk

1/2 Tbsp. black cocoa powder

Edible markers (black, pink)

Toppings of choice (maple syrup, fresh fruit, chocolate chips, whipped cream)
Tip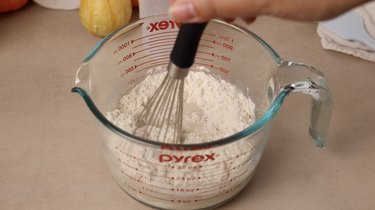 In a large bowl, whisk 1 cup pancake mix and 3/4 cup water until fully combined. Transfer half of the batter into medium mixing bowl.
How to Take Pancake Mix to the Next Level
Elevate this pancake mix by swapping water for whole milk or buttermilk. You could also add a bit of vanilla extract, lemon juice or other flavorings. We recommend against mix-ins like chocolate chips or sprinkles because they will clog the squeeze bottles in step 3.
2. Add black cocoa powder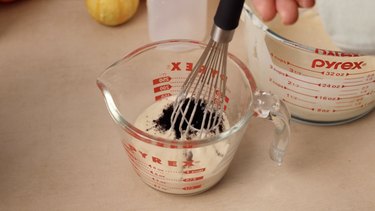 Whisk black cocoa into half of pancake batter.
3. Transfer batters to squeeze bottles
Transfer pancake batters to their own squeeze bottles. Preheat nonstick skillet or griddle on medium-low heat.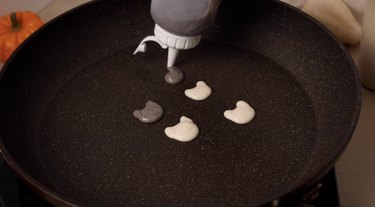 Spray skillet or griddle with nonstick spray. Using squeeze bottles, pipe small pancake cat heads onto heated pan. Cook both sides on medium-low heat until lightly golden brown, about 3–5 minutes.
Tip
Use a toothpick to gently drag out ears for pointier tips!
5. Decorate with edible markers
Decorate small pancakes using edible markers and enjoy! Top with maple syrup, blueberries, chocolate chips, unsalted butter or whatever your heart desires.
Tip
Cooking all the pancake batter may take a while, so feel free to transfer cooked pancakes onto a baking sheet lined with parchment paper. Keep them warm in the oven until ready to serve.
Store homemade pancakes, without any toppings, in an airtight container in the fridge for up to 5 days. To reheat, microwave leftover pancakes at 15-second intervals until warm.
With these cute and creative mini pancakes, your next breakfast, brunch or breakfast-for-dinner gathering will be the cat's meow!