Chef Natasha Feldman is on a mission—to bring dinner parties back. That's one reason she wrote her cookbook, ‌The Dinner Party Project: A No-Stress Guide to Food with Friends‌. The book is all about making dinner parties more attainable by simplifying the process. "You don't have to cook a seven-course meal from scratch, the way your parents or grandparents did back in the day," says Natasha, a Californian by way of Portland. "Order takeout, make a salad or some fun cocktails from my cookbook, and there you have it—that's a dinner party!"
After all, a dinner party is about so much more than just a menu—it's about the people at the table. That's what sparked Natasha's own love for dinner parties when she was just a kid. "Although we weren't really a religious family, growing up with all the Jewish holidays gave my family a reason to bring together cousins, aunts and uncles and have fun, delicious dinner parties with dishes that we all anticipated and looked forward to," she says. Her parents' open-door policy also contributed to her present-day love of the dinner party. "I'm an only child, so I always had friends flowing in and out of my parents' home, staying for dinner unannounced. I grew up in a very inviting house."
Perhaps it's no surprise that her cookbook is filled with endless ways to create an inviting table for friends and family, including 80+ recipes, helpful illustrations and even charts for selecting menus or building a well-balanced charcuterie board. "I want to encourage people to start where they are and gradually expand their horizons," Natasha says. "The ultimate goal is to create an inclusive and enjoyable community where friends can come together, support one another and share in life's joys and challenges."
With that in mind, we asked Natasha for some of her tried-and-true tips for throwing a dinner party with all the fun and none of the fuss.
Like, only six people. "When people think dinner party, it becomes this giant, nebulous thing," says Natasha. But it doesn't have to be. If you're planning your first dinner party, aim for six people—or fewer. "Six is a manageable amount of people to cook for," Natasha recommends. "If there are three, four or five, hooray! You have leftovers. If you have six, then all the food is sort of wiped clean."
Tip 2: Rethink your space
You might feel as if your house is in no condition to have guests. Maybe you think it's too small or too crowded. But rest assured, you don't have to open your home to the world to have a great dinner party. Simply rethink where to hold the gathering, Natasha says. "Let go of the status quo idea of where dinner parties are held, and find a space that makes things easier," she says. "Take the dinner party to your backyard, the stoop, the park, an apartment roof deck, you name it."
Tip 3: Prep ahead of time
When it comes to choosing food, be tactical. "Pick a few dishes that are great at room temp and won't suffer if they're left out for a while, so you can prep them ahead of time," Natasha says. "All the salads and vegetable dishes in my book were designed for this very purpose."
The added benefit of pre-prepped dishes? You'll have more time to finish getting dressed, do that last bit of cleaning up or sit down and relax before guests arrive.
Tip 4: Get friends involved
Teamwork makes the dream work, even when it comes to dinner parties. Get friends and family involved in the prep process, but be specific with roles. Natasha recommends divvying up recipes and tasks based on people's skill sets. Here's a little cheat sheet of "who does what" to get started:
‌Host:‌ Lays out all the ingredients and kitchen tools in advance; fields the "where are the mixing bowls?" type of questions; plays sous chef.
‌Experienced cook:‌ Prepares the toughest dish on the menu.
‌Less experienced cook:‌ Makes salads or easy appetizers; handles odd jobs like washing and cutting vegetables.
‌Non-cook, i.e., person who can't boil water:‌ Ensures everyone is well hydrated; manages cooking playlist; washes and puts away dishes.
Don't Forget...
Getting a little help from friends is great...if you do some groundwork ahead of time. "Make sure everyone gathers at least two hours before dinner to account for cooking time," advises Natasha. "And decide whether you'll be providing all the ingredients yourself, or whether people will shop for the dish they'll be making."
Tip 5: Don't underestimate the potluck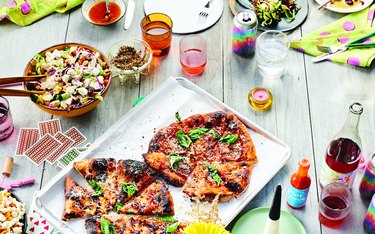 Another solution for easy hosting: potlucks! Ask everyone to bring a dish and reserve meals that are best served hot (or would be way too clumsy to transport) for the host. You could also switch things up and take care of the main course, but have friends bring anything else. "Appetizers, salads, sides and room-temp desserts are great things to ask people to bring for the potluck," Natasha says.
Tip 6: Serve up "little nibbles"
Natasha is a big fan of stackable appetizers, aka fun snack mixes with beloved or unusual pairings. They're easy to make and a real crowd pleaser. She calls them "Snackies—By Aristotle": "It's such a fun way to get a bunch of little nibbles. You know, Aristotle's 'the whole is greater than the sum of its parts' thing," she says. "Serve with little plates or napkins, and put a spoon in the bowl so people won't have to use their hands."
To make these little nibbles, choose as many of the following snack combos as you like. (Natasha recommends storing these snacks in airtight containers up to 24 hours before serving and refrigerating when necessary.)
‌Bar Snacks 1:‌ Peanuts / mini pretzels / spicy corn nuts
‌Bar Snacks 2:‌ Goldfish crackers / candied peanuts / pretzel sticks
‌Tapas-style:‌ Castelvetrano pitted olives (patted dry) / salted roasted almonds / Manchego cubes
‌Fruity:‌ Dried cranberries / sourdough crackers / cheddar cubes
‌Tropical:‌ Unsweetened dried coconut / banana chips / dried spicy mango / salted roasted almonds
‌Pregnancy Cravings:‌ Peanut butter–stuffed pretzels / popcorn / cornichons (on the side)
‌Classy:‌ Sun-dried tomatoes / goat cheese / basil / crackers (on the side) and a knife for slathering
Make Your Own Snack Mix
To make your own custom mixes, simply pick three or four snacks from the following categories:
Crunchy
Salty
Spicy
Unami
Sweet
Tip 7: Serve up some...fun!
The most important ingredient for a memorable dinner party? Having a good time with the people you love. "It's not about the food—it's about the regular ritual of getting people together that's meaningful," Natasha says. "There's nothing better than growing your friendships, getting new friendships and having these people that you feel that childlike comfort with—all in one place." Cheers to that!