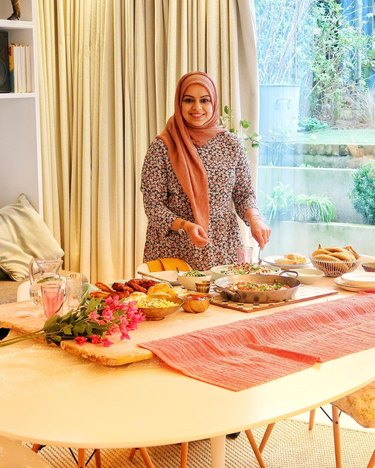 Anisa Karolia's food is vibrant, drool-worthy and abundant. Whether it's a pot full of saffron-infused biryani rice with succulent lamb chunks featured in a tutorial on her "Cook With Anisa" YouTube channel or turmeric-yellow, savory Indian snack cakes highlighted on her Instagram grid, each flavorful dish seems to pop off the page or screen.
This dedication to great food doesn't change during Ramadan. During the Muslim holy month—which takes place during the ninth month of the Muslim calendar in conjunction with the crescent moon—people around the world practice spiritual self-reflection, pray communally and fast during daylight hours. But food is still a central element. Just ask Anisa, a second-generation Brit who literally wrote the ‌The Ramadan Cookbook‌‌.‌ "Fasting helps us focus on appreciating how fortunate we are to have food on our table, so it's a time to get together and share it with others," she says.
While Ramadan doesn't call for specific dishes, food is prepared throughout the month—Muslims recognize ‌suhoor‌ (the predawn Ramadan breakfast), iftar (the dinner following the daytime fast) and Eid al-Fitr (a holiday marking Ramadan's end).
In her book as well as on social media, Anisa reflects her heritage by focusing largely on Indian dishes. She also cooks goodies from Africa, where part of her family once lived, as well as her own cuisine-hopping inventions. Think: yummy pastries filled with piri piri chicken, jalapeño peppers and feta cheese.
We talked to the mom of three about how she made the leap from customer service rep to foodie influencer, why Indian food is easier to make than it looks and the power of food to unite people from every cultural background.
First off, who taught you to cook?
‌ANISA:‌ I was a foodie as a kid. I'd help my mom make whatever she was making—she taught me how to cut vegetables and add the spices. I've heard people say that their parents didn't let them make anything because they were too slow or made a mess. But my mother let me make a mess, and that's the way you learn! She was my best and worst critic. If I added too much or too little of something, she was gentle but honest, which I appreciated, because that's how I perfected my cooking.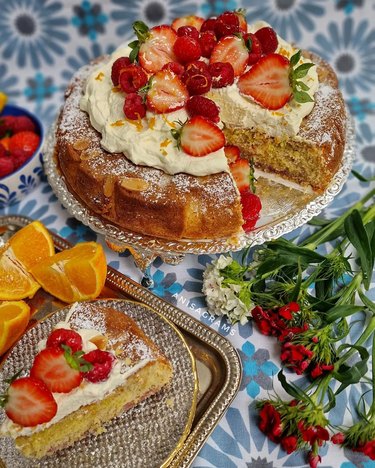 How did you get your professional start in food?
‌ANISA:‌ I used to work as a customer service assistant. When I became pregnant with my third child, my second was only seven months old. It was like having twins! So I left work and once my littlest one was 3, I began making cakes and desserts for weddings and parties. I started kids' cooking classes, making cupcakes, fondant, chapatis, curry, samosas and rice dishes. A lot of people grow up thinking they can't cook. I wanted kids to know that they can. At some point, I just started posting normal pictures of food I cooked online, and my friends and husband, Adam, suggested I do step-by-step videos. I was shocked when I started getting followers.
What do you think clicked?
‌ANISA:‌ I think there wasn't anything quite like it being done at the time, with the kind of traditional recipes I was sharing and food tips for Ramadan. Also, the majority of my recipes are super easy. My early videos are so basic! But what really kept me going was the positive feedback and suggestions from my followers and support from my husband.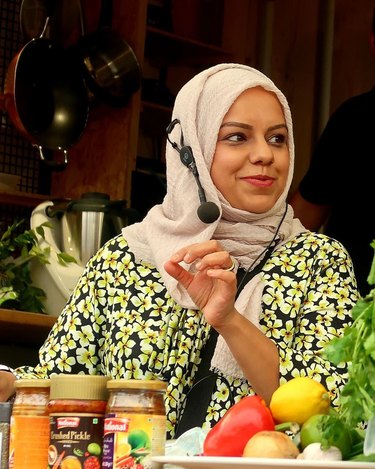 Though you fast for most of the day during Ramadan, you still cook for the family. How do you plan for that?
‌ANISA:‌ Make-ahead meals are key for me during Ramadan and great for anyone. I start weeks in advance, making appetizers for iftar that I can freeze, such as samosas, and main meals that we can eat two days in a row. That way, I can focus more on the spiritual aspects of Ramadan. When we wake up at 5 a.m. to pray and have a meal, I keep things simple and work with what I have, like my recipe for caramelized bananas on toast, which takes only ten minutes. My kids love it. My sons are too young to fast, but they like to get up with us and feel as if they're participating.
What does the holiday mean to you and how do you like to celebrate it?
‌ANISA:‌ Like my kids, I was always interested in Ramadan. It taught me the importance of appreciating that we have plenty and giving to others who may go an entire day without eating. Nowadays, my in-laws break their fast with us every day, and on weekends we'll go to my parents' house. We don't get a chance to see all our extended family throughout the year, so on Eid, we get everyone together. There are children playing games. We're all sharing stories and enjoying each other. I also love to give food to our neighbors and raise money for charity on my social media channels.
You cook a lot of Indian food, a cuisine that some are intimidated to cook at home. How do you make it accessible?
‌ANISA:‌ People being scared to make Indian food is why I wrote my cookbook and started blogging in general! I didn't want people to look at recipes and go, "That's too many ingredients, that's too much time." I simplified the process and ingredients without sacrificing flavor. So people think, "I've got these ingredients. I can make this work." Once you're familiar with the spices, you realize they're pretty much the same ones used in other recipes. I tried to include recipes in the book that are family-friendly with lots of variety.
Your husband shows up on your Instagram a lot. Did you win him over with cooking when you met?
‌ANISA:‌ He was clever. He knew he would never go to sleep hungry! We might have our ups and downs, but one thing we will agree on and are passionate about is our love for food.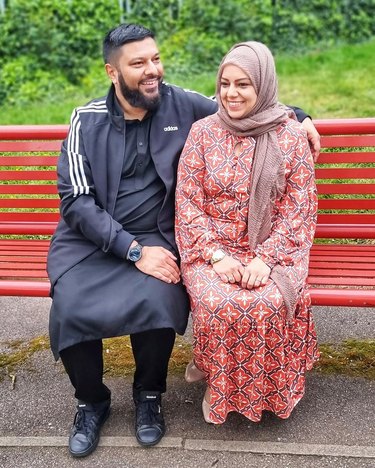 What's a favorite dish in your cookbook that everyone should try making for themselves?
‌ANISA:‌ Khuri kitchri. It's a simple spicy yogurt poured over yellow rice and served with Bombay potatoes, spinach and peas. They make it in [the Indian state of] Gujarat, where my family is from, as well as Malawi, where my grandmother was born when her parents went there from India for work.
You live in Leicester, which has a large Muslim and Indian population. The food scene must be amazing.
‌ANISA:‌ Yes, and I have noticed so much change throughout the years. Before, it was just limited to a few halal fish-and-chips restaurants and curry houses. But now we have halal burger joints and cafés serving halal breakfast, plus Turkish, Lebanese and Indo-Chinese food. Even Egyptian breakfast. Leicester is one of the most multicultural and diverse cities in the UK, so we are very lucky to have a mix of cultures and flavors.
That mash-up seems to have influenced your food, such as your reimagining of a full English breakfast without pork. Do you think food has the power to unite people across cultures, religions and lifestyles?
‌ANISA:‌ Yes. For example, during Ramadan, open iftars have been very popular up and down the UK for a few years now. Charity and community groups are sharing iftar food with anyone who wishes to join in at sunset, regardless of faith or background, and food is also distributed to the needy in different localities. These kinds of events are great for discussions, education and tolerance toward people from differing backgrounds. They prove that all humans have more common values than divisive ones.
To keep up with Anisa's latest recipes and learn about upcoming events, follow her on Instagram or check out a few cooking tutorials on her YouTube channel.