Although pizza isn't exactly a traditional holiday dish, one thing's for sure: Pizza is delicious all year round! So, why not make these mini Christmas tree pizzas as a festive snack or appetizer? Thanks to store-bought pizza sauce and canned crescent dough, this recipe is super quick and easy. You can even turn it into a family activity, as kids and adults alike will love making (and eating) these cheesy treats.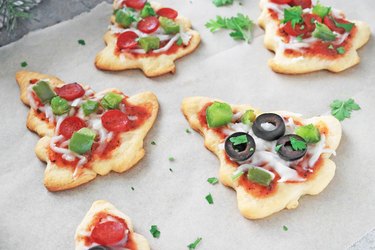 Things You'll Need
2 8-ounce tubes of crescent dough, chilled

3/4 cup pizza sauce

1 cup shredded mozzarella cheese

1/3 cup black olives, sliced

1/3 cup green bell pepper, diced

1/3 cup mini pepperoni

Fresh basil or parsley, chopped

Oil

Christmas tree cookie cutter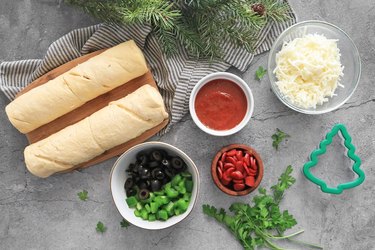 Tip
Omit the pepperoni to make the vegetarian mini pizzas.
Step 1
Add about 1 teaspoon oil to a small skillet. Cook the bell peppers for 5 minutes, or until slightly tender. Set aside.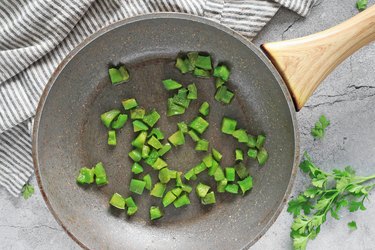 Step 2
Preheat the oven to 350°F. If you'd like, line two baking sheets with parchment paper or silicone baking mats to catch burned cheese. Otherwise, you can use unlined baking sheets.
Roll out a tube of crescent dough on a sheet of parchment paper. Gently press the perforated lines together.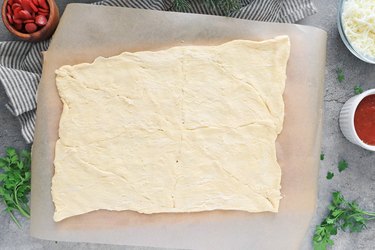 Step 3
Press a Christmas tree cookie cutter into the dough, cutting out as many trees as possible. You can do this by placing the cut-outs very close together. It also helps to flip the cookie after every cut-out to get the most out of your dough.
Repeat with the second tube of dough.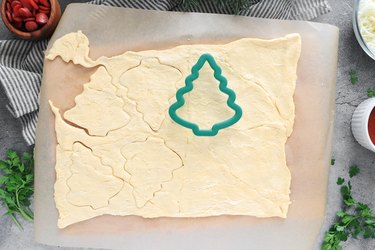 Tip
To re-use leftover dough, roll the scraps into balls. Place each ball between two sheets of parchment paper, flatten with a rolling pin then transfer to a plate or baking dish. Chill for 10 to 15 minutes in the freezer; this will make the dough less sticky and easier to work with. Once chilled, cut out more trees.
Step 4
Place the crescent trees on the lined baking sheets. Bake for 5 minutes.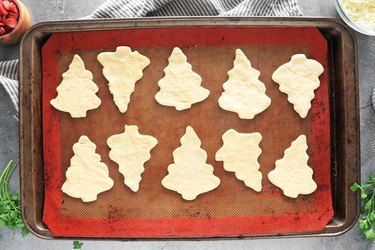 Step 5
Spoon about 1 tablespoon of pizza sauce on to each tree.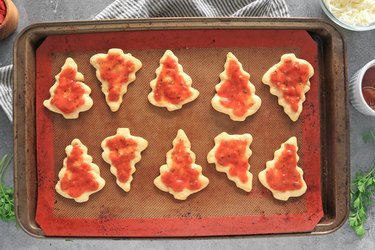 Step 6
Add the shredded mozzarella cheese. Top with bell peppers, sliced olives and/or mini pepperoni.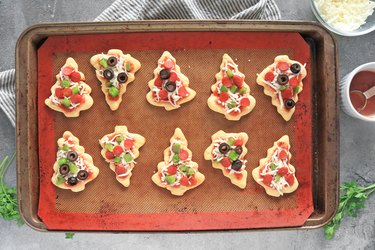 Step 7
Bake for another 8 minutes, or until the edges are golden and the cheese is melted and bubbly. It may take more or less time to finish baking, depending on your oven.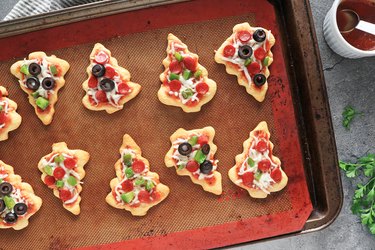 Step 8
Garnish with chopped basil or parsley. Serve immediately.