Ready in less than 30 minutes, this chicken and bean sprouts stir-fry recipe is perfect for weeknight dinners. It features the perfect combination of tender chicken, crispy vegetables and soy-sauce-based sauce. Better yet, you can customize this recipe by adding whatever veggies you have on hand. Serve the finished stir-fry with rice or on its own.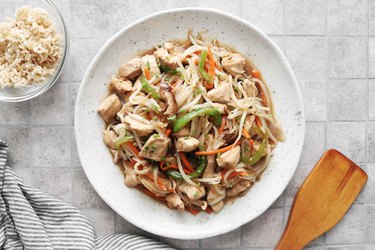 Things You'll Need
2 teaspoons vegetable oil

2 teaspoons soy sauce

1 teaspoon brown or white sugar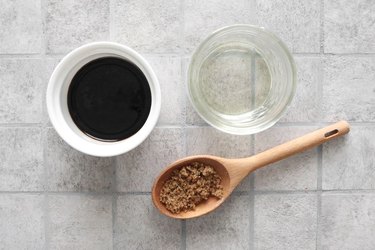 Step 1
In a bowl, whisk all the ingredients together. Set aside.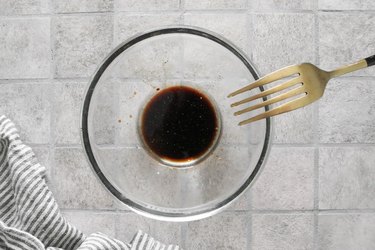 Things You'll Need
1 tablespoon vegetable oil

2 teaspoons brown or white sugar

2 tablespoons soy sauce


2 tablespoons oyster sauce

1 to 2 teaspoons sesame oil

1/2 teaspoon ground white pepper

2 teaspoons cornstarch

4 teaspoons water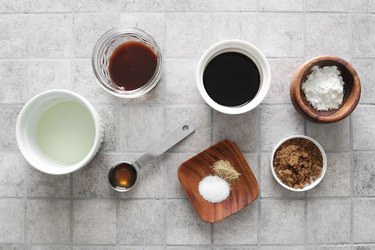 Tip
To better control the sodium content, use low-sodium soy sauce and add 1/2 teaspoon salt. You can add more salt later if needed.
Step 1
Whisk the vegetable oil, sugar, soy sauce, oyster sauce, sesame oil and white pepper in a bowl.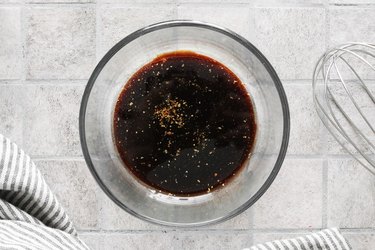 Step 2
In a separate bowl, combine the cornstarch and water to make a slurry. Whisk and set aside.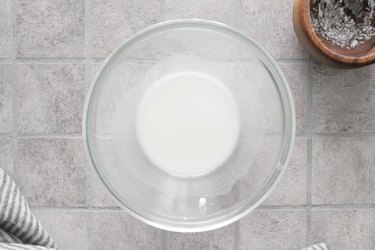 Chicken & Bean Sprouts Stir-Fry
Things You'll Need
4 cups fresh bean sprouts

1 pound chicken breast, cubed

1/2 small white onion, diced

1/2 cup sliced carrots

1/2 cup sliced shiitake mushrooms

1/2 cups sliced bell pepper

2 teaspoons minced garlic

Chicken marinade

Stir-fry sauce

Cornstarch slurry

3 tablespoons vegetable oil plus more as needed

Scallions (for topping)

Salt or soy sauce if needed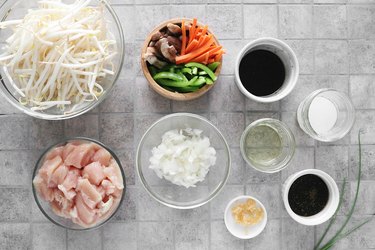 Step 1
Toss the marinade and chicken together. Let sit for 10 minutes.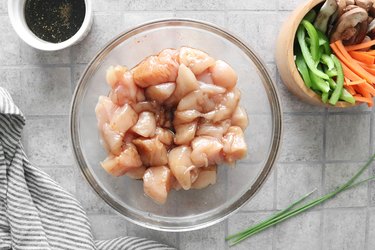 Step 2
While the chicken is marinating, blanch the bean sprouts to help them stay crispy.
To do this, bring a large pot of water to a boil and then add the bean sprouts for 30 seconds. Next, drain the sprouts and rinse them under cold water to stop the cooking process. Set aside.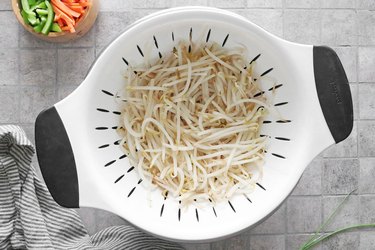 Step 3
In a large skillet over high heat, warm 2 tablespoons of oil. Add the chicken and cook until opaque and nearly cooked through, about three to four minutes. Transfer the chicken to a separate plate and carefully wipe down the skillet.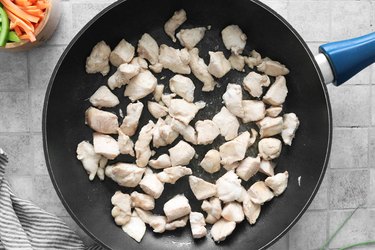 Step 4
Add 1 tablespoon of oil to the skillet. Over high heat, cook the onions, carrots, shiitake mushrooms and bell peppers until crispy-tender, about three to four minutes. Add the garlic and cook for another 30 seconds.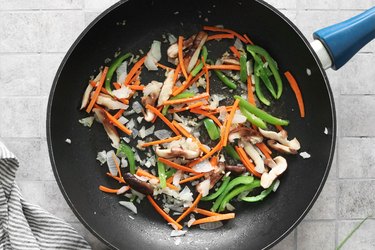 Step 5
Return the chicken to the skillet along with its juices. Add the sauce, mix well and cook for two to three minutes to finish cooking the chicken.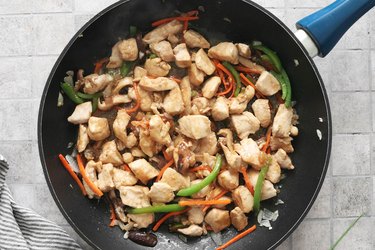 Step 6
Add the slurry and mix well. Finally, add the bean sprouts and cook for two minutes or until the sprouts start to turn transparent but are still crispy.
Taste the stir-fry and add more soy sauce or salt depending on your preference.
Top with sliced scallions and serve with brown or white rice. Enjoy!