For a fun twist on a classic dish, try these meatloaf muffins. They can be made with ground beef, chicken or turkey depending on your preference. What's more, these muffins are topped with mashed potato "icing," so each one is like a bite-sized version of a meatloaf dinner. Kids and adults alike will love this easy recipe!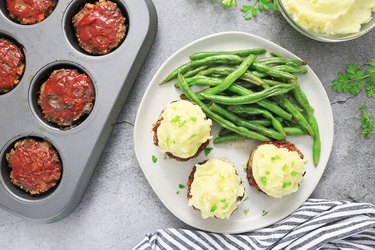 Things You'll Need
1 pound lean ground beef, chicken or turkey

1/2 medium yellow onion, finely diced

1/2 cup carrots, peeled and finely diced

1/2 cup celery or green bell peppers, finely diced

1 teaspoon jarred minced garlic (or 2 to 3 fresh cloves)

1 cup breadcrumbs

2 eggs

2 tablespoons Worcestershire sauce

3/4 cup ketchup

1 teaspoon dried oregano

1 teaspoon salt

1/2 teaspoon ground black pepper

Oil or butter

Parsley (for topping)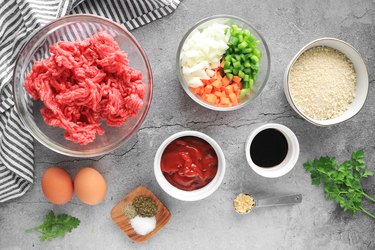 Step 1
Preheat the oven to 350°F. Grease a 12-cavity muffin tin. In a medium pan over medium-high heat, add about 1 tablespoon of oil or butter. Cook the onions, carrots and bell peppers (or celery) for 5 to 7 minutes or until slightly tender. Add the garlic and cook for another 30 seconds.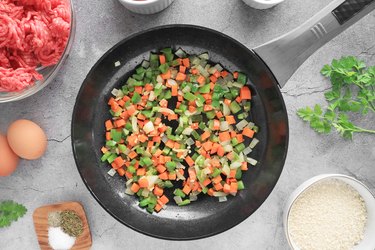 Step 2
Transfer to a large bowl. Add the ground meat, breadcrumbs, eggs, Worcestershire sauce, 1/4 cup ketchup and spices.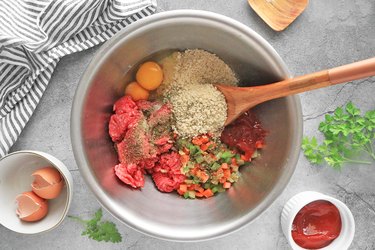 Mix until evenly combined.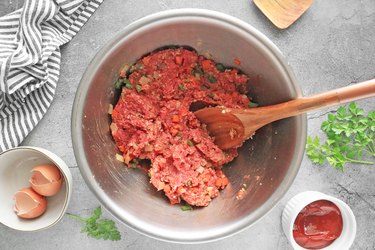 Step 3
Scoop into the muffin tin, pressing down to pack in the mixture. Fill each cavity until it is just about full. Top each muffin with about 1 tablespoon of ketchup.
Bake for 20 to 25 minutes or until the meat reaches an internal temperature of 165°F.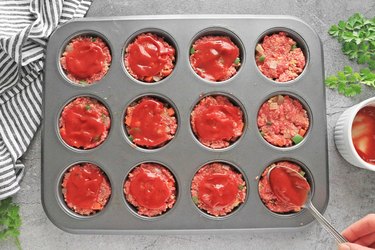 Things You'll Need
1 1/2 pounds potatoes, peeled and cubed

1/2 cup milk (dairy or plant-based)

2 tablespoons butter

1/2 teaspoon salt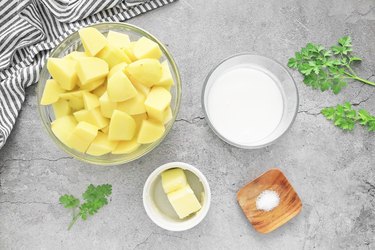 Tip
Pressed for time? Use instant mashed potatoes instead.
Step 1
Add the potatoes to a large pot and cover with water. Place over high heat and bring to a boil. Reduce to a simmer and cook for 15 to 20 minutes or until the potatoes are tender and easily pierced with a fork.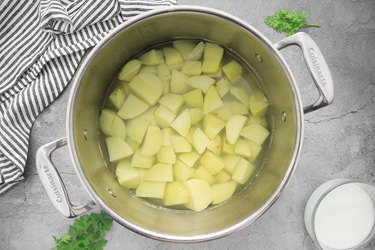 Step 2
Drain the potatoes, reserving some of the water for blending. Transfer to a large bowl and mash with a vegetable masher.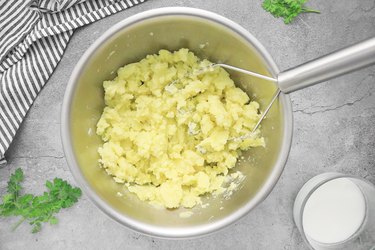 Step 3
Add the milk, butter and salt. Slowly add the potato water 1 tablespoon at a time as needed. Mix well and then taste and adjust if necessary. Feel free to add other ingredients, like garlic powder or chopped scallions.
Step 4
Spoon the mashed potatoes on top of the meatloaf muffins. If you'd like the traditional icing look, you can add the mashed potatoes using a piping bag. (A resealable plastic bag with the corner snipped off works just as well.) Garnish with chopped fresh parsley and serve with green beans, corn or carrots. Yum!