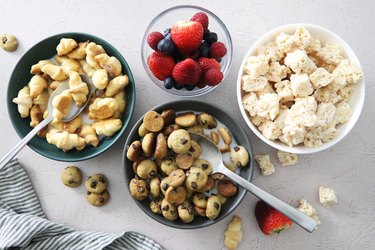 There's nothing more nostalgic than eating cereal while watching Saturday morning cartoons. And if you grew up in the 1990s (or just happen to adore the decade), you probably experience cravings for iconic breakfast cereals of yesteryear. Fortunately, many classic versions are still available in grocery stores and you can also find more grown-up versions from brands like Magic Spoon. But why not take things up a notch and make your own?
To help you get started, we've got a trio of recipes inspired by favorite miniature cereals of the '90s and beyond. They include mini chocolate chip cookies, bite-size marshmallow treats and teeny tiny croissants. What's more, these breakfast recipes are super easy to whip up, proving that making your own cereal doesn't have to be an expert-level task.
Needless to say, these recipes are nothing like typical homemade granola or rolled oats. With a few homemade cereal recipes in your arsenal, you'll be able to add whimsy and nostalgia to your breakfast spread. Ready to discover your new favorite cereal with a homespun touch? Check out our step-by-step tutorials and dig in!
Things You'll Need
Chocolate chip cookie dough

Mini chocolate chips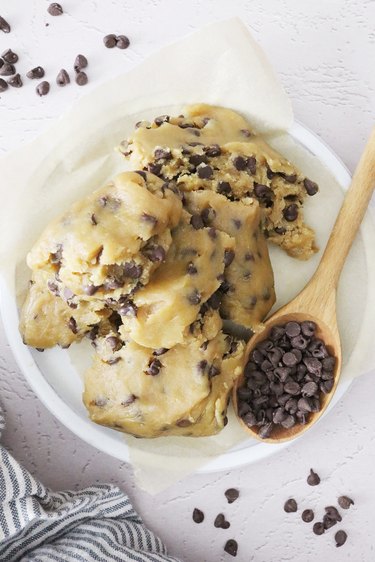 Tip
You can use store-bought or homemade chocolate chip cookie dough. We recommend making your own, as you'll be able to use mini chocolate chips, which work better in tiny cookies. Check out our recipe for easy classic chocolate chip cookies.
Preheat oven to 350°F. Line a baking sheet with parchment paper.
Roll dough into small balls, about the size of a marble. Place dough onto baking sheet and press flat. Next, gently press mini chocolate chips into the top of each dough ball.
Tip
If time allows, chill cookies in the refrigerator for about 30 minutes before baking.
2. Bake until golden brown
Bake cookies for 9 to 11 minutes, or until golden brown. Begin checking cookies at the 8- or 9-minute mark. The total time will depend on your oven, your specific recipe and the exact size of your cookies.
Once cookies have cooled, scoop into a large bowl and top off with milk. How's that for an easy DIY cereal?
Tip
Try using these mini cookies as an ice cream topping. Yum!
Cereal 2: Marshmallow Treat Cereal
Things You'll Need
3 Tbsp. unsalted butter

1 tsp. vanilla extract

5 cups mini marshmallows

6 cups crisped rice cereal

Powdered sugar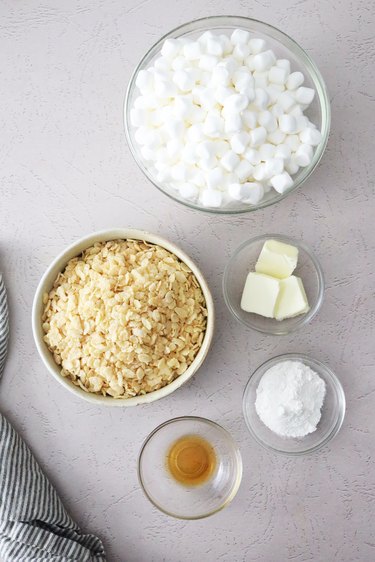 Tip
To make this recipe gluten-free, use gluten-free crisped rice cereal.
How to make Marshmallow Treat Cereal:
1. Prepare marshmallow mixture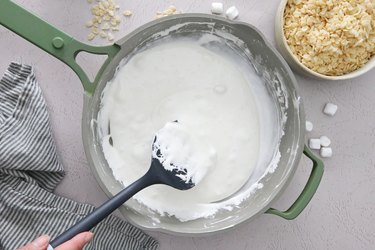 Line a quarter baking sheet with wax or parchment paper.
In large pot or pan over medium heat, melt butter. Mix in marshmallows and vanilla extract. Stir until melted.
Add crisped rice cereal, then mix until sticky and combined. Be sure to work quickly, as marshmallows will set.
2. Make tiny marshmallow treats
Transfer marshmallow treat mixture to baking sheet. Spread with a spatula or your hands (if it's cool enough to touch). Press mixture into an even layer, making sure to focus on corners. Let sit for 1 hour at room temperature.
Remove hardened crisped rice rectangle from baking sheet. Using a large knife, cut rectangle into tiny squares.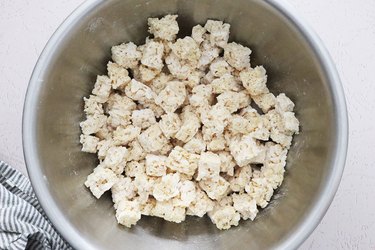 Toss mini marshmallow treats in powdered sugar to prevent from sticking.
3. Serve marshmallow treat cereal with milk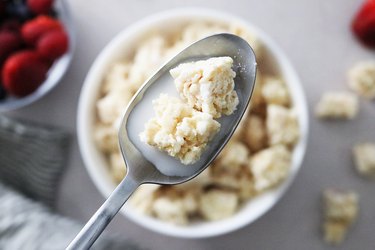 To enjoy this high-crunch cereal, transfer treats into a bowl and add milk.
Cereal 3: Mini Croissant Cereal
Things You'll Need
1 (8-oz.) tube crescent dough

Powdered sugar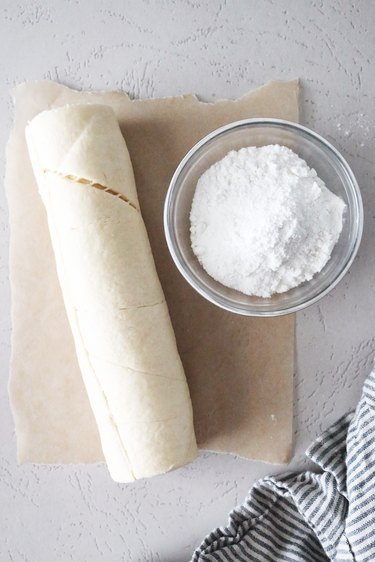 How to make Mini Croissant Cereal:
1. Prepare crescent dough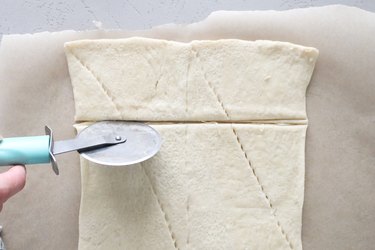 Preheat oven to 350°F. Line a baking sheet with parchment paper or a silicone sheet.
Roll out crescent dough onto a flat surface. Smooth out any gaps with your fingers, then use a rolling pin to flatten dough into a more even layer.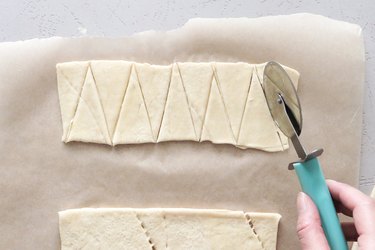 Using a pizza cutter, slice dough into four rows, each about 2 in. wide. Slice each strip into triangles. Re-roll excess dough.
Tip
Don't worry if your triangles aren't perfect. You can always re-roll the dough and try again.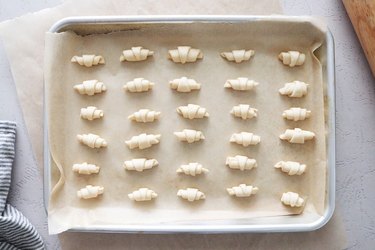 Take a triangle and roll it up, starting on the wide end. The small pointed end should wrap around the top of the roll. Repeat and place the mini croissants on the baking sheet.
2. Bake mini croissant cereal
Bake tiny croissants for 9 to 12 minutes, or until golden brown. Again, the ideal time depends on your specific oven and the size of the croissants.
Let mini croissants cool, then sprinkle with powdered sugar. Not only will this act as a tasty sweetener, but it will also prevent them from sticking.
3. Serve in bowl with milk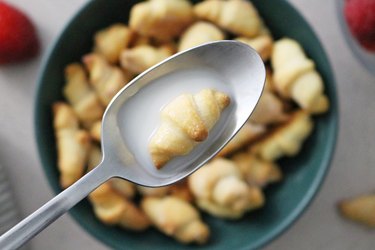 To enjoy your homemade cereal recipe, place mini croissants in a bowl. Add milk and your favorite breakfast toppings—we're big fans of maple syrup, sliced bananas and dried cranberries.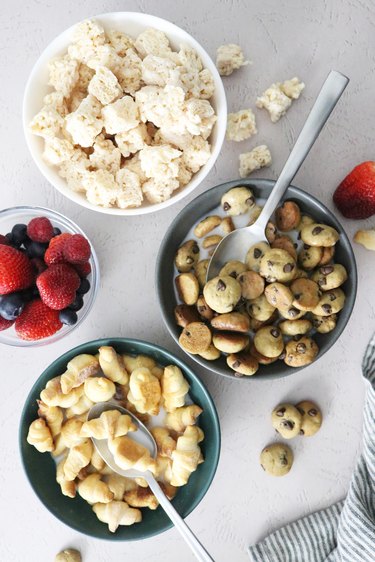 You might not be able to hop in a time machine and revisit the '90s, but our nostalgic homemade breakfast cereal will make you feel as if you've entered a bygone era. Now grab your spoon and turn on your favorite cartoon. It's time to dig in!