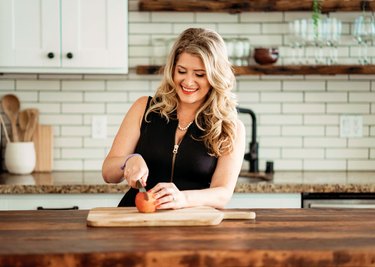 At a time when antisemitism is increasingly and terrifyingly in the news, food blogger and cookbook author Amy Kritzer Becker is all about celebrating Jewish joy. The recipes on Amy's blog, What Jew Wanna Eat, are modern, imaginative takes on traditional Jewish food, including matzo ball broccoli cheddar soup, chocolate pumpkin babka stuffed with candy corn and rainbow challah bread to celebrate Pride Month.
She and her brother, Andrew, also run the online shop Modern Tribe, which offers colorful, sleek items that celebrate Jewish culture. Think: stainless-steel seder plates and minimalist candleholders, jewelry, art, plus more irreverent picks, such as Hanukkah T-shirts featuring menorahs with the words "Let's Get Lit" and Dinokkah, a 6-foot inflatable dinosaur lawn ornament holding a dreidel.
"When so much of being Jewish is serious, it's important to remember the fun stuff," Amy says. Like that time she moved away from her Connecticut hometown to attend college in Georgia and hosted her own decidedly nontraditional Passover seder. "I couldn't go home for the holiday, so I asked my grandma for her recipes," Amy recalls. "I made brisket and potato kugel and invited a ton of my friends. We had a beer keg and Easter candy, and everyone had their own bottle of Manischewitz (sweet kosher wine). Most of the people there weren't even Jewish, but they were happy to come and celebrate."
Amy emphasizes that, like her college seder, her food is for everyone. "You don't have to be Jewish to make the recipes," says Amy, who attended culinary school after a career in event planning and is also the author of ‌Sweet Noshings: New Twists on Traditional Jewish Desserts‌. "Everyone loves and makes Italian food. Why can't everyone love kugel? I really believe that food can bring people together and you can learn a lot about others while sharing a meal and realizing that we're not so different."
We caught up with Amy as she geared up for both the birth of her first child (a daughter) and Hanukkah (December 18 to December 26). Every year, Jews around the world celebrate the miraculous "festival of lights" by lighting the candles of menorahs over eight days, gathering with family and friends to spin the dreidel, exchange gifts and eat delicious foods like ‌latkes‌, or potato pancakes.
Amy talked to us about keeping traditions alive by tweaking them, the perfect entry-level Jewish recipe and the one magical ingredient that makes ‌everything‌ better.
Congratulations on your daughter, who is due to arrive just in time for Hanukkah!
‌AMY:‌ Thank you! It's such a wonderful time to have a baby. So cozy and festive. We'll definitely light her own personal menorah with her. I'm excited for that.
What's your favorite way to celebrate Hanukkah?
‌AMY:‌ I have friends over and make a ton of latkes with a bunch of different toppings. Traditionally, the toppings are sour cream and applesauce, but you can really go crazy. There's also ‌sufganiyot:‌ jelly-filled doughnuts.
‌AMY:‌ A lot of Jewish stuff can be somber. We're talking about the past or facing antisemitism in the present. For me, it's always been important to show that being Jewish is a lot of fun. There's great food, fun holidays, humor. It's important for me to bring joy into everything I do. It's also more inclusive for non-Jewish people.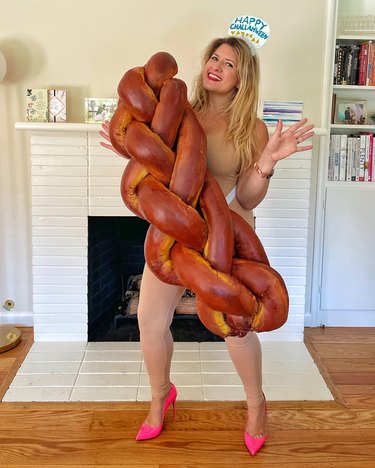 How important is it to counteract antisemitism with joyful content?
‌AMY:‌ Very. In my store, we sell a necklace design that dates back to the Spanish Inquisition [when Jews were forced to convert to Catholicism but many continued to practice Judaism in secret]. It's a Star of David that opens into a row of butterflies, so no one knows that you're wearing it. Someone recently bought one for her granddaughter because the kid was afraid of wearing a Star of David to school. She was getting made fun of. This made me so sad, because this was invented hundreds of years ago and we're still dealing with this.
What's the reaction been for your often irreverent twists on Jewish food?
‌AMY:‌ It's been mostly wonderful. People are always looking to celebrate in a way that resonates with them. Sometimes, though, people will say, "That's not exactly how my Bubbe [grandma] made brisket." And I always ask, "How did they make it? Because they might have been cooking in the 1950s and used a can of soda with a can of soup mix. Do you think that's how it was made for 2,000 years?'"
People forget that, like language, food doesn't stand still.
‌AMY:‌ Exactly. Jewish people have adapted recipes based on what's in style at the moment, and also as we've moved to different places in the world with different flavor profiles. I grew up with a very Ashkenazi Jewish Eastern European background with latkes, challah, bagels and whitefish salad. But I have friends who are Jewish from Africa, Spain or Latin America. They incorporate totally different elements. The beauty of Jewish food is that no matter where we're from, we make it work.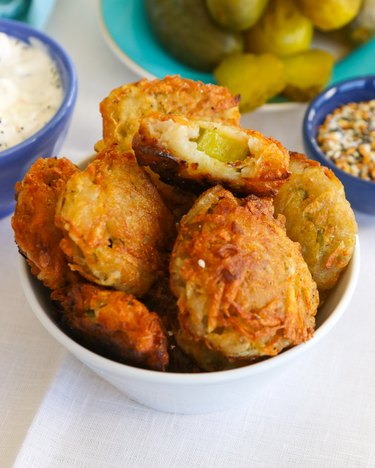 What would be the perfect entry-level recipe for someone who isn't Jewish?
‌AMY:‌ Latkes. They're simple, delicious and cheap. Actually, they're deceptively simple, because there are some tricks. You have to make sure you squeeze the water out of the potatoes and don't use too much binding. Make sure the oil is hot before you place the latkes in so you don't end up with soggy latkes. They're something you can whip up quickly and make a good addition to any holiday meal. You can even make them vegan or gluten-free—just use zucchini or sweet potatoes. Serve them with toppings like guacamole, Greek yogurt, salsa, brisket, cream cheese and lox...even chocolate!
Must-Have Ingredients for Jewish Cooking
We asked Amy Kritzer Becker to tell us about some of her favorite ingredients for Jewish cooking (and beyond). Here's what she had to say:
‌Schmaltz (chicken fat):‌ "Use it instead of butter or oil for a savory flavor. I'll cut the skin off chicken and freeze it until I want to use it. Then I just render down the fat, and it's liquid gold."
‌Chicken skin:‌ "I cut it in small pieces and fry them until crispy, and they're like kosher bacon that I sprinkle on roasted veggies or mashed potatoes."
‌Tahini (sesame seed paste):‌ "It's very versatile. You can make a simple tahini sauce by mixing it with lemon juice, garlic and oil for a salad or chicken sandwich. Use instead of peanut butter for variation in peanut butter chocolate chip cookies."
‌Russet potatoes:‌ "Essential to Jewish cooking. People in ‌shtetls‌ (Eastern European Jewish villages) were very poor, so a humble russet is perfect for things like latkes. They're very starchy and great for frying."
‌Zataar‌ ‌(Middle Eastern spice blend featuring sumac, thyme, sesame seeds and other herbs and spices): ‌"I sprinkle it on chicken, fish, roasted veggies. It's an herby-roasty seasoning that works well in tahini sauce and on eggs."
‌Matzah flatbread‌: "With a little butter and some salt, it's a delicious snack all year."
Tell us about your grandma, aka Bubbe Eleanor, who makes adorable appearances in your videos.
‌AMY:‌ She's in her 90s, witty and from Boston, so she has a thick accent. She's the kind of person who, if you tell her, "I'm interested in tennis," she'll go out and buy you a racket, tennis skirt and every tennis thing they have at Marshalls. So when I told her that I was interested in Jewish cooking, she immediately sent me all these cooking utensils.
She also emailed me all of her recipes, which were on index cards and incomplete. They're like, "Take a brisket, season it, cook it." I had to figure it out by calling her. One day, when I have a bigger kitchen, I'm going to enlarge and frame them.
I grew up baking rugelach, blintzes and mandel bread, which is like biscotti, with my bubbe and my mom. But this process has made me appreciate her and all the food she made for us growing up more than ever.