If you think oatmeal is boring (or reserved solely for breakfast), we're here to change your mind. Oatmeal is actually a remarkably versatile base for all sorts of eats, whether you're enjoying it first thing in the morning or even at the dinner table. Thankfully, social media cooks have taken the guesswork out of making tasty oat-based meals, and we've rounded up a few favorites. From cinnamon roll deliciousness to savory egg-topped breakfast bowls, here are three TikTok videos that will make you question everything you thought you knew about oatmeal. Get ready to spice (or sweeten) things up!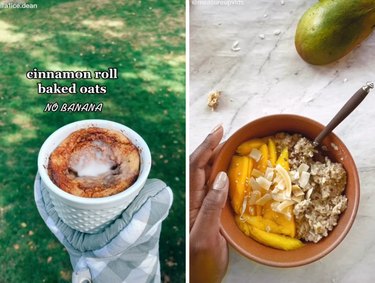 First up is a cinnamon roll made of baked oats, courtesy of @al1ce.dean. She makes an oven-baked cinnamon roll recipe with yogurt, milk, baking powder, cinnamon, brown sugar, maple syrup and a healthy scoop of oatmeal. To top it off, she whips up a separate cinnamon swirl mixture that adds even more sweet flavor. After about 30 minutes in the oven, the oatmeal cinnamon roll is drizzled with sugary icing. Can you imagine digging into this treat on a chilly morning?
Savory flavors might not immediately come to mind when you're dreaming up oatmeal recipes, but there are so many incredible options out there. Take this savory saffron oatmeal made by @ammiskitchentiktok, for example. The TikToker adds carrots, mushrooms, zucchini, celery, onion, garlic, peas, chicken stock and saffron to their oatmeal and tops the savory bowl with a soft-boiled egg. The result is a hearty, flavorful breakfast (or lunch, dinner or midnight snack) of champions!
3. Mango & Coconut Sticky Oats
We've covered ultra-sweet sweet and totally savory oatmeal recipes, but are you ready for a dish that sits somewhere in between? TikToker @measureupvids teaches us how to combine multiple flavor elements in a plain bowl of oatmeal. The creator spruces up their oats with chai syrup, milk, a pinch of salt, coconut flakes and fresh mango slices. This combination of ingredients definitely has us saying, "Oat yeah."
Whether you go sweet, savory or somewhere in the middle, we hope these ideas take your next serving of oatmeal from bland to oh wow!