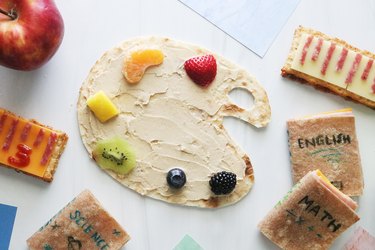 When it comes to no-cook school lunch ideas, you can't go wrong with classic sandwich recipes, like peanut butter and jelly or ham and cheese. But why stop there? With our trio of fun no-cook lunch ideas, you can avoid getting stuck in a rut while mastering school lunch meal prep.
Video: No-Cook School Lunch Ideas for a Creative Midday Meal
Our three easy lunches include textbook sandwiches, ruler stacked crackers (like homemade Lunchables!) and a paint palette made of hummus and fruit. Each healthy lunch can be adjusted according to ingredients you have on hand and kids' preferences.
Once you've created a no-cook meal, pair it with simple side dishes, like hard-boiled eggs or pasta salad. Or if you want an appetizer that ‌also‌ requires no cooking, go for tuna salad, chickpea salad, fresh veggies, granola, Greek yogurt or a handful of pecans. No matter how you slice it, these healthy meals are sure to be a hit!
Things You'll Need
Tortilla (whole wheat or white)

Sliced ham

Sliced cheese (like cheddar, Swiss or mozzarella)

Food coloring markers

Pizza cutter or knife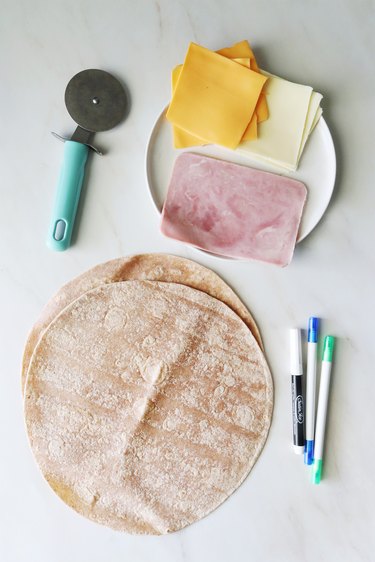 Tip
You're welcome to use other types of deli meat, such as bologna, salami or turkey breast.
How to make Textbook Sandwiches:
Place ham on top of tortilla. Using a pizza cutter, slice both ingredients into a rectangle.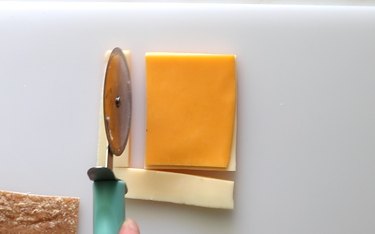 Next, cut cheese into squares. Each one should fit on one half of the rectangle. If your slice of cheese is big enough, you can trim it into a single rectangle of the same size.
Tip
Save ham and cheese scraps for quiche or omelets. You can also use the scrap tortilla pieces for tortilla soup or homemade baked chips.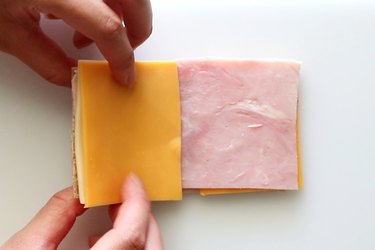 Place ham and cheese on the tortilla rectangle, alternating between each one.
Fold entire stack in half, making sure to keep cheese in place. Trim edges as needed.
Using food coloring markers, decorate front and side of each tortilla sandwich to look like a school textbook. Once food coloring ink has dried, textbook sandwiches are ready for the lunchbox!
Things You'll Need
Mini pizza crust or pita

Hummus

Rainbow of fruits (chopped)

Scissors

Mini knife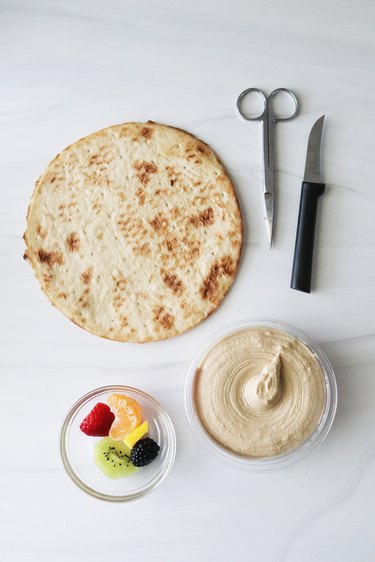 Tip
For our paint palette pizza, we used strawberries, mandarin oranges, mangos, kiwi, blueberries and blackberries. You're welcome to switch it up with savory ingredients and use vegetables, such as chopped red pepper, carrots, yellow bell pepper, avocado, broccoli, arugula or spinach, red cabbage or radish.
How to make Paint Palette Pizza:
Using scissors and/or a knife, cut mini pizza crust or pita into a palette shape. Don't worry if it's not perfect!
Spread a layer of hummus on pizza crust or pita.
Tip
To switch things up, try using cream cheese or goat cheese spread instead of hummus. Pizza or pasta sauce also work well for savory toppings. You could even mix different spices into cream cheese, hummus or pizza sauce.
Place rainbow of chopped fruits along edge of "palette." If you're using savory ingredients, try garnishing pizza with a sprinkle of spices, like Italian or taco seasoning.
This easy recipe makes an excellent homeschool (or after school) lunch, as kids will have a blast putting it together. However, if you want to serve it as a packed lunch, be sure to use a container that's wide enough to hold the pizza crust or pita.
3. Ruler Sandwich Crackers
Things You'll Need
Rectangle crackers (whole grain or white)

Deli meat

Strips of salami (or other deli meat)

Sliced cheese

Sauce of choice in a squeeze bottle (optional)

Pizza cutter or knife
Tip
If needed, use gluten-free crackers.
How to make Ruler Sandwich Crackers:
Using a cracker as a template, slice deli meat and cheese into rectangles. Depending on size of cheese, you might need to cut two separate pieces.
Layer cheese and meat between two crackers. Top with more cheese and then follow with strips of salami (or other deli meat) to create ruler lines.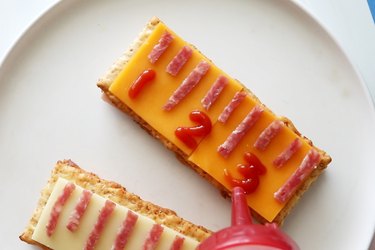 If you'd like, add numbers using sauce and a squeeze bottle. Ideas include ketchup, BBQ sauce or pizza sauce.
Tip
This step is best for no-cook recipes that will be enjoyed at home. If you want to add more travel-friendly numbers, use mini number cookie cutters to cut out deli meat or cheese.
That's a wrap on our easy and delicious no-cook lunch recipes! Whether you're packing these creations in a child's lunchbox or whipping them up at home, they'll add a dash of fun and creativity to any midday meal.