For a tasty twist on the classic tuna melt sandwich, try these stuffed peppers. The filling is made with canned tuna, veggies and Greek yogurt, which gives the mixture a creamy consistency. Next, the peppers are topped with cheese and chives, and then they are baked until melted and bubbly. Serve the bell peppers on their own or with a side of brown rice.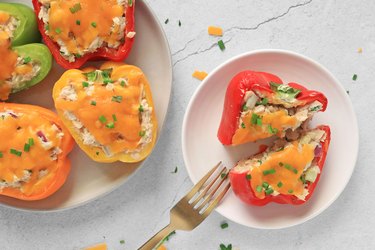 Things You'll Need
4 large bell peppers, any color

Olive oil

1 teaspoon salt

1/2 teaspoon ground black pepper

1 cup Greek yogurt, mayonnaise or sour cream

2 tablespoons Dijon mustard

2 tablespoons lemon juice

4 (5-ounce) cans of tuna, drained

2 garlic cloves, minced

1/2 small red onion, minced

1 celery stalk, minced

1/2 cup brown rice, cooked (optional)

2 tablespoons fresh parsley, chopped


1 cup cheddar cheese, shredded


1 tablespoon chives, minced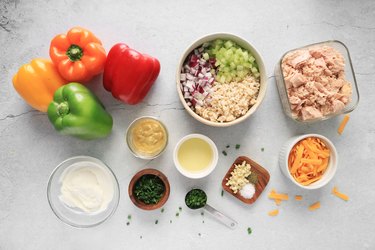 Tip
If you'd like to tone down the flavor of the onion and garlic, cook both ingredients first. Warm oil in a skillet over medium heat and then sauté the onion for 5 minutes or until tender. Add the minced garlic and cook for another 30 seconds.
Step 1
Preheat the oven to 375°F. Slice the bell peppers lengthwise from the stem to the bottom. Scoop out the seeds and white pith with a spoon.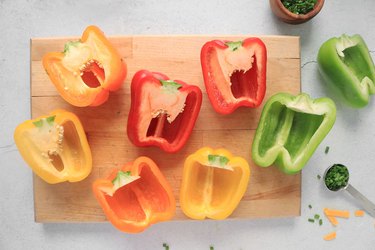 Step 2
Place the bell peppers in a large casserole dish. Drizzle oil on the peppers and then sprinkle them with salt and pepper to taste. Bake for 20 to 25 minutes or until the peppers are almost your desired consistency. (The longer you pre-bake the peppers, the softer they will be.)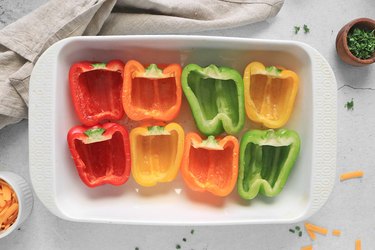 Step 3
Meanwhile, in a small bowl, combine the Greek yogurt, mustard, lemon juice, salt and black pepper. Mix well and set aside.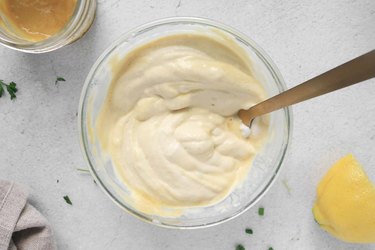 Step 4
Add the tuna to a large bowl. Break up large chunks into smaller, flaky pieces.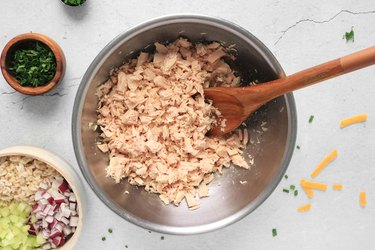 Step 5
Add the garlic, onion, celery, rice, parsley and yogurt mixture. Stir until the ingredients are combined.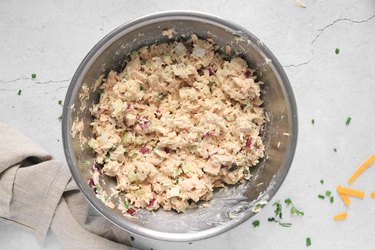 Tip
For extra-cheesy tuna melt peppers, add 1 cup to the tuna mixture. You can also omit the brown rice if you prefer.
Step 6
Pack the tuna mixture into the bell pepper halves. Depending on the size of your peppers, you might have leftover tuna.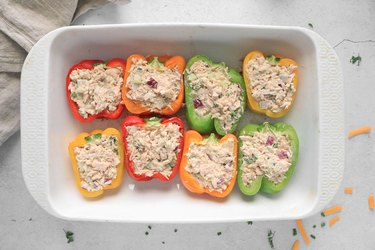 Step 7
Top the peppers with shredded cheddar cheese.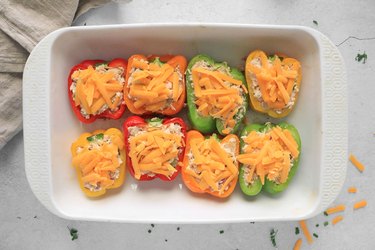 Step 8
Bake for 5 to 10 minutes or until the cheese is bubbly and the peppers are as soft as you'd like.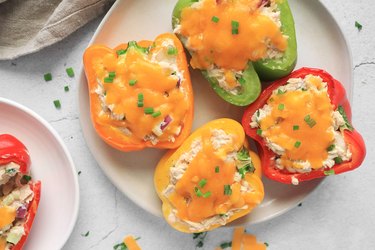 Top with chives and serve immediately.