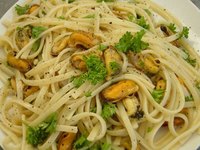 Seafood and pasta go well together and mussels are no exception. Italy is a peninsula surrounded by sea, so the creators of pasta often included mussels in their cuisine quite naturally. Mussels, a type of shellfish, cook quickly and pair well with citrus, parsley, white wine or even a light tomato sauce. Here is one way to cook mussels with pasta.
Things You'll Need
Pot
Sauce pan large enough to hold 1 1/2 lb. mussels
1/2 lb. linguini
1 1/2 lb. fresh mussels
2 shallots
1 clove garlic
Parsley
Lemon
1 cup dry white wine
1 tbsp. olive oil
1 tbsp. butter
Salt
Pepper
Finely chop the shallots and thinly slice the garlic. Chop the parsley and set aside.
Heat a sauce pan and add oil and butter. Add the shallots and when they begin to brown, add the sliced garlic. Stir for about a minute.
Add white wine, a squeeze of lemon, and 1/2 cup of water to the mixture. Bring to a boil, then add the mussels. Cover the saucepan and let the mussels steam until they open, about 2 to 3 minutes. Fill the pot with salted water and bring to a boil for the linguini.
Remove the mussels and turn off the heat. Do not discard the liquid. When the mussels cool, shell the majority of them and take out the flesh. Return the flesh to the saucepan, and season with salt and pepper to taste.
Add the linguini to the boiling water and cook until al dente. Strain and return the linguini to the pot. Add the mussels and sauce to the pasta and combine well. Add the parsley and stir again. Taste and adjust the seasoning if needed.