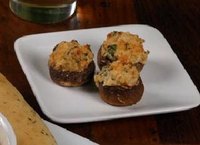 These shrimp are delicious as an appetizer at a restaurant, and you can duplicate them at home. Serve with bread to mop up the extra yummy garlic butter.
Things You'll Need
1/4 cup butter
2 cloves garlic, minced
6 peeled and deveined large shrimp
6 mushrooms, stems removed
2 tbsp. shredded mozzarella cheese
Preheat oven to 325 degrees F (165 degrees C).
Heat the butter and garlic in a skillet over medium heat until the butter begins to bubble. Stir in the shrimp, and cook for about 1 minute.
Place one shrimp into each mushroom cap, and place into a small baking dish.
Spoon the garlic butter into the mushroom caps, and sprinkle each with a pinch of mozzarella cheese.
Bake in the preheated oven until the mushrooms are tender and the cheese is golden and bubbly, 10 to 15 minutes.