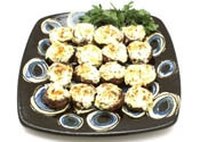 How to Make Stuffed Mushroom Caps. These stuffed mushrooms are a real party pleaser. Pass them on a tray or serve them as a side dish. Makes 16 mushroom appetizers, serving six to eight.
Things You'll Need
16 large, fresh, brown mushrooms
1 c. cream cheese
1 c. shredded cheddar cheese (plus extra for topping)
1/2 c. minced chives
2 green onions - minced
Groceries
Round Baking Dishes
Serving Platters
Vegetable Brushes
Preheat oven to 350 degrees F.
Wash the mushrooms carefully with a vegetable brush under lightly running cold water. Pat dry immediately with a clean towel.
Remove the stems from the mushrooms. Discard or save for another use (see Tips).
Combine cream cheese, the 1 c. cheddar cheese, chives and chopped green onions in a bowl. Mix well.
Carefully spoon the cheese mixture into each mushroom cap.
Place the mushrooms in a round baking dish.
Top the mushrooms with shredded cheddar cheese.
Place in the oven and bake 15 to 20 minutes, until the cheese is melted.
Allow to cool slightly, and serve.