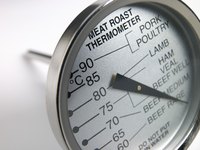 Cut from the lower portion of a hog's shoulder, the picnic shoulder is a sizable roast, usually smoked before it hits the supermarket's meat department. Although the picnic shoulder is commonly roasted, boiling is also an option for cooks who favor hearty pork-based soups and stews. Since visual appearance is never a safe method of determining doneness, check the internal temperature of the picnic shoulder before removing it from the heat.
Things You'll Need
Determine the weight of your picnic shoulder. The average cooking time for a picnic shoulder is 20 to 25 minutes per pound.
Check the picnic shoulder for tenderness after the recommended boiling time by pressing a fork into the meat. For instance, if the picnic shoulder is 3 pounds, perform the fork test after approximately 1 to 1 1/4 hours after the start of boiling.
Continue boiling, checking every 20 to 25 minutes for tenderness with the fork. Once the picnic shoulder passes the fork test, check the internal temperature.
Press a meat thermometer into the center of the boiled picnic shoulder to check for doneness. The U.S. Department of Agriculture recommends an internal temperature of 145 degrees Fahrenheit for pork.