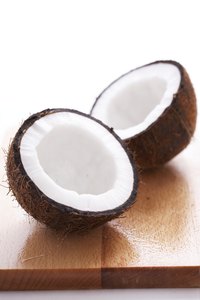 Compared to traditional grain flour, coconut flour offers a high-fiber, gluten-free alternative that's rich in protein. Health factors aside, it also adds a subtle, nutty coconut flavor to both sweet and savory recipes. In addition to dessert dishes such as fruit cake and blondies, coconut flour lends itself to baked chicken nuggets, adding a light tropical flavor to this comfort food classic.
Things You'll Need
Mixing bowl
Coconut flour
Flax meal
Seasonings
Kitchen knife
Boneless chicken thighs or breast
Eggs
Full-fat coconut milk (optional)
Bowl
Whisk
Parchment paper
Baking sheet
Oil
Brush
Preheat your oven to 400 degrees Fahrenheit. Combine the coconut flour -- about a cup will do for 1 to 1 1/2 pounds of chicken -- a few tablespoons of flax meal and seasonings to taste. Seasonings such as cumin, garlic powder, paprika, salt and pepper go well in this dish.
Cut chicken thighs or breasts into bite-sized nuggets using a sharp kitchen knife. Break a few eggs into a small bowl -- add a few splashes of full-fat coconut milk for a thicker, richer coating. Whisk the eggs, dip the nuggets in the bowl, then roll them in the seasoned coconut flour until each nugget is evenly coated.
Spread parchment paper on a baking sheet and lay the breaded nuggets on the sheet, spacing them evenly. Lightly brush the nuggets with oil, such as coconut or grapeseed oil.
Cook the nuggets for 10 to 20 minutes, depending on how many nuggets you're preparing. When finished, the meat should be cooked through and the breading should be golden brown with a crisp, crunchy texture.