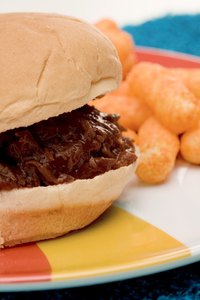 Imagine succulent strands of slow-roasted pork atop a toasty roll, mixed with a flavorful or tomato-based sauce and topped with crunchy, creamy cole slaw. This staple of Southern and Midwestern kitchens does take a bit of doing to get right. But, when it is, the flavors achieved are capable of rivaling meals that are 10 times as expensive. The key phrase when attempting to make pork shoulder or pork butt is "low and slow." That means cook at a low temperature for a long period of time. Time it right and you'll create a slow-cooked pork that rivals that found in a national barbecue competition.
Things You'll Need
Pork butt or pork shoulder
Paper Towel
Spices and seasonings
Roasting pan with rack
Aluminum foil
Mop liquid
Instant-read thermometer
Preheat oven to 275 degrees Fahrenheit. Take pork butt or shoulder out of the refrigerator and allow it to rest at room temperature for 30 minutes.
Rinse the pork under cool running water and pat completely dry with paper towel. Use a knife to score the fat with shallow, crisscross slices.
Coat the outside of the pork with seasonings and spices as desired; good options include salt, ground black pepper, onion powder, garlic powder, ground thyme, and ground cayenne pepper.
Place the pork butt or shoulder onto the roasting pan rack with the fat side up. Cover the roasting pan with aluminum foil. Mop the pork with liquid every 30 minutes or so; a typical mop liquid consists of equal parts of apple cider and water mixed with a small amount of apple cider vinegar. You can also swap out beer for one of the liquids.
Roast the pork butt or shoulder for a minimum of five hours, depending on the weight of the pork. Raise the temperature of the grill to 400 F once the internal temperature of the pork reaches 190 F on an instant-read thermometer. Remove the aluminum foil.
Roast the pork for another 30 minutes. Remove the pork from the oven and allow it to rest for a minimum of 20 minutes before pulling or slicing.