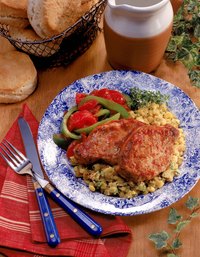 Rotisserie-style cooking is arguably the oldest form of cooking still in existence. Early man often brought home the spoils of the day's hunt and slow-roasted the meats above an open fire using a hand-cranked spit. In the present, many outdoor grills and portable ovens feature rotisseries. There are two different styles of portable rotisserie ovens: Horizontal and vertical. Horizontal rotisserie ovens rotate the food inside the oven horizontally similar to a spit. Vertical rotisserie ovens rotate in a circular motion from right to left. While this form of cooking works best for whole poultry and large roasts, cooking other proteins vertically is possible as well, using the accompanying rack.
Things You'll Need
Small bowl
Various spices as desired
Whisk
Bone-in pork chops, 1 1/2 inches thick
Vegetable oil
Spray oil
Instant-read thermometer
Potholder
In a small bowl, add spices, such as salt, ground black pepper, onion and garlic powders, ground thyme and cayenne pepper, according to taste, and a small amount of vegetable oil. Use a whisk to mix well. Coat both sides of the pork chops with the seasoning mix.
Lightly coat the top and bottom vertical rotisserie racks with spray oil. Place the pork chops into the rack and secure with the top rack.
Attach the rack to the rotisserie. Turn on the oven and cook for about 20 minutes or until the pork chops register 155 degrees Fahrenheit using an instant-read thermometer.
Turn off the rotisserie oven and remove the rack using a potholder. Transfer the pork chops to a main platter or to individual plates. Allow the pork chops to rest for at least five minutes before serving to finish cooking and seal the juices.