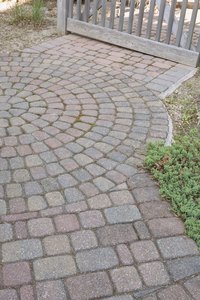 Moss typically grows on damp, shady areas of the yard, especially around swimming pools, water spigots or areas with poor drainage. While some like the look of moss on brick, many homeowners wish to remove it, whether it has become slippery and dangerous to walk on, or simply detracts from the look of the yard. Cleaning moss off the brick in the landscape only takes a few materials, and proper maintenance over time will keep moss from developing in the future.
Things You'll Need
Latex gloves
Small bucket
Oxygen bleach
Warm water
Push broom
Handheld brush
Hose
Wear a pair of latex gloves to protect your hands when cleaning the brick. In a small bucket, mix a cup of an oxygen bleach product, such as OxiClean, Ajax Oxygen Bleach Cleanser or Oxy-Boost, with a gallon of warm water. With your gloved hand, mix the oxygen bleach thoroughly with the water to dissolve the powder.
Pour the cleansing solution on the brick and allow it to soak in for about 20 minutes. Once the time has passed, scrub away the moss with a push broom or handheld bristle brush.
Rinse the cleaning solution off the bricks with a hose. Repeat the process, if desired, for old or stubborn moss growth. Clean the brick as needed for maintenance purposes.