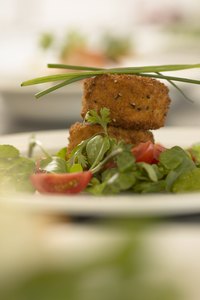 Crabcakes are an American dish, most famously created on the shores of Chesapeake Bay. This seafood delight is made with shredded crab cake mixed with grain, seasonings and other ingredients. They can be sauteed, grilled, fried, broiled, or baked. Baking crabcakes is not difficult and creates a healthy treat. Best of all, you can add different ingredients to the crabcakes to suit your own taste buds.
Things You'll Need
2 1/2 cups bread crumbs, or finely crushed corn flakes
2 baking sheets
Whisk
Bowl
Egg yolk
1/4 cup mayonnaise
1 tsp. Old Bay seasoning
1/2 tsp. dry mustard
1/8 tsp. salt
1/8 tsp. pepper
16 oz. crab meat
Rubber spatula
Plastic wrap
Butter
Cooking spray
Mix egg yolk, mayonnaise, dry mustard, Old Bay seasoning, salt and pepper in a bowl with a whisk.
Add crab meat to the mixing bowl. Use a rubber spatula to blend the crab meat into the other ingredients.
Divide the crab meat mixture into 10 separate piles that are even in size. Roll each pile into a ball between the palms of your hand. Flatten the balls into a patty.
Pour bread crumbs or crushed corn flakes on one of your baking sheets. Spread them out so they cover the bottom of the pan. Cover a second baking sheet with plastic wrap and sit the two baking sheets next to one another.
Place the crabcakes on the breaded baking sheet and carefully turn them over a few times until they are coated. Then put the coated crabcakes on the baking sheet covered in plastic wrap.
Cover the tray of crabcakes with another sheet of plastic wrap. Place the tray in the refrigerator for at least two hours so they can set.
Preheat oven to 400 degrees Fahrenheit. Dump the crumbs off your original baking sheet and spray it lightly with nonstick cooking spray.
Put the chilled crab cakes on the greased baking sheet. Put 1 tsp. of butter on top of each crabcake.
Bake your crabcakes in the oven on the center oven rack for 15 to 20 minutes. they should be golden brown in color.