On the first day of Christmas, our true love gave to us...a completely gorgeous "Twelve Days of Christmas" table-setting idea! We had so much fun perusing our local thrift shops to find almost everything we needed for this unique, one-of-a-kind Christmas dinner table. Each place setting at the table represents one gift from the traditional "Twelve Days of Christmas" song and adds a little spice (and, of course, golden rings!) to your holiday decorating. Not only do we show you how to create a fun holiday decor tablescape but we've even snuck in a few fun party and gift-giving ideas that go along with the theme.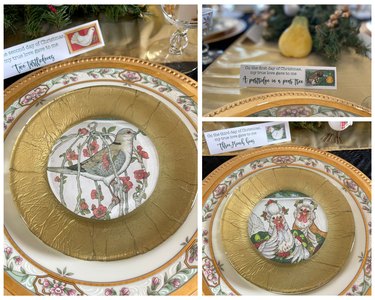 So, if you've been looking for new Christmas table decor ideas, we've got you covered. Best of all, you don't have to be an interior designer to pull off this table-setting tutorial!
Things You'll Need
A "Twelve Days of Christmas"-themed picture book

12 clear glass or plastic salad plates

Scissors

Foam brush

Gold tissue paper (or any color that highlights your plates and pictures)

Clear spray lacquer

One small thrifted item to represent each of the 12 days

Linen tablecloth

Thrifted dinnerware, glassware and cutlery

Thrifted cloth napkins and napkin rings

Sprigs of natural (or faux) greenery

White card stock


Various ornaments and miniature Christmas trees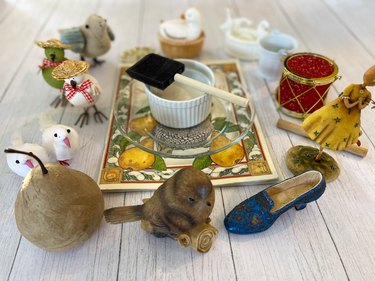 Where to Find Illustrations
We're all about giving new life to something old or discarded, and there are stacks of books at thrift shops waiting for a good home. Case in point⁠—the beautiful book we used for this craft: ‌The Twelve Days of Christmas‌ by Jan Brett. Of course, you can also print your designs. If you go that route, we're a big fan of the lovely illustrated (and printable) templates from Etsy sellers NYCArtPrint and ProjectPrintable.
Part 1: Decoupage the Plates
1. Measure and mark illustrations
Choose a "Twelve Days of Christmas"-themed picture book from your stash of books or, even better, a thrift store or discarded book for sale at your local library. Use the flat bottom of the transparent glass plate to find just the right part of the illustration to use on the bottom of the plate. Draw a circle around the desired image with a pencil using the bottom of the plate as a template.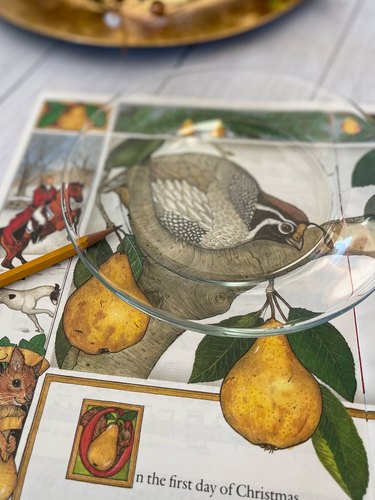 2. Cut pictures for each day in the song
Continue to measure, mark and cut out a picture representing each day from the "Twelve Days of Christmas" song.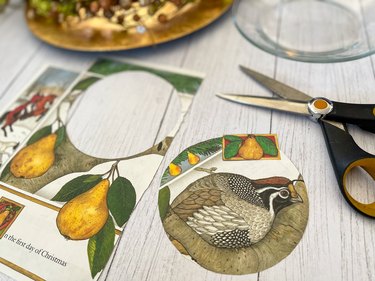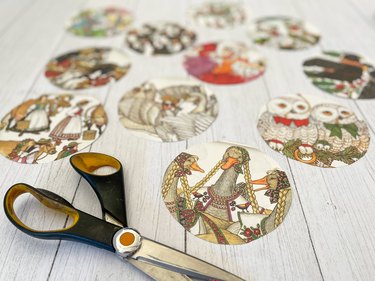 3. Adhere pictures to the plate
Turn over the plate and brush a liberal amount of dishwasher-safe Mod Podge to the flat bottom of the plate. Place the picture face down onto the bottom of the plate. Smooth the image with your fingers to eliminate air bubbles and ensure the view is centered. Brush more Mod Podge onto the picture and let it dry overnight.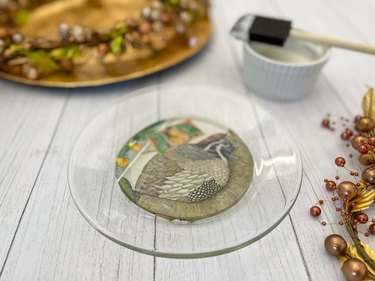 4. Adhere the gold tissue paper
Cut a piece of gold tissue paper that is 1 inch larger in diameter than your plate. Turn over the plate and cover the whole bottom of the plate with Mod Podge. Gently place the tissue paper (gold side down) onto the bottom of the plate and smooth out any air bubbles in the tissue with your hands. Apply another coat of Mod Podge to the tissue paper and let it dry overnight. When dry, use sharp scissors to trim any excess tissue paper from around the edge.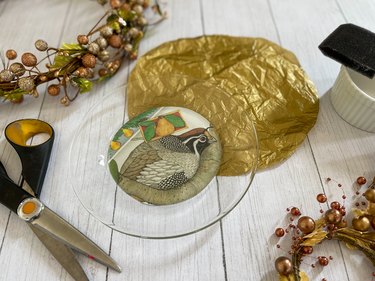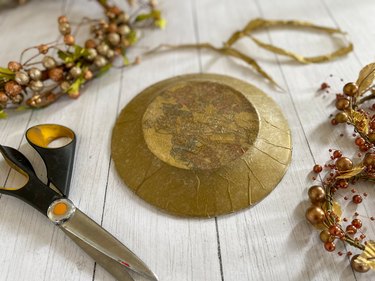 5. Seal the bottom of the plate
Turn over the plate and place it in a large box in a well-ventilated area. Spray over the tissue paper with a clear lacquer. This way, you'll be able to hand wash the plates after using them. However, we still recommend washing them carefully and not soaking the plates for any length of time.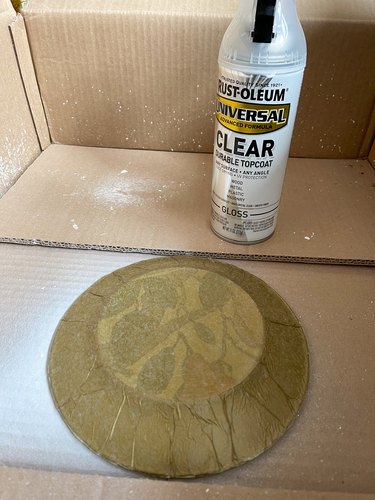 Part 2: Decorate the Table
You can transform your dining room into a "Twelve Days of Christmas" wonderland. Of course, you can use any color tablecloth you'd like, but we chose black because it coordinated well with the illustrations we decided to use on the bottom of the plates. We also found a gold table runner at our local thrift shop and put that down as the second layer.
Next, we placed a thrifted gold charger at each place. On top of each charger, we set a beautiful gold-rimmed, pre-loved china plate. The illustrated salad plates we made topped off each place setting nicely. Check out the linen section of the thrift shop before you leave and you can find a few linen napkins, napkin rings, flatware, votives and place mats to add even more fun to the tabletop.
2. Create a not-so-typical centerpiece
Place some real or faux greenery down the center of the table. Add decorative items, like ribbons, pine cones, candlesticks or gold berries. Next, to tie the entire "Twelve Days of Christmas" theme together, tuck little trinkets that represent each of the days into the greenery. During our thrift shop adventure, we found a decorative pear, a turtledove ornament, a little hen with a hat, a small fabric bird, gold key rings that we tied together with a ribbon, a ceramic goose on a nest trinket box, a small swan candle holder, a tiny white metal bucket, a little resin lady on a spring, a ceramic men's Victorian dancing slipper and a small drum ornament.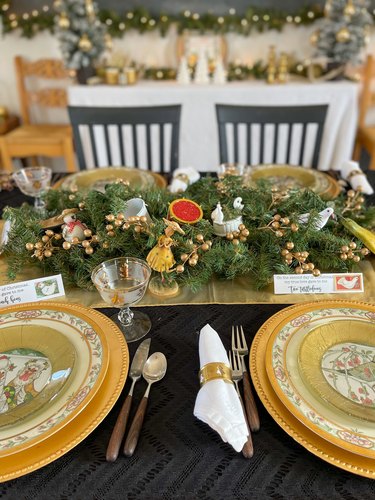 Print each of the verses of "The Twelve Days of Christmas" onto white card stock. Leave 2 inches above and below the verse so you can cut and fold them to make place cards. And don't let the book scraps go to waste. Cut out small images that go with each of the song verses and glue them onto the place cards to add visual interest.
To help people know where to sit when it's time to eat, hand out a place card with one of the verses on it, and they can find the plate that matches the verse on their place card, which will be their place to sit. If you're motivated to make "The Twelve Days of Christmas" an entire party theme, you could wrap up a gift that goes with the verse at each place. Or, better yet, before the party, assign each guest to bring a gift to go with one of the verses. They can place the gift at the corresponding place setting when they arrive. When it's time to sit down to eat, draw cards to determine where you sit, and at your seat, you'll find your gift to open!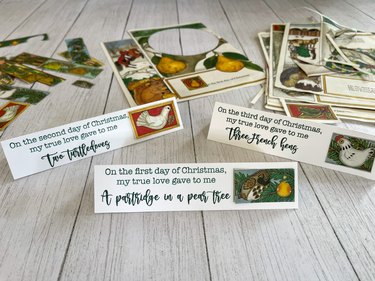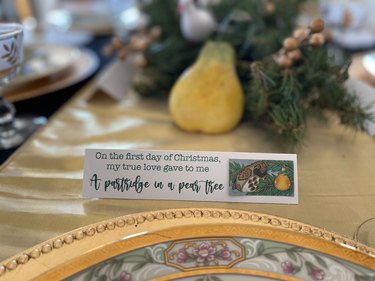 4. Place setting gift ideas
Need a few gifts to go with each verse of the theme? Allow us to present some ideas...
‌A Partridge in a Pear Tree:‌ 1. Pear-scented candle, soap or lotion; 2. A gift box of real pears; 3. Homemade pear jam, pear butter or pear cobbler; 4. Pear jelly beans or pear nectar
‌Two Turtledoves:‌ 1. Homemade turtle candy; 2. Dove cookie cutter with a cookie recipe and homemade dove cookies; 3. Dove soap or bath products
‌Three French Hens:‌ 1. Chicken soup recipe with dry ingredients; 2. French cookbook with wine; 4. A gift card to a French restaurant
‌Four Calling Birds:‌ 1. Bird feeder with birdseed; 2. Bird-watching book and binoculars; 3. Ceramic bird ornaments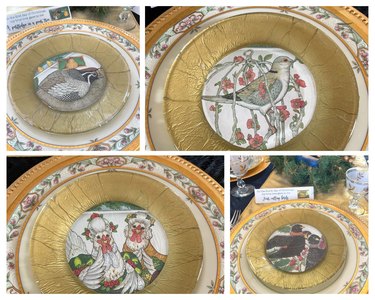 ‌Six Geese a-Laying:‌ 1. Egg cookbook and egg cooking pan; 2. Geese socks; 3. Homemade eggnog and holiday mugs
‌Seven Swans a-Swimming:‌ 1. Inflatable swan pool float; 2. Gift certificate to a ‌Swan Lake‌ performance; 3. Relaxation spa basket
‌Eight Maids a-Milking:‌ 1. Mugs filled with hot cocoa ingredients; 2. Ice cream shop gift card; 3. Basket filled with milk bath products
‌Nine Ladies Dancing:‌ 1. Wireless music speakers; 2. Gift certificate for dance lessons; 3. Tickets to a dance performance
‌Ten Lords a-Leaping:‌ 1. Jump rope; 2. Trampoline; 3. A gift card to a trampoline park
‌Eleven Pipers Piping:‌ 1. Piping hot chocolate mix and mug; 2. Cake- or cookie-decorating book with piping tools; 3. A kazoo
‌Twelve Drummers Drumming:‌ 1. Tin drum full of popcorn, cookies or candy; 2. Actual drum or drum lessons; 3. A bucket of drumsticks or a gift card to a favorite hot wings restaurant!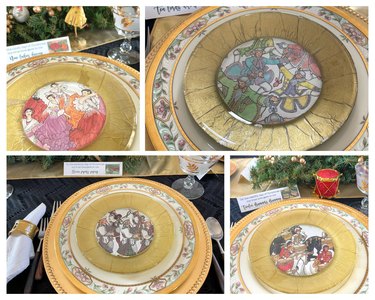 Have fun with these DIY Christmas table-setting ideas, and we hope the dining room table holiday cheer will last all year for you and your loved ones. Happy holidays!