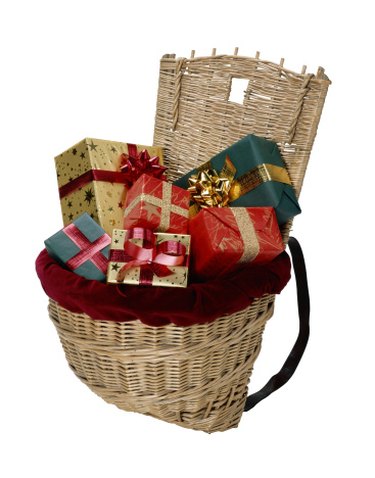 A Chinese raffle is more commonly known as a Chinese auction, a tricky tray or a basket raffle. No matter which name it goes by, it is a popular fundraiser hosted by schools, clubs and organizations. At a Chinese raffle, gift baskets are raffled off. Baskets that are nicely wrapped and loaded with goodies will encourage guests to buy tickets to win that basket. When creating baskets, use themes, and coordinate the items inside to match that theme.
Coffee & Tea Basket
Create a basket full of flavored coffees and specialty teas. Include two fancy mugs, and add an assortment of biscotti, cookies or crackers. A few packages of flavored hot chocolate may also make a nice addition. Other drink accessories to include are chocolate stirring spoons, packaged creamers, sweeteners, and syrups used for flavoring coffee. A small two-serving tea pot also fits well with theme, if there is room in the basket.
Candle Basket
An assortment of candles makes a nice basket that will appeal to a wide variety of people. Keep the scents to popular varieties such as vanilla, fresh linen or strawberry. It is usually a good idea to avoid strong scents that might not be well received, or that might clash with each other. Include candles of assorted sizes including tea lights, votives, and small and large pillars. Candle holders and accessories such as a lighter wands and a candle snuffers complete the theme.
Baking Basket
Put together a baking basket that includes a variety of kitchen tools. Cookbooks with easy to follow recipes, whisks, spatulas, cookie cutters, measuring spoons, oven mitts, and small baking sheets are only a few of the many possibilities. Adding packaged mixes brownies and cakes is also a nice touch. Depending on what you have included, a cake decorating kit, piping bag with decorating tips, icings, sprinkles and cupcake liners might also be appropriate.
Scrapbooking Basket
Make a basket that includes all of the necessary items needed to create a scrapbook. Begin by choosing a scrapbook that comes with its own pages. Add an assortment of solid-colored and themed card stock and paper, stickers, quote stacks, page borders and embellishments such as ribbon, beads, brads and buttons. Make sure to include a variety of tools, too, such as decorative edged scissors, hole punches, border punches, stick-ems and craft glue.
Gardening Basket
Begin this basket with an easy to follow book about gardening for beginners. Include gardening tools such as a trowel, a pair of gloves, a kneeling pad and a small watering can. An assortment of seeds to plant can be added to the basket along with some small colored flower pots. Complete the basket by adding decorative garden stakes, wind spinners or a garden gnome.