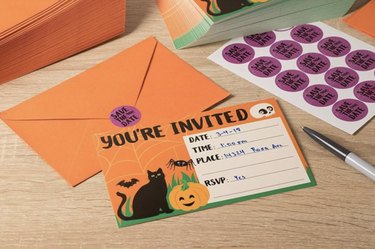 When you throw a Halloween party, first thing's first—you have to choose a great Halloween party invitation with just the right amount of spook. An invitation sets the vibe and often the theme for the soirée. Of course, it also provides pertinent event details like the party's date, time, location and any special instructions (like wear a Halloween costume, bring a pumpkin to carve or bring your own booze).
What To Consider When Choosing Halloween Party Invitations
​Type:​ In this day and age, there are a few different ways to send party invitations. You can go the old school route and buy physical paper invitations, write in your party's information, tuck them in an envelope with a stamp and snail mail them; you can find a digital design you like, edit the invitation to your liking, then email or text it to your friends and family; or you can go the digital template route and print copies to then send in the mail.
​Design:​ You already know that there are practically endless party invitation designs to choose from, which is why we've narrowed them down for you here. Most digital invitations are editable, so even if the template says "Pumpkin Carving Party," but your Halloween party is a costume party without any pumpkins to carve, you can easily edit it to say whatever you want. Physical invitations, however, are not editable, so with those, what you see is what you get. Of course, there will be blank spaces for you to write any information you want to add, but the design itself cannot be changed.
​Age Group:​ Is the party geared towards kids? There are plenty of kid-friendly designs to choose from—and some physical invitations come with stickers to add to the fun. If the party is for adults, a spookier, boozier invitation might be more fitting.
​Number of Invitations Needed:​ Physical invitations range from 10 to 30 or 40 invitations per pack, so if you're having a small party and inviting only a handful of guests, the smaller the pack the better. Digital invitation platforms allow you to send as many or as few as you want.
​Cost:​ A pack of physical invitations will typically cost under $15. Many digital platforms like Paperless Post offer up to around 50 free invitations before requiring payment. Premium invitations on the same platform might cost $20 or so for around 25 invites.
Scroll on to see the best Halloween party invitations of 2022.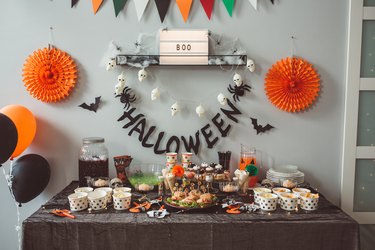 1. Gift Boutique Halloween Party Invitations
There's something special about receiving a party invitation in the mail, especially one that's Halloween-themed and features a haunted house, a full moon and spooky pumpkins. This 5-inch by 7-inch invitation has blanks for the location, date, time, details and RSVP. The pack comes with 36 invitations along with the same amount of envelopes. The back of the invitation is blank so you can write your own message if you want. It can be used for all types of events happening on or around Halloween, including a baby shower, bridal shower, a kid's birthday party, a housewarming party, etc.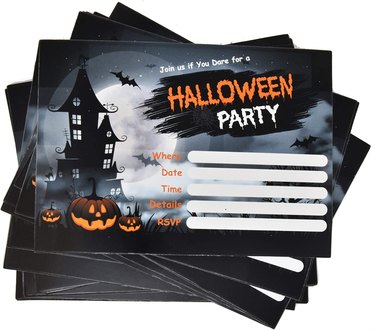 2. PinkFoxCreative Digital Halloween Party Template
Whether you're throwing a Halloween bash for kids, adults or both, this spooktacular Halloween party invitation is perfect for any age group. Once you purchase the invitation, you'll receive a link where you can edit text, add and remove text, change font colors, and move and resize the text boxes. You can also add your own images or photos, but the graphics included in the design can't be changed. You have two options with this digital Halloween template: Design your invitation and print them out on your own or send them digitally via email or text. The design will print as a 5-inch by 7-inch card.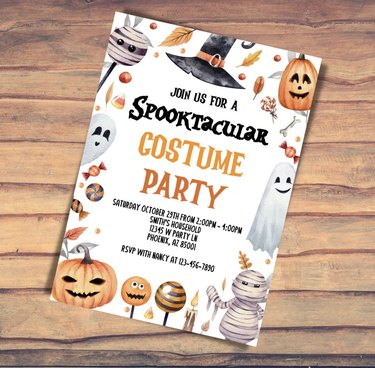 3. Paperless Post Halloween House Party Invitations
Paperless Post flyers are easy to make and easy to send, plus they're animated, customizable and super fun. Invite your friends to your Halloween holiday party by sending this Halloween Bash flyer via email or text. Customize the text, colors and even the animations to make it more your own. The best part is it's free to send up to 50 invitations, and you can also track RSVPs.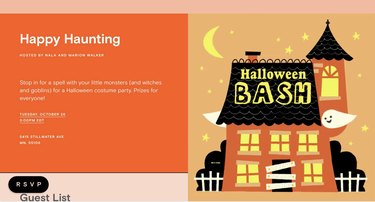 4. Smarkle Come If You Dare Halloween Party Invitations
Dare we say these are the perfect Halloween party invitations? These physical invitations invite your guests to come if they dare on one side while providing blank spaces for you to add the party's information on the other. They have spiders, spider webs, blood and spooky writing. What more could you ask for out of a Halloween-theme party invitation? Each pack comes with 15 invitations.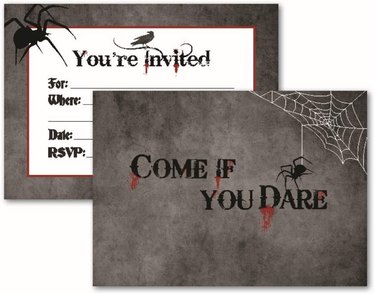 5. Juvale Halloween Party Invitations For Kids
These adorable Halloween invitations feature a friendly little pumpkin, black cat, spider, bat and skeleton face—just the right amount of spook for kids. Sixty single-sided, fill-in cards, and green and orange envelopes come in the pack, along with cute Halloween-themed stickers. Made from premium card stock, the cards measure 4 inches by 6 inches.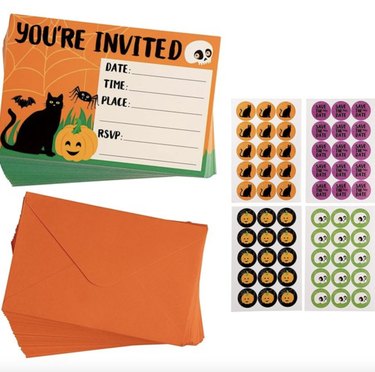 6. Big Dot of Happiness Witch Party Invitations
There's no mistaking this witch hat-shaped, ​Hocus Pocus​-style invitation for anything other than a super fun Halloween party invite. There are 12 invitations in this pack of double-sided, fill-in invites. They measure 5.75 inches by 6 inches and offer plenty of space to write all of the party's details, including a spot to RSVP, if that's still a thing people do.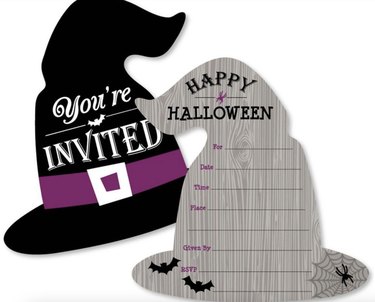 7. Kate Spade New York Halloween Mash Party Invitations
Who knew Kate Spade designed party invitations? We're here for it. Send this simple yet chic digital card to your Halloween party recipients. Almost everything on the card is customizable, so you can change it according to what works for your party. The cost for the invitation starts at two coins and goes up from there, depending on your style choices and amount of people you send it to (for reference, 25 coins is $10).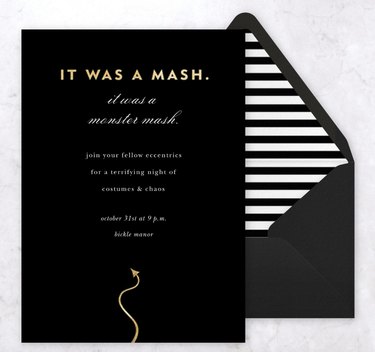 8. John Derian Block Halloween Party Invitations
If you're throwing an adult Halloween party that'll have some boo-zy spirits, you might as well pick an invitation that reflects the excitement of the cocktails. This sleek digital invitation from Paperless Post can be customized to your liking and starts at two coins per invitation. Once the invitations are sent, you're able to track the RSVP list, as well as who has opened the invitation and who hasn't. Some people just need a little nudge.
9. PinkPopRoxx Halloween Party Invitation Template
While Halloween is largely for trick-or-treaters, it's also for throwing a killer Halloween party for grown-ups. This digital Halloween party invitation template features all the horror movie regulars in one spot. The template is editable, and once complete, you can print the 5-inch by 7-inch invitations yourself or send them electronically. A link to edit your invitation will be available for 90 days after your purchase.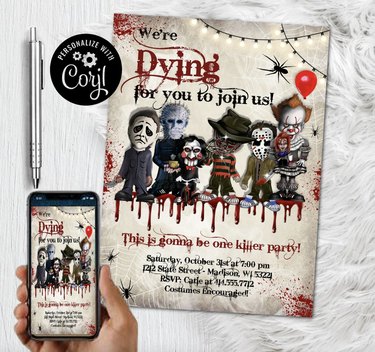 10. FigTreePaperie Cocktails & Costumes Template
Invite your friends to your haunted house this Halloween with this "Sips About to Go Down" invitation, which is a fun play on words. Once you buy the template, you'll be able to edit it on Templette.com using your Etsy email. You have to edit on a computer—it won't work using a phone or tablet. You can then print the invitations to snail mail to your guests or send them via text or email.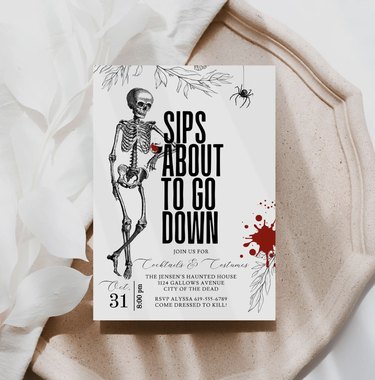 11. Luoem Laser Cut Halloween Party Invitations
If you're looking for fancy Halloween party invitations because you're just fancy like that, this one is a great option. Its spider web laser cut design is unique and gives off spooky vibes. Think: Allison's family's fancy Halloween party in ​Hocus Pocus​. The ribbon closure makes the invitation feel exclusive and even spookier. Ten cards and matching envelopes come in this pack, and the cards are 5.91 inches square.