Believe it or not—but believe it—Halloween will be here before you know it. Soon you'll be wrapped up in a scarf, sipping on a pumpkin spice latte, debating which Halloween costume you want to wear. Time to get into the spooky season spirit! One of the easiest (and most affordable) ways to Halloween-ify your fall decor is to decorate your front door. It doesn't matter if you live in a house chock-full of Halloween porch decor, or an apartment building with room for just one standout decoration. Your front door is the first impression for trick-or-treaters, guests who are invited to your Halloween party, and—don't forget!—you on an everyday basis.
That's why we rounded up 9 Halloween door decorations that will make you extra excited for October 31st this year. Read on for our favorite decoration ideas, including wreaths, door hangers and spiderwebs.
What To Consider When Purchasing Halloween Front Door Decorations
​Materials:​ Whenever you're buying decor that will live outside, you'll want to pay close attention to the material that it's made out of. Mother Nature can throw all kinds of curve balls in the autumn, so be sure that the material can handle those obstacles. If you live in an apartment or condo building, or in a temperate climate with a covered front porch, you can be open to lots of materials, even delicate ones like raffia and ribbon. Otherwise, opt for decorations made out of hardier materials.
​How You'll Hang It:​ Don't want to put a nail (or two) in your front door? We get it. As you're shopping for front door decorations, keep a close eye on the description—that should give you a good idea as to how you'll hang it, as well as the weight of the product. If you don't want to use a nail, opt for lighter decorations that can be hung with thumbtacks, two-sided tape or adhesive strips instead.
​Practicality:​ Ultimately, your front door still has to function as a front door. Nix anything that could scratch your door, easily fall off if you slam it too hard, or simply gets in the way of easy comings and goings. Door decorations should bring you joy, not irritation. Each of the decorations we selected are easy to hang, easy to remove and won't get in the way of everyday life.
Inspired to decorate your door for the spooky season? Scroll on for our 9 favorite Halloween front door decor ideas.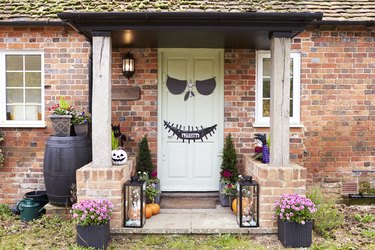 1. Welcome Witches Halloween Front Door Sign
We can hear a witch cackling just looking at this sign. It's not often we can call Halloween decor elegant and minimal, but that's exactly what this "welcome witches" door sign is. Since it's made with faux foliage and a raffia bow, be careful not to get this piece wet. It'd be a perfect fit for the front door of an apartment or condo, or at the very least make sure it's protected by a covered porch. It comes in three sizes, all measured by diameter: 11 inches, 15 inches or 18 inches. If you love the look of this piece, be sure to scroll to this Etsy seller's entire page before checking out. There you'll find a host of Halloween door signs with cutesy phrases like "hey boo," "pumpkin spice and everything nice" and "eat drink and be scary," as well as Christmas door signs that'll get you excited for all of the holidays to come. (It's never too early to shop!)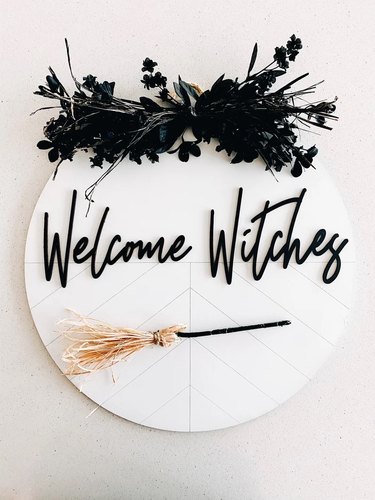 2. Spiderweb & Pumpkins Door Corner
To add a little bit of Halloween joy to your front door without spending much money, add one of these door corner decorations to your decor shopping list. We promise you'll be pleasantly surprised at how intricate and detailed it is. From the jack-'o-lanterns to the spiderweb, bat and haunted tree, it'll add a subtle bit of spirit to your decor. If you need to switch the orientation of the piece or would prefer a different size, simply contact the Etsy seller. It's sturdy, so you don't have to worry about it getting knocked off whenever you open or close your door, and reviewers rave about fast shipping too.
3. Decorative Scary Bats Wall Decal Set
Shopping for DIY Halloween door decorations? For a DIY Halloween door without spending an afternoon hunched over your crafting table with a tutorial and construction paper, nab a set of these 28 plastic bats. (Eight big bats, eight medium bats and eight small bats.) They're sturdier than any you could make yourself out of black construction paper and can be arranged in all directions with various wing angles. They come with adhesive strips, but if you plan to use these indoors, be aware that they could take off some of your wall paint. They're just spooky enough while also being kid-friendly, especially if you get the kiddos involved in hanging them. These bats need to stay dry though, so a covered porch or apartment door is ideal. If you don't have the proper front door situation for them, hang these in your entryway instead.
4. Pumpkin Berry Floral Wreath
Do Halloween door decoration ideas have you overwhelmed? When in doubt, a wreath is always a good idea. They're simple, they're beautiful and ones like this will last forever. This beautiful pumpkin berry wreath comes in three colors (orange, orange/red and orange/white), so it's bound to match with all of your outdoor Halloween decorations. Store this wreath properly and you'll be delighted to pull it out of your decorations bin fall after fall.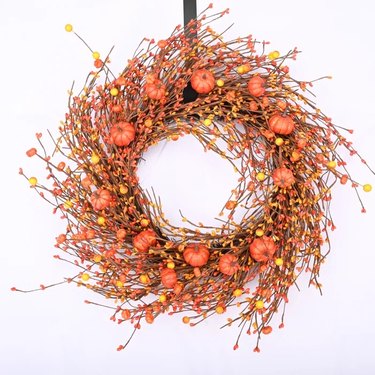 5. Halloween Door Curtain
What's black and white and spooky all over? This lightweight Halloween door panel, made of durable polyester that's guaranteed not to fade. Best of all, come November 1st, it can be machine-washed in cold water, then stored away for next year. It'd be a great addition to a Halloween party, to prepare for trick or treat night or simply for the entire month of October. The curtain measures 40 inches by 84 inches, so it's suitable for most exterior doors.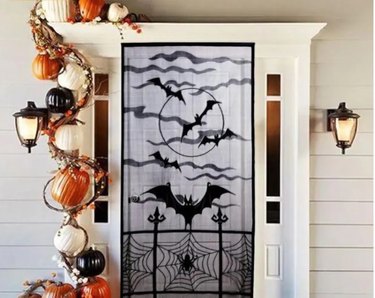 A Halloween wreath is great. A wreath hung with a "the witch is in" hanger is even better. Up the ante on your front door decor with this matte steel door hanger, which is both fun and functional, and can hang your Halloween wreath year after year. (The wreath above would be particularly pretty alongside this hanger.) Nervous about hammering a nail into your door? This is the perfect compromise.
7. Pre-Lit Spider Halloween Decoration
Real-life spiders may not be cute, but this one is as adorable as can be—and would make for the perfect Halloween front door decoration. Its 15-inch-wide wired silhouette features 35 orange and green mini bulbs, which would illuminate your door. (All the trick-or-treaters would naturally gravitate towards a door with this sweet spider, so be sure to stock up on plenty of the good candy.) This lit spider is weather-resistant, and don't worry about a bulb burning out either; its efficient design stays lit even if one burns out.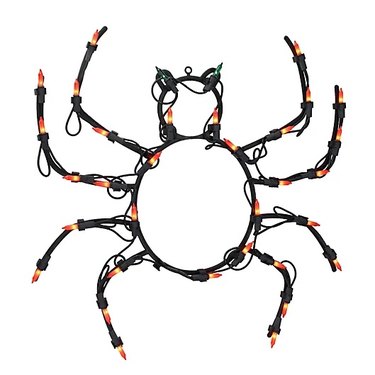 8. Spiderweb Corner Decor
You don't have to spend a lot of money on Halloween decor. Here's proof. For just $8, you can add a cheeky touch of the spooky spirit to your front door with this 6-inch-wide cobweb corner piece. Simply install it with a thumbtack or a piece of double-sided tape and voila! Front door decorating done. Or, for a full haunted house effect, pair this spiderweb with an elaborate front door design, alongside a wreath, decals, doormat and a giant bowl of the best candy.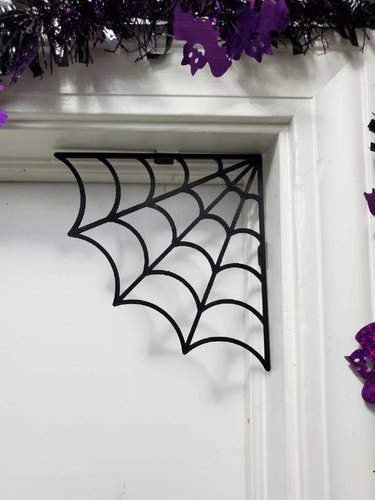 9. Wooden "Hocus Pocus" Hanging Halloween Sign
If you have no time to devote to serious Halloween decorating, opt for an easy-to-hang door sign like this one. Whether you've seen the movie "Hocus Pocus" 100 times (raises hand!) or not, this wooden sign would make for a charming addition to your front door during the month of October. It's made with two solid wood pieces tied together with burlap rope and accented with a plaid bow. Between the pumpkin, the broomstick, and the orange and black motif, this door sign says "happy Halloween" to everyone who passes by.