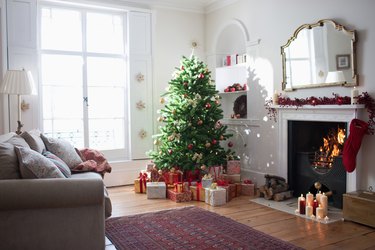 Sinamay mesh, also known as deco mesh, is a very versatile craft supply that's ideal for decorating for the holidays. It's a stiff mesh fabric sold in rolls of varied widths in many colors and patterns, including metallic, glittery, plaid and striped options that are especially suitable for DIY Christmas decorations.
Sinamay mesh is easy to work with, as it readily holds the shape into which you form it, be it bows, billowing puffs or fluttering, feathery ribbons. Whether you're interested in decorating a Christmas tree with mesh, creating a homemade wreath, embellishing a store-bought wreath or creating new ornaments, there are countless creative ways to use sinamay mesh.
Use Sinamay Mesh for Wreaths
Sinamay mesh makes an excellent embellishment for a store-bought wreath and can also be used to create a new wreath from scratch. Start with a faux evergreen wreath and you can use the bendable branches to secure loops or bows of sinamay mesh around the wreath. With other types of wreath form, such as wire or vine wreaths, use lengths of craft wire or chenille stems in a matching color to attach the mesh.
If you're embellishing a wreath that just needs some additional flourishes, wrap the sinamay mesh around and around it or create individual mesh bows to attach between other embellishments. You might create a series of puff-ball shapes with the mesh or back-and-forth folds for a pleated effect. Another way to decorate a wreath with sinamay mesh is to cut strips 5 to 10 inches wide, pull them out diagonally to resemble a petal and tie these around a wreath form. A wreath covered in all white sinamay mesh "petals" could resemble a snowball or Santa's beard, and a central ring of red flounces with an outer ring of green looks like a poinsettia.
Create a Sinamay Mesh Christmas Tree Garland
One of the easiest and most effective ways to decorate with sinamay mesh is to create a garland. A simple way to turn a length of mesh into a garland is to thread a long strip of craft wire through the center of it lengthwise, pleating the mesh as you thread it on. Another is to twist chenille stems at regular intervals along a length of craft wire. Attach the sinamay mesh to the wire by twisting the stems around it, creating puff-ball shapes between the ties.
Consider twisting two lengths of sinamay mesh together as a mesh ribbon Christmas tree garland, which can be especially attractive with two complementary colors or patterns. Try red and white for a candy cane color scheme or green plaid with a shiny gold. Add other ornaments, such as clusters of shiny balls, bells, stars or snowflakes using additional craft wire or chenille stems. Along with decorating a Christmas tree with mesh garlands, you can arrange your garland along a mantel, above a door or window frame, along a table runner or even around a Christmas tree.
Make a Sinamay Mesh Angel Ornament
With only some strips of sinamay mesh in an appropriately angelic color, some chenille stems, a craft foam ball and hot glue, you can create a beautiful mesh ribbon Christmas tree angel ornament.
Cut 12 pieces of sinamay mesh approximately 10 inches by 10 inches and pull each one diagonally to form a petal shape. Pinch all 12 pieces together in their center and wrap a chenille stem around them to secure them together. Pull the sides of the six lower "petals" downward to create the angel's skirt and leave the upper four "petals" standing out horizontally as her wings. Secure this arrangement with a second chenille stem wrapped around the center above the skirt pieces and below the wing pieces.
Use hot glue to attach a small craft foam ball to the upper-center part of the angel where the wings meet in the middle. Create a small bow from additional mesh or a ribbon and glue it at her neck. Finally, form a halo shape with a stem from a white, gold or silver chenille stem and secure it with glue to hover over the angel's head. A larger angel ornament could be a mesh Christmas tree topper, while smaller ones make lovely ornaments to hang from branches.